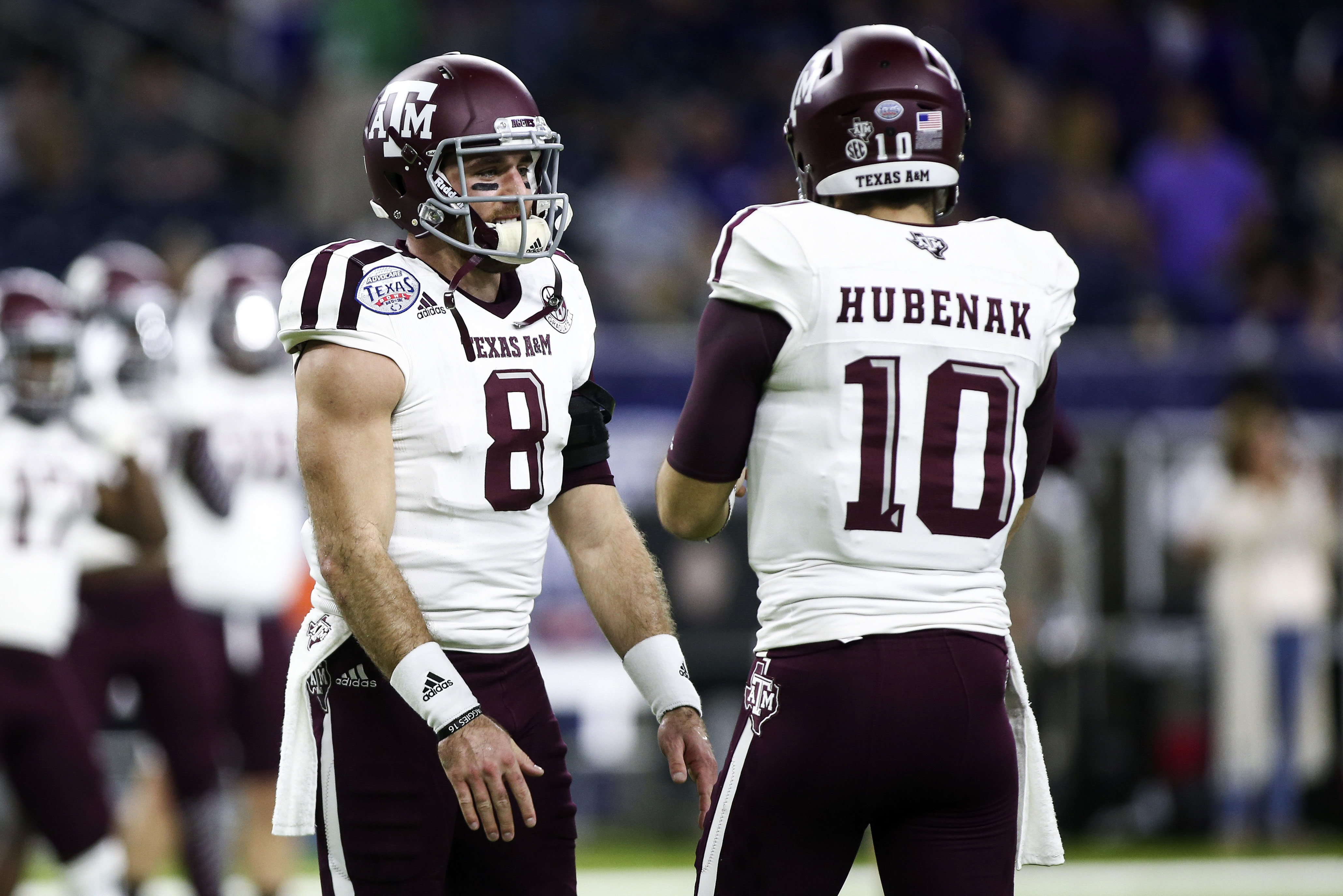 TEXAS A&M
Has Starkel jumped ahead of Hubenak, Mond in A&M's quarterback race?
Ask any Aggies football fan what is foremost on his or her mind and the response will probably have to do with the quarterback situation.
"It's what everyone wants to know, that's the question of the hour," said Travis Brown of MyAggieNation, powered by the Bryan-College Station Eagle, in a recent podcast.
Brown is one of a growing number of insiders who are coming around to the idea that redshirt freshman Nick Starkel will be the Aggies' starting quarterback when the 2017 season kicks off on Sunday, Sept. 3, in the Rose Bowl against UCLA.
"Just seeing what they're doing in practice, I think it's got to be Nick Starkel," Brown said. "I think he has the best arm, he's been the most accurate. That's just what my money would be on."
Texas A&M football chat with @Mctrent 23 @zachtaylorsport & @Travis_L_Brown https://t.co/qMzEDfMXI3

— Travis L. Brown (@Travis_L_Brown) August 9, 2017
Barrett Sallee, of CBS Sports, concurs.
"Talking to folks around the A&M program they are very confident Nick Starkel is going to be not only the QB but a good QB" – @BarrettSallee pic.twitter.com/az7X34HIde

— Paul Finebaum (@finebaum) August 4, 2017
Starkel is a 6-3, 205-pounder with a strong and accurate arm who completed 10 of 27 passes for 174 yards and a touchdown in the spring game. But like true freshman Kellen Mond, also vying for the starting quarterback job along with senior Jake Hubenak, Starkel has not played a down in a college football game. That only adds to the angst of Aggies fans as the season approaches.
The Houston Chronicle's Brent Zwerneman is another who believes that Starkel will be under center to open the season.
Who will start at QB for Texas A&M week 1 vs. UCLA?

"It's looking like it will be Nick Starkel" – @BrentZwerneman https://t.co/gnsAVdNekZ

— Paul Finebaum (@finebaum) August 8, 2017
"It's looking like it's going to be Nick Starkel, maybe even by a good margin," Zwerneman told the Paul Finebaum Show. "The thing about Starkel is he's been in the program now a year and a half. Just watching him in practice, he throws a really pretty pass. I like his mental makeup. He's kind of a character, he's got a good sense of humor. But he knows when to get squared away as well."
Yet there are others who aren't quite ready to take that leap. One of those is Dallas News Sports Day special contributor Carter Karels.
"Kevin Sumlin is in a precarious situation," Karels wrote. "He cannot afford to continue quarterback competitions every season, but Texas A&M's recent failures disallow Sumlin from starting projects.
"Jake Hubenak might give the Aggies their best chance in 2017 over the two freshmen. Starting Hubenak would bring them back to square one next season, and Kellen Mond and Nick Starkel possess much more upside than the senior. On the other hand, a likely below-average year from Starkel or Mond could cost Sumlin his job."
Sumlin, entering his sixth season as A&M's head coach, has indicated that he wouldn't name a starter until mid-August, so some sort of official announcement could be forthcoming. Offensive coordinator Noel Mazzone told 12thman.com what he's looking for in the team's leader.
"I've told them all along, life is performance-based," Mazzone said. "It's a pretty simple formula. You go out and complete footballs, make great decisions and you get us in the end zone. That's what we need to see someone get done for us."
Mazzone went on to say that he likes what he's seen from Starkel so far: "I love his energy. I love how enthusiastic he is about playing the position. Where he's come from, in January to this point, has really been good."
But he also talked like he hoped the senior would win the job: "One of the hardest workers we've got on the football team," Mazzone said of Hubenak. "The consummate team guy. Whatever you ask him to do, he'll do.
"In the offseason, with Trevor (Knight) being gone, I think he's really stepped into that leadership role. I think with a year of the offense under his belt he should be pretty comfortable with it. I'm anxious, during camp, to see if he takes the next step developing and being an SEC quarterback."