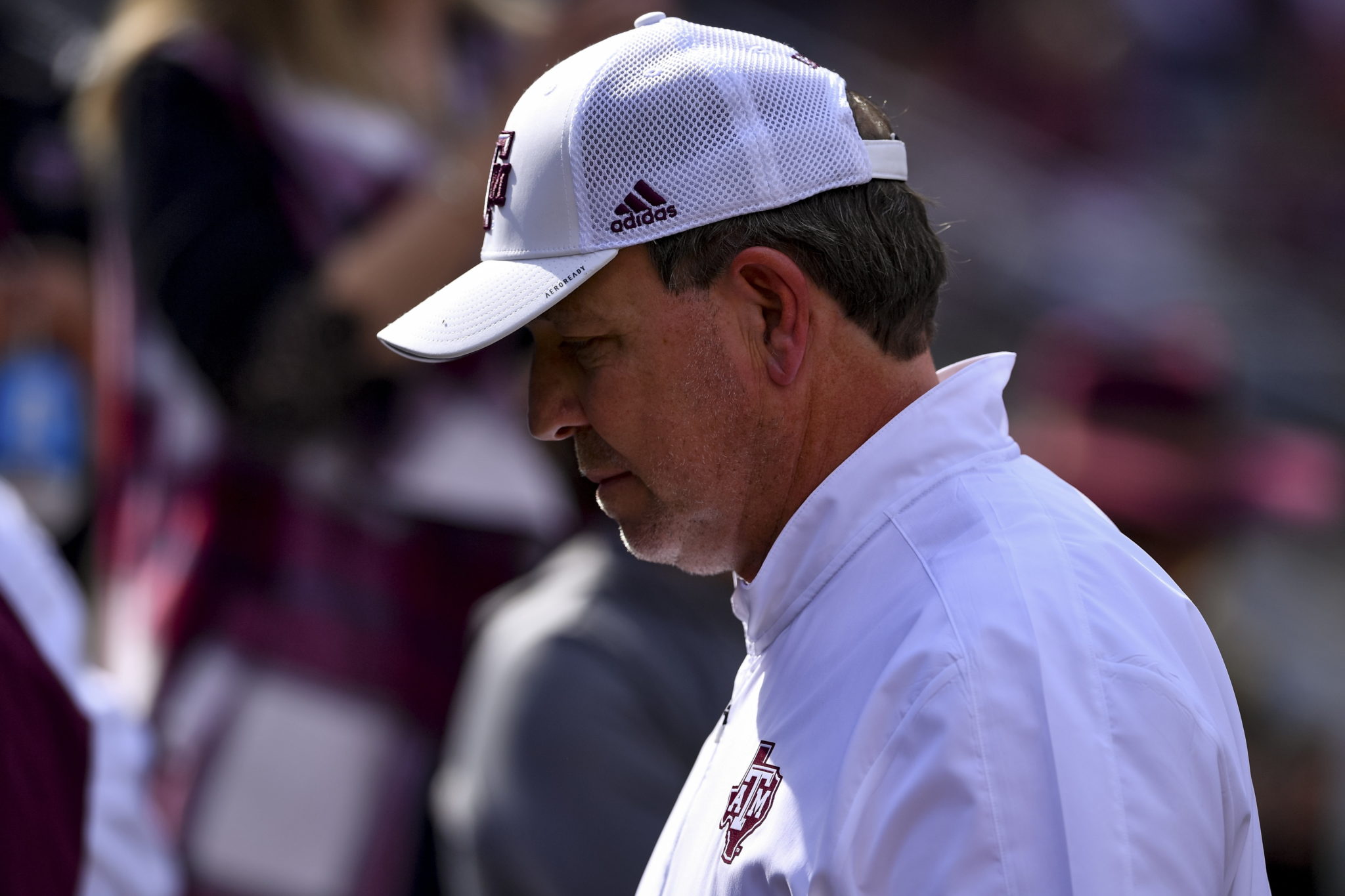 TEXAS A&M
Skeptic's guide to Texas A&M's 2022 football season
My knee-jerk reaction to ESPN's Power Index that predicts Texas A&M to win 7.5 games in 2022 was to LOL. I mean, 7.5 wins would be a step back even from a down season of 8 wins last year. It would continue the downward trend from 9 wins the previous year.
How is that even possible? With all these great recruiting classes that Jimbo Fisher is bringing to College Station, how could the Aggies be on a downward trend? What does ESPN know that I don't?
Well, if we take a closer look at the upcoming season, perhaps we may discover that ESPN's prognostication could actually be generous.
If A&M's 2022 season goes south, blame it on these 6 reasons.
1. Aggies lose a ton of production along the d-line
When it comes to penetrating the opposing line and causing negative plays, Texas A&M is losing its top 3 playmakers (DeMarvin Leal, Michael Clemons, Tyree Johnson). That puts a lot of pressure on young and talented players like Fadil Diggs, Shemar Turner and McKinnley Jackson to pick up the slack. They have the ability to do the job but haven't been put in position to lead the way like they'll be required to do next season.
That's a major question mark on defense and one that must be answered with an exclamation point. If they can't put up the kinds of numbers their predecessors compiled and get to the quarterback with regularity, it could make for a long season. The aforementioned departed trio accounted for 24 of the Aggies' 39 sacks last season.
2. QB controversy divides team
Sure, Max Johnson is the experienced member of the quarterback room, but he's probably not the most talented. If Connor Weigman isn't quite ready to take the reins, will Fisher go with experience or can Haynes King regain the starting position he relinquished when he suffered a season-ending injury in Game 2 last season?
It's a delicate dance that Fisher must do in choosing a quarterback. Because not only must he pick the one who best gives his team the chance to win games but also must keep the locker room from becoming divided. Players occasionally take sides during a QB battle. Nothing sabotages a team and a season like a divided locker room.
3. Depth at skilled positions
While the Aggies have outstanding frontline playmakers at receiver and running back, depth is somewhat concerning. Receiver Ainias Smith will have a monster season, and the sky is the limit for running back Devon Achane.
But beyond that, who will make up the group of all-important role players? That's a big question at WR. Jalen Preston has the experience. Freshman Evan Stewart, one of the highest-rated recruits in Texas A&M history, has the hype. Somebody has to step up and become a threat or Smith will be somewhat negated with double teams. It's a major concern.
Same at running back where Achane will need help. Only 3 times in his career has Achane carried more than 12 times in a game. Is he ready to tote it 20-25 times a game? He has 1 game of 20 carries in his career. So, he'll need help from Amari Daniels and LJ Johnson, Jr. They combined for just 41 carries last season. Like Achane, the tandem of Daniels and Johnson will have to pick it up significantly to make the Aggies productive in the run game.
4. Where's the next Wydermyer?
In the past 4 seasons, the tight end has either been the team's leading receiver or among the top 3 on the list. With that position so engrained in the offense, do the Aggies possess on the current roster a tight end who can continue the trend?
Senior Max Wright is the heir apparent to the pipeline that included Jace Sternberger and Jalen Wydermyer. But in 2 seasons at Texas A&M, Wright has a total of 4 pass receptions (65 yards, 1 TD). Those aren't numbers that would indicate a leading receiver on the horizon, but we'll see if he (or perhaps someone else) can make the herculean leap next season.
5. History of hopes dashed
How many years have we gotten ourselves worked up at this time of year for the potential of a championship season for Texas A&M? It seems like over the past decade, that hype has resulted in an 8-win season more often than not. Until they break through with double-digit victories, it isn't beyond imagination that they could slip from 8 wins to 7.
6. The schedule
It's not exactly a cakewalk. In the season-opener, Sam Houston continues to step up in class. It's their Super Bowl. A win over the Aggies would propel them into their new home in Conference-USA, which they are set to join in 2023.
Then Appalachian State comes to Kyle Field. I don't have to remind you what giant killers the Mountaineers are on the road. Ask Michigan what can happen if you're not ready to play.
It just gets tougher from there. Miami comes to town with a new coach, a new attitude, and a firm desire to return to the glory days of "The U."
All this before the gauntlet that is the SEC West. The Aggies play their first 4 SEC games away from Kyle Field. The annual neutral site game with Arkansas starts it off with road games at Mississippi State, Alabama and South Carolina.
A couple of home testers raise the curtain on the conference schedule at Kyle Field. Ole Miss and Florida come to town in back-to-back weeks. A game at Auburn and back home for the finale against LSU rounds out the league schedule.
It's a tough one and a big reason to be skeptical of ESPN's prediction of 7.5 wins this season.