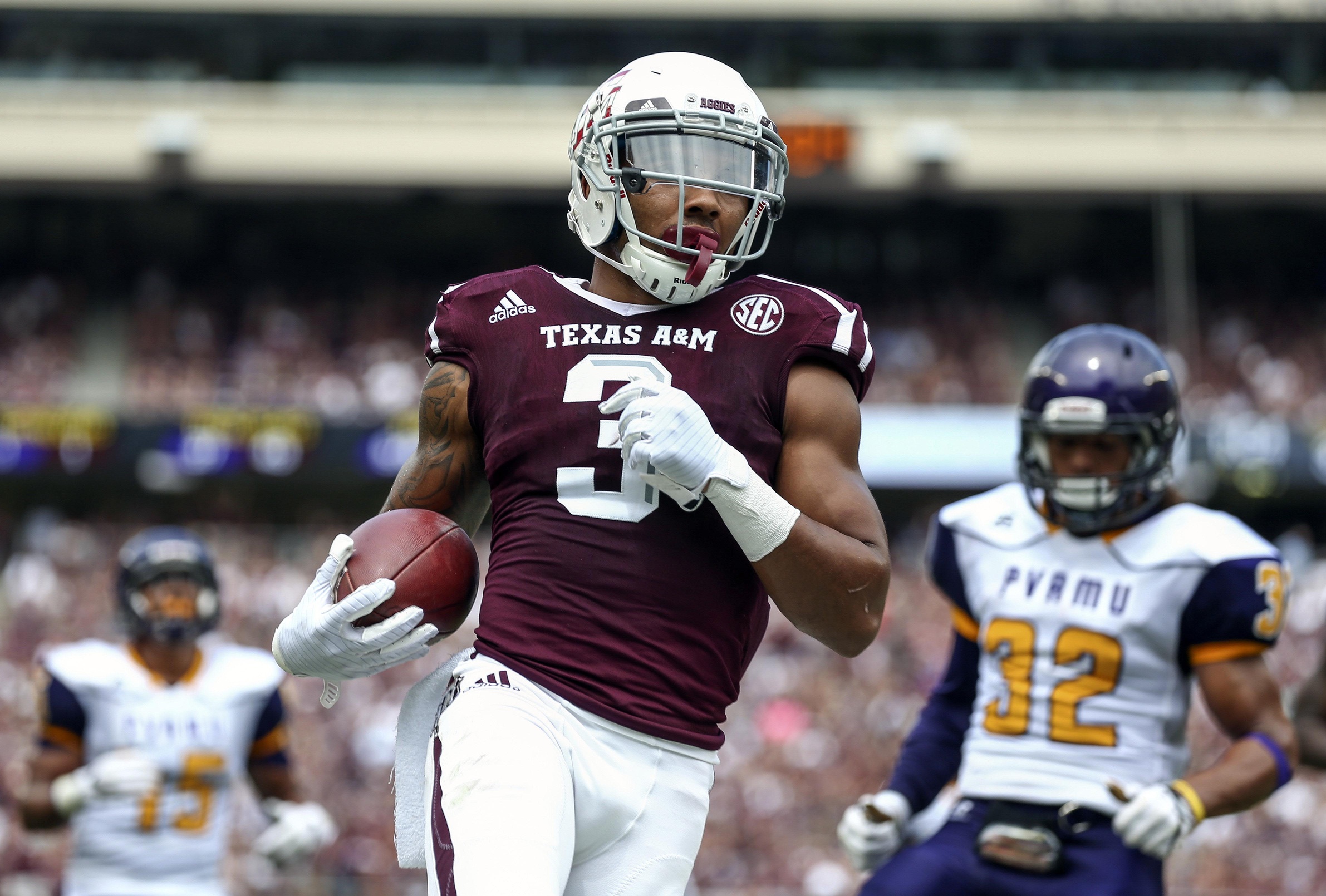 TEXAS A&M
Christian Kirk's performance is a reminder of his special talent
When Texas A&M WR Christian Kirk returned his second punt for a touchdown in the 52-10 victory over New Mexico State on Saturday at Kyle Field, he enabled the team to do what no other in the FBS has done this season.
As Kirk followed up his 70-yard punt return for a touchdown with a 73-yard return to the end zone, Texas A&M became the first FBS team this season to register multiple touchdowns by rushing, passing and returns in the same game.
And in doing so, Kirk became the first player in Texas A&M history to return two punts for touchdowns in one game. In a single game, he equaled his own total of two punt returns for touchdowns. Only four players in program history had even matched that in an entire season before that. Kirk joins Carl Roaches (1972), Rod Harris (1987) and Aaron Glenn (1993) in accomplishing the feat.
Kirk now holds the school career mark with four, and he's only a sophomore. Kevin Smith (1988-91) and Dustin Harris (2009-12) held the previous record of three.
Saturday's game marked a season-high 179 all-purpose yards for Kirk, which included 36 receiving yards and 143 yards on two punt returns. It's the sixth game already that the Aggies' budding star has gained 175-plus all-purpose yardage.
Finding the end zone three times on Saturday, Kirk sandwiched the two punt returns with a 3-yard touchdown pass from QB Trevor Knight. It marked the second time this season and fifth time in his short career to score multiple times in a game.
He's following up a stellar freshman season in which he finished third in the SEC in receiving yards (1,009) and fourth in pass receptions (80). With his first catch on Saturday, Kirk reached the 50-reception plateau in just the eighth game of the season, matching Jeff Fuller and Ryan Swope for the fastest to 50 in program history.
His 54 catches this season are five more than any other SEC player, although he hasn't racked up the same yardage. Still, his six touchdown catches are tied for the second-most in the league.
Certainly an electrifying talent with an ability to find the end zone in various ways, is Kirk a future Heisman Trophy candidate? Maybe not this year, but as he continues to build his résumé, it seems as though his name would have to be mentioned for the 2017 season.
Let the hype begin.
For now, Kirk is satisfied with placing his name in the Aggies' record book.
"It means the world to me, especially with the amount of great players that have come through this program and this university," Kirk said after Saturday's game. "I play this game to leave a legacy and to leave my name in the record books.
"Obviously, I have to give thanks to the guys in front of me that are blocking. It wouldn't happen if those guys aren't selling out for that stuff."
The future was said to be bright for this 5-foot-11, 200-pound five-star recruit from Scottsdale, Ariz. He's done nothing to make people rethink that statement two years into his career in College Station.
"Christian has established himself quickly as one of the best returners in the country," head coach Kevin Sumlin said following Saturday's stellar performance. "He's dynamic with the ball in his hands. He's a weapon and has been since he has been here."
Strike the pose Christian, your time in the spotlight is right around the corner.