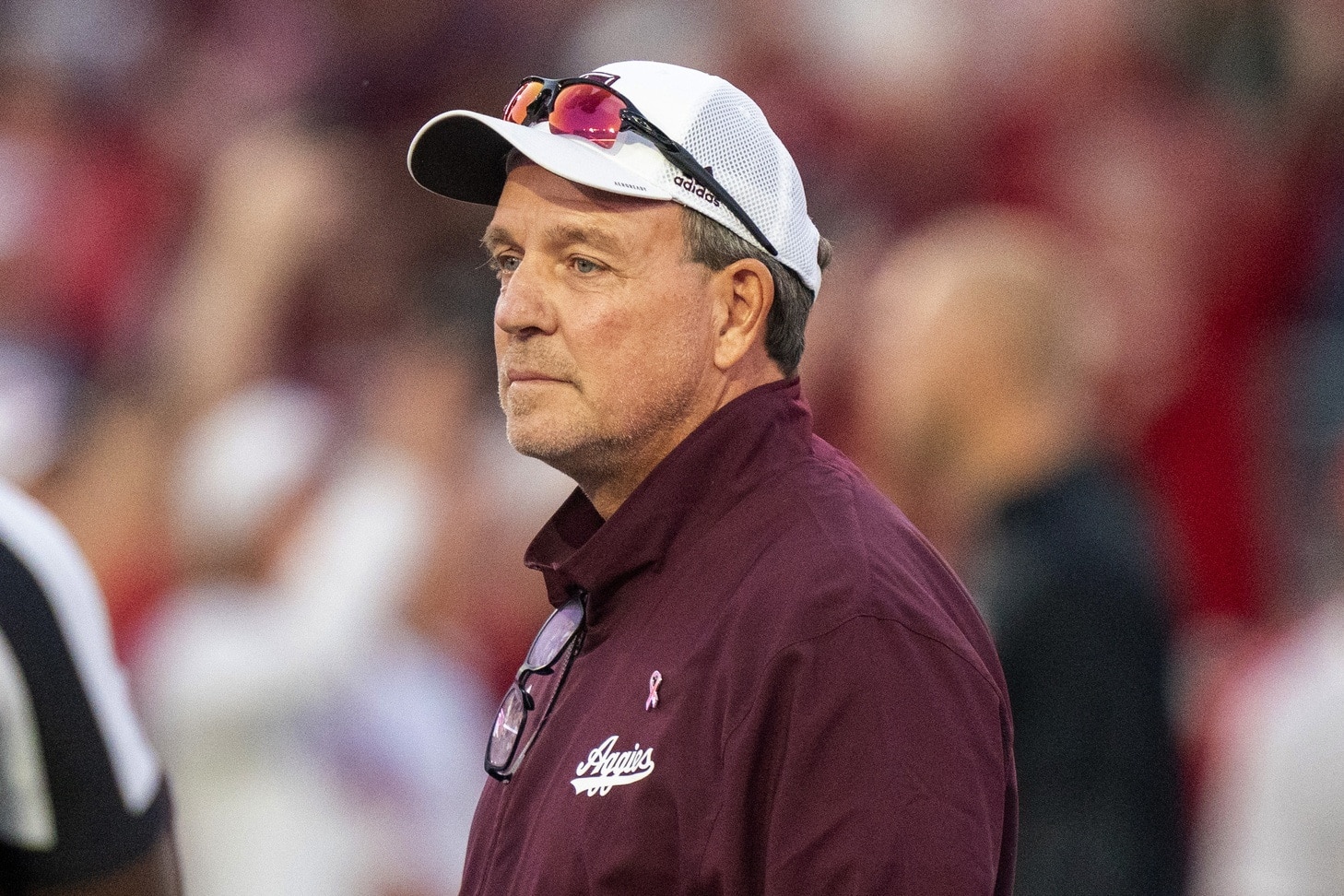 TEXAS A&M
Texas A&M football: 10 bold predictions for the rest of the regular season
It has been a crazy, up-and-down 1st half of the 2022 season for head coach Jimbo Fisher and Texas A&M. Standing at 3-3 and 1-2 in SEC play, the Aggies have already experienced the lowest of lows — a home loss to Appalachian State — before giving Aggieland reason for hope by playing No. 1 Alabama to the last play on the road.
What will the 2nd half of the season bring this young team? Here are 10 bold predictions.
1. Start the 2nd half with a win on the road
On the surface, this doesn't sound like much of a bold prediction. After all, South Carolina has never beaten Texas A&M; never, as in ever. The Aggies have won all 8 meetings between the teams. But since the permanent crossover rivalry began in 2014, the Gamecocks have had only 3 winning seasons and just once have won more than 7 games in any of those years. It appears, at least through the 1st half of the season, that this 4-2 South Carolina team could be different from those in past years. Add to that the fact that the Aggies haven't won an SEC road game since last October, and this prediction becomes a little bit bolder.
2. No 8-4
In 9 consecutive seasons, the Aggies have won either 7 or 8 regular-season games. In 5 of those, they've finished 8-4. The streak continues this season with another year of either 7 or 8 victories. But it won't be 8. The Aggies won't reach 8-4; they'll settle for 7-5 and go after win No. 8 in a bowl game.
3. Aggies will lead the SEC in fumble recoveries
The Texas A&M defense has forced at least 1 fumble in all 6 games. Against Alabama, the Aggies made the Tide cough it up 3 times, the most since they caused 3 against UCLA in the 2017 season opener. The Aggies are 2nd in the SEC with 7 fumble recoveries; only LSU (8) has more. Individually, Demani Richardson and Fadil Diggs are among 7 players tied for the SEC lead with 2 forced fumbles each. Look for that trend to continue into the 2nd half.
4. Conner Weigman takes charge
With the relative ineffectiveness of both Max Johnson and Haynes King, it's 5-star freshman Weigman's time to take over at quarterback. Johnson is out for an extended time with a hand injury, while King came out of the Alabama game banged up as well. That could open the door for Weigman to get his feet wet and grow up with an otherwise youthful Aggies team.
5. Evan Stewart leads the nation
The budding WR will finish the season with the most catches of any freshman in FBS. If Weigman indeed takes over at quarterback and begins slinging it all over the yard, it's Stewart he'll be looking for. He's already becoming the main target in the Aggies' passing game. Against Alabama, Stewart hauled in a career-high 8 catches for 106 yards, including a 43-yarder. He leads the Aggies with 26 catches over the first 6 games. Vanderbilt's Jayden McGowan currently leads all freshmen with 29 pass receptions.
6. Aggies yield 300-plus on the ground to Ole Miss
Texas A&M is having trouble stopping the run. The Aggies are last in the SEC in that department, allowing an average of 190 yards per game. Ole Miss is going to come into Kyle Field on Oct. 29 and roll up 300-plus rushing yards on this youthful Aggies defensive front. You read that right — 300-plus yards rushing, not passing. It's a Rebels team that ranks 2nd in the SEC averaging 242 rushing yards. Twice already, it has surpassed the 300-yard mark, against nonconference foes Georgia Tech (316) and Tulsa (308). Conversely, Texas A&M hasn't allowed 300 yards rushing to an opponent in Kyle Field since Auburn reeled off 311 in 2015.
7. Fisher continues to call the plays
His ego won't allow him to relinquish that duty, even though now would be the perfect time, with a young team coming of age and a quarterback expected to be the next Johnny Football. But that's exactly why he won't give it up. It's his chance, perhaps his last, to show the college football world that he is indeed the quarterback whisperer he was labeled when Texas A&M gave him the big money.
8. One more upset
The Aggies have 1 more inexplicable upset left in them this season, and it will happen on the Plains. Texas A&M falls on Nov. 12 to an Auburn team that will more than likely be led by an interim coach. Heading into the 2nd half of the season, Texas A&M has lost 4 of its past 5 SEC road games. The Aggies sleepwalk through Jordan-Hare and get ambushed by the Tigers.
9. Beat LSU
The Aggies secure a winning season with an inspiring victory at Kyle Field over rivals LSU. It won't salvage a very disappointing season, but it does ease the pain somewhat and improves the Aggies' bowl position.
10. Bowl win streak continues in historic fashion
It won't be a playoff, nor a NY6 victory, but Texas A&M wins its bowl game again after this season. The Aggies have won their past 3 bowl games, all under Fisher, and they make it 4-0 with their current head coach. That would be more bowl victories than any other coach in Texas A&M history, surpassing the 3 won by both R.C. Slocum and Kevin Sumlin.