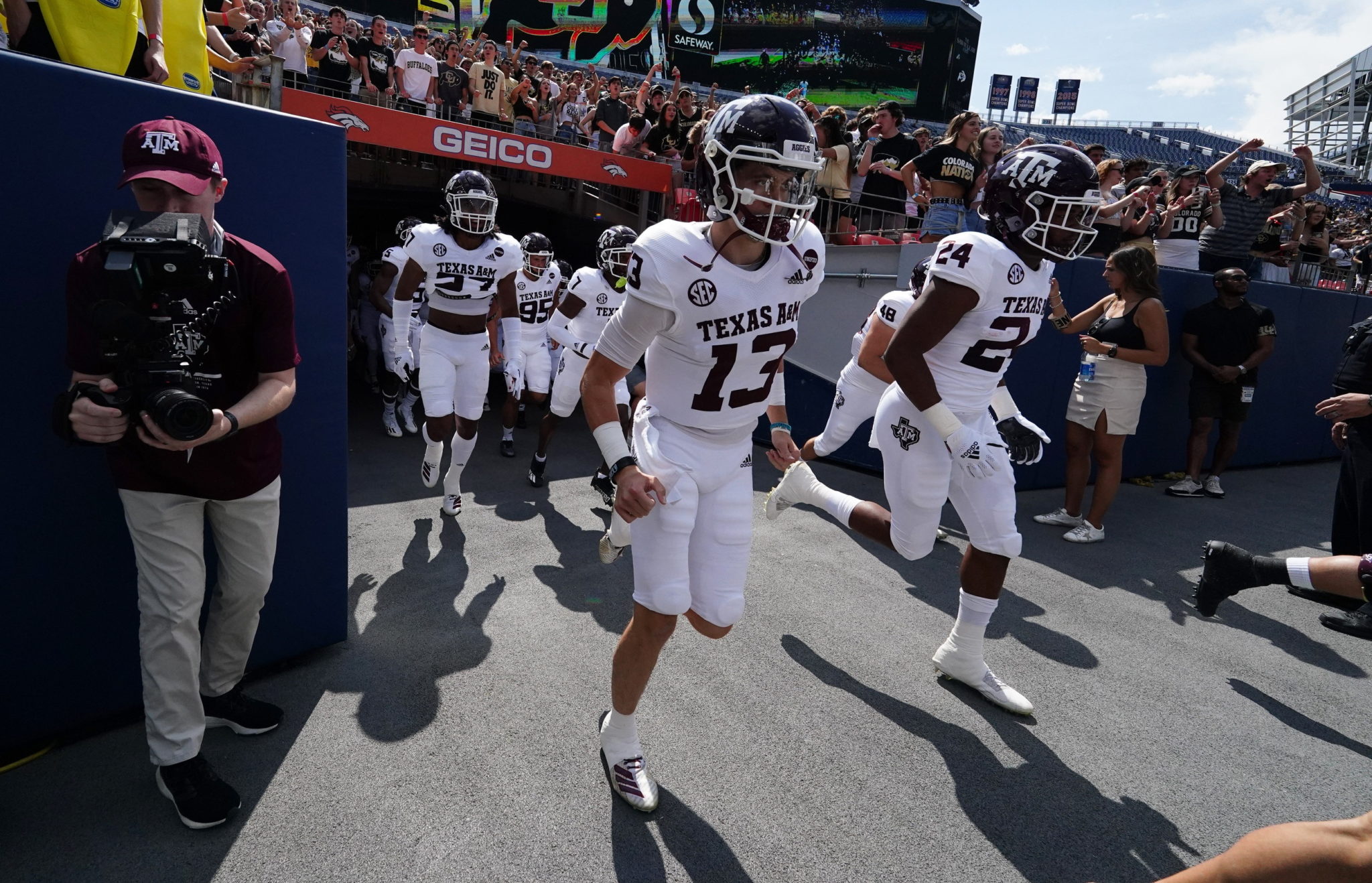 TEXAS A&M
Texas A&M football: 5 biggest storylines ahead of Saturday's spring game
It's the beginning of Year 5 for Jimbo Fisher at Texas A&M and the building continues toward putting together a championship program. And with each year comes new challenges, as with every program. The 2022 season has some big questions that need to be answered.
Here are 5 storylines for Fisher and the Aggies as they wrap up spring practice on Saturday with the annual Maroon & White Game.
1. Does Haynes King survive another QB battle?
Haynes King won a heated battle over Zach Calzada for the starting job as the 2021 season unfolded. Why does that seem like an eternity ago? Maybe because a lot happened since that time.
King only made it into the 2nd game of the season before being sidelined by injury for the remainder of the schedule. The untested Calzada had his ups and downs until a victory over Alabama made us forget that he wasn't the starting quarterback at the beginning of the season. Then we were reminded again with losses to Ole Miss and LSU to close out SEC play and yet another 8-4 season was in the books.
Can King do it again this spring? Can King win the battle over what appears on paper as much stronger competition this time? That's probably the biggest question this spring; if not King, then who? Who gets the nod in 2022 at a position that more than a few would agree that held back the Aggies from making a run at league honors, despite the monumental victory over Alabama?
The competition is fierce with LSU-transfer Max Johnson, a veteran with 18 collegiate games under his belt, nearly 4,000 yards passing and is coming off a season at LSU that included 27 touchdown passes against only 6 interceptions.
Based on experience alone, Johnson would appear to be the front-runner, but we're not counting out highly-touted freshman Conner Weigman, who more than a few say is the long-term answer at quarterback for Texas A&M. Is the future now for Weigman? That's a question that must begin to be answered as spring practices wrap up.
2. Who backs up Devon Achane at RB?
With Isaiah Spiller off to the NFL Draft, Achane steps into the spotlight as the Aggies' go-to running back. Achane and Spiller combined for 1,921 rushing yards last season, with Achane coming within 90 yards of a 1,000-yard season.
So now that Achane moves into the spotlight, who will take his place on the depth chart?
Statistically, it would appear that Amari Daniels or LJ Johnson Jr. is the answer. Both played in 4 games as freshmen last season and both took advantage of their opportunities. Daniels rushed for 119 yards and a touchdown on 20 carries while Johnson toted it 21 times for 76 yards.
Which one emerges is the big question mark.
3. Which freshmen step up to play significant roles?
As Fisher continues to bring in top recruiting classes, more and more young players have an opportunity to make an immediate impact. Which ones step up this spring? There certainly is no shortage of candidates.
At tight end, it looks as though a pair of freshmen could duke it out for the starting role, now that Baylor Cupp has decided to move on. Could the door be open for Jake Johnson? Or could Donovan Green ultimately win the spot despite not coming to campus until the summer?
Does Evan Stewart or Chris Marshall work their way into the lineup at a receiver spot? Can Kam Dewberry or PJ Williams win a job along the offensive line?
Can Walter Nolen help plug some holes on the defensive line? Will Denver Harris, or Bryce Anderson, or Smoke Bouie earn playing time in the secondary?
Those are some of the questions that Fisher will have to answer to as he gets his first real look at the incoming talent.
4. How does Fisher rebuild the d-line?
Fisher says the ability is there to plug those holes, but new defensive coordinator DJ Durkin will have his work cut out for him in finding replacements for what was arguably the Aggies' biggest strength last season.
Are underclassmen Jahzion Harris and Fadil Diggs ready to make their marks along the defensive front? Like Fisher said, these guys have the talent; now it's a matter of showing it on the field and in game-like situations.
5. Which underclassmen help anchor the o-line?
Reuben Fatheree and Bryce Foster return after sensational freshman seasons and it looks as though Fisher just might have to lean on a couple more youngsters to fill in two-deep on the right side of the offensive line, especially considering the career of Luke Matthews is over because of medical reasons.
Aki Ogunbiyi and Trey Zuhn III could provide answers. Both are talented athletes with not a lot of game experience.