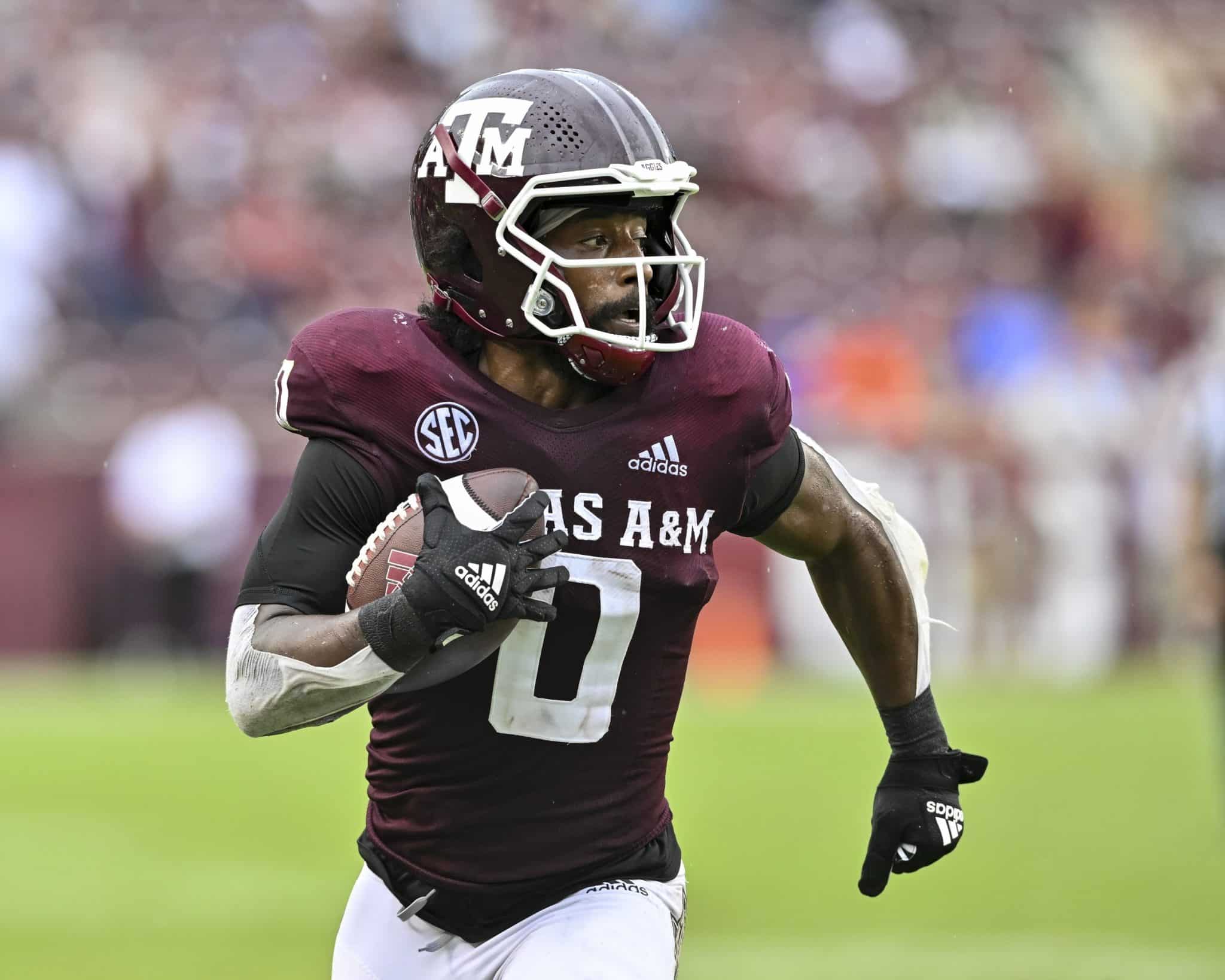 TEXAS A&M
Texas A&M football: Ainias Smith is a leader and mentor for young Aggies receivers
Is there a more sneaky-good receiver in the SEC than Ainias Smith?
I mean, Aggieland sure knows his value. But I'm not sure the rest of the conference is giving him his due. A couple more games like the one on Saturday and that won't be a problem.
The Texas A&M senior extended his receptions streak to 24 games, dating all the way back to the LSU contest in 2019.
Smith opened the 2022 season with a bang. He caught a game-high 6 passes on Saturday to raise his career total to 118, which moved him into a tie with Jalen Wydermyer (2019-21) for 11th place on the Texas A&M all-time list.
He also helped get quarterback Haynes King rolling by hauling in 2 long TD passes. The first was a career-long 63-yard scoring pass and the second was a 43-yarder, as the 6th-ranked Aggies pulled away from Sam Houston State in front of a raucous Kyle Field crowd that endured a nearly 3-hour weather delay coming out of halftime.
It was Smith's 6th multi-touchdown game and 4th multi-receiving TD game. The 2 scoring catches moved Smith into 7th place on the Aggies' all-time list, tying him with recent Texas A&M Hall of Fame inductee Mike Evans (2012-13) with 17 career TD grabs.
Those are outstanding numbers and all, but one of Smith's biggest contributions might not even show up in the box score. With so many young players on this roster and in particular among the receiving corps, Smith's legacy might just be in leading those young players by example.
He's the leader among a receiving corps that features a couple of freshmen in that historic 2022 recruiting class who are already making an impact. Evan Stewart hauled in 5 passes for 57 yards on Saturday, topped only by Smith's 6 receptions. Chris Marshall added 4 catches for 41 yards.
The duo certainly didn't look or play like true freshmen, at least not on Saturday.
"You didn't realize there were freshmen out there," said Aggies head coach Jimbo Fisher. "There was a lot of production and a lot of nerves early. You can see the look in their eye. But once they got to playing, man, they were naturally doing things. And so it was very productive."
Marshall missed a handful of days during fall camp but has come back strong.
"I thought both those guys got critical play," Fisher added. "I thought they caught the ball well. You can see their ability to run after the catch, their size, their ball skills and their athleticism of what they did."
Fisher gave no indication that those 2 or any of the many freshmen who saw action on Saturday were in the game solely to get their feet wet.
"They've got to play," Fisher said. "They're freshmen now. The depth it takes to play in this league and building these guys and get them out there playing, hopefully they'll keep playing each and every week."
It was beneficial to see those highly regarded freshmen come through on Saturday. Because until they do, it's all still potential. Now that it's been established that they can indeed play at this level, consistency becomes the goal.
"Well, you can simulate (a) game all you want," Fisher said. "Like I say, till the lights on the scoreboard matter, that's when you can see what guys do. But the thing is, they've got to repeat it. When young players have success in their first game or they thought they played well, don't get caught that it's automatically going to happen."
With on-field mentors like Smith helping to guide them through, it shouldn't be a problem.
"We've got to get better each and every game in what we do and grow and get these guys growing and get them playing with the older guys," Fisher said. "And hopefully we can develop into a good football team."