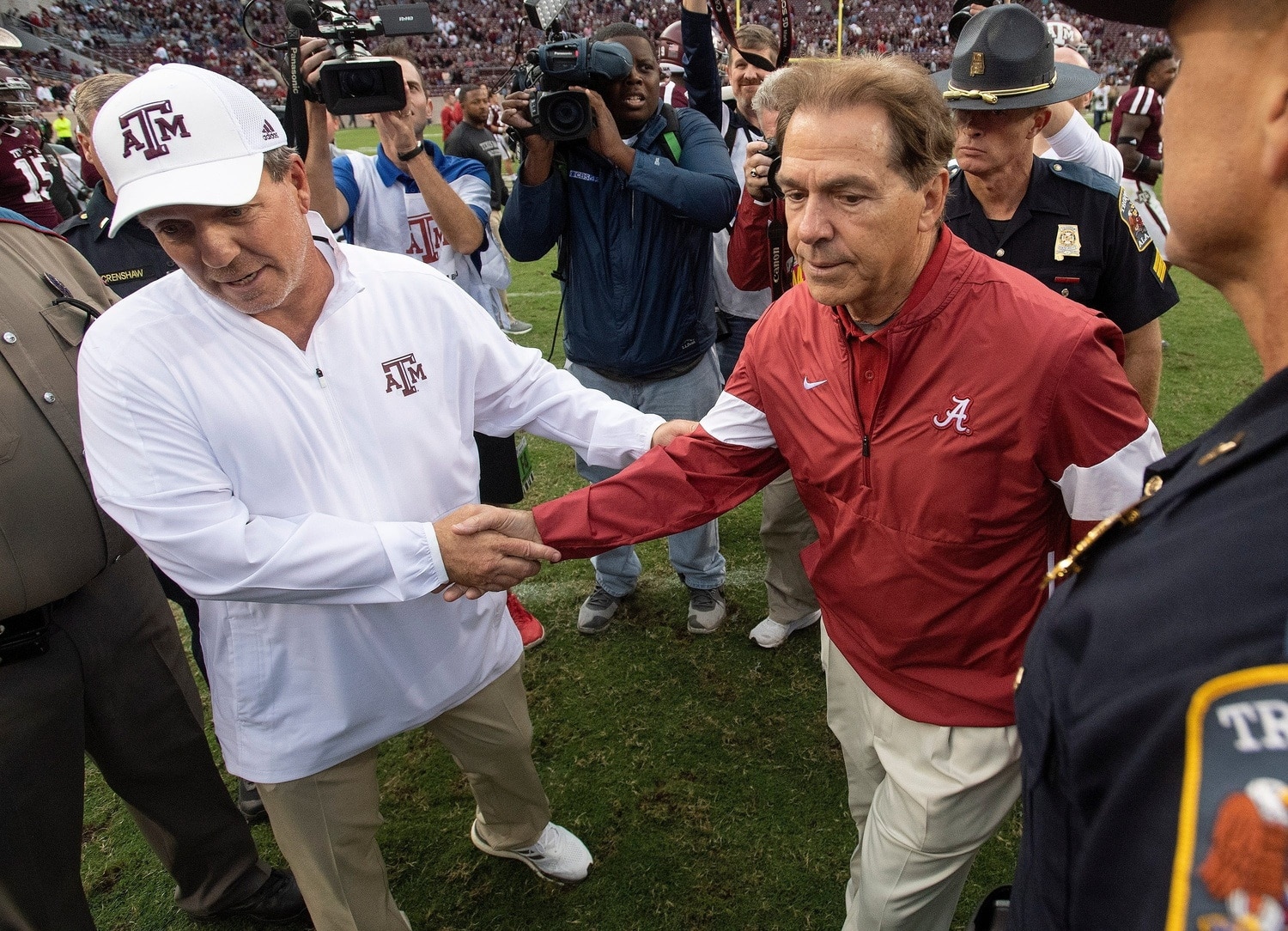 TEXAS A&M
Texas A&M football: For Jimbo Fisher and Nick Saban, it's personal
Just like with the embarrassing loss to Appalachian State, Texas A&M needs look no further than the next game on its schedule to refocus and put the loss behind it.
Back then, it was consecutive games against Top 15 opponents that helped get through the pain of a home loss to the Sun Belt foe.
Here we are again.
The Aggies were awful on Saturday, this time in Starkville. It was a 42-24 loss to Mississippi State, one in which Texas A&M never led and never threatened to lead after turning the ball over twice in the red zone. But, again, the Aggies have an immediate opportunity to put it all behind them because on the horizon is another big game — the biggest on their schedule.
The Aggies salvaged the 2021 season with a stunning victory over Alabama.
Will history repeat itself?
Just how many lives do these Aggies have in 2022, anyway?
Another improbable victory over the top-ranked Tide would put Texas A&M back in the SEC West title hunt.
It's a proposition that appears preposterous on its face, but that's just how the season has gone so far in the SEC. Missouri, considered by some to be the doormat of the SEC East, came within a play or 2 of a field-storming upset of then-No. 1 Georgia on Saturday before the Bulldogs made a late comeback to pull out a 26-22 victory.
So, as crazy as it sounds, it could happen again.
Two years in a row?
Is it even possible to beat Nick Saban and Alabama 2 years in a row?
Only 1 coach has done it recently. Hugh Freeze and his Ole Miss Rebels took down Alabama in 2014 (23-17) and 2015 (43-37) and nearly made it 3 in a row before the Tide stopped the streak with a 48-43 victory in 2016. Les Miles and Steve Spurrier also accomplished the titanic feat of beating a Saban-coached team 2 years in a row, and that's the entire list.
It's just improbable enough to happen in this already wacky 2022 season. The Tide opened as a 16-point favorite, but who knows what to expect in Tuscaloosa on Saturday night?
One thing is for sure — the verbal war between Saban and Aggies head coach Jimbo Fisher this past summer over NIL and paying of players still simmers. Both coaches have stated publicly that they've put their differences behind them, but with the head-to-head matchup on the docket for this Saturday, the bad blood is sure to bubble to the surface.
Downplay it all you want but this one is personal.
Fisher was the offensive coordinator and quarterbacks coach from 2000-2004 under Saban at LSU. The 2 won a national championship together there in 2003. Fisher knows of what he speaks when he talks about intimate knowledge of how Saban runs his program.
Saban is acutely reminded of the egg his team laid at Kyle Field last year. Add the drama that took place over the summer and if you were to sneak into his office you might just find on his calendar a big red circle around Oct. 8.
That's when the Tide welcome in a reeling Aggies team, and knowing Saban's killer instinct, he'd probably like nothing more than to put an end to any hopes the Aggies have of making 2022 a positive season.
That 41-38 victory over Alabama last season at Kyle Field was the first for Texas A&M over the Tide since Johnny Manziel guided the 2012 team to a 29-24 victory in Tuscaloosa. It's the only time in the history of the 2 proud programs that Texas A&M has won on Alabama's home field.
In fact, the only other time Texas A&M has beaten Alabama was in the 1968 Cotton Bowl in Dallas, where the Aggies came away with a 20-16 win. Alabama has won 11 of the 14 meetings all-time between the programs.
Can lightning strike twice?
Can the Aggies put another rotten performance behind them in favor of a highly ranked opponent?
Can Texas A&M beat Alabama 2 years in a row?
It doesn't seem likely, but that's why they play the games.
One thing is for sure — the pregame and postgame handshakes will be worth the price of admission.