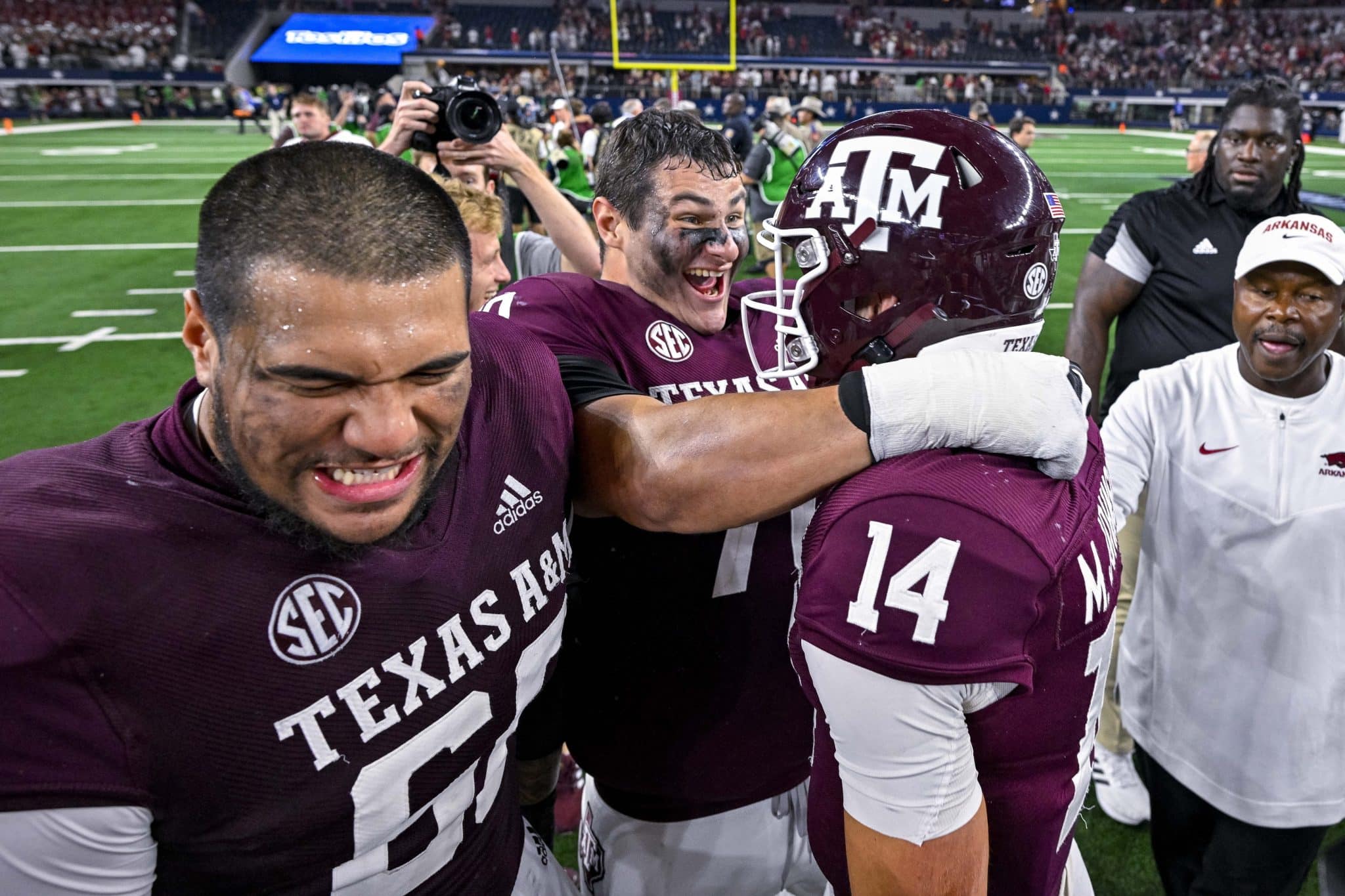 TEXAS A&M
Texas A&M football: How did the Aggies go from the outhouse to the penthouse in just 2 weeks?
So, how did they do it?
What changed?
How did Texas A&M go from the laughingstock of college football after a home loss to Appalachian State to beating back-to-back Top 15 opponents in just 2 short weeks?
It was a quick and decisive turnaround that put the Aggies right back up on the horse, right back on the path to where they want to be as a football team, as a football program. Suddenly, Texas A&M is back in the conversation for the SEC West title when just 2 weeks ago it had been written off as failures.
It's a rather astounding turnaround, both in the timeframe it took as well as the quality of play. But there were some specific keys in turning the Aggies from bottom feeders to contenders.
"There's heart and character in these guys, and there's want-to and there's competitiveness, and there's talent and they can make plays," head coach Jimbo Fisher said following the Aggies' heart-pounding 23-21 victory over Arkansas on Saturday night.
Fisher said the best thing that could have happened after the App. State debacle was to play ranked teams to find out what kind of team he had.
"We're finding out about ourselves a lot right now and what we're trying to do," Fisher said. "These kids have fight and grit."
They do, but now they also have a relatively healthy offensive line that is maturing with every game. Center Bryce Foster has returned. Layden Robinson is healing. The left side, with freshman Trey Zuhn and sophomore Aki Ogunbiyi, is jelling.
A healthy group of Maroon Goons is making a big difference. The Aggies ran the ball on Saturday a season-high 34 times and paved the way for running back Devon Achane to record his 6th career 100-yard game. The junior carried 19 times for 159 yards and reached the end zone for the 4th consecutive game this season.
"Appalachian State just showed us that we've got a lot of heart on this team, that we have a great team," Achane said. "We didn't let that loss take us down. We kept building, kept coming together."
The Aggies were 3-for-3 in the red zone on Saturday, confidently putting up 17 points.
The insertion of veteran quarterback Max Johnson into the starting lineup has given the offense enough firepower to be competitive with anyone on the schedule.
"He's scrambly, he's tough," is how Fisher described Johnson after the LSU transfer threw for 151 yards and a touchdown and ran for another 39 yards in Saturday's victory. "He made some great runs and scrambled. His heart is big. He plays hard, plays tough.
"He did a great job managing the game, the run checks. A lot of those big runs, he checked and got us out of one play and got us into another and what we were trying to do. He just gets better and better. He's a real competitor. He's a very high-quality young man."
We know what the defense can do. It has already established itself among the nation's best. Ranked 8th in the country in scoring defense, the Aggies are allowing just 11.8 points per game through the first 4 contests of the season. Third in the SEC and 14th nationally against the pass, the Aggies are giving up just 153 yards through the air per game.
As a group, they've done enough to put the team in position to win every game so far this season.
That's the kind of program Fisher is trying to build in College Station — a strong defense with an offense that manages the game, doesn't make mistakes and does just enough to score a few more points than the opposition.
That's what the Aggies have done the past 2 weeks. It's the same formula that won a national championship at LSU in 2003 when Fisher was the offensive coordinator under head coach Nick Saban. LSU's defense that season routinely squeezed the life out of the opposition while Fisher's offense plodded along, didn't make many mistakes and in big games scored just enough points to come out on the winning side all the way to the championship.
That year, LSU beat No. 7 Georgia, 17-10; edged No. 15 Ole Miss, 17-14; and defeated Oklahoma, 21-14, in the title game.
The 2022 Aggies are a long way from being compared to that team, but there are some similarities.
"But we've beaten two good football teams not playing very well, at the top of our game," Fisher said. "But [we're] playing well at times and still competing and making plays when we had to. That's very encouraging. Now we just got to get things fixed and grind on it. We're a work in progress in what we have to do, and we have to keep grinding."
That grind continues this week in preparation for the Aggies' first true road game of the season, as Texas A&M heads to Starkville to take on Mississippi State.
"They'll be ready to play," Fisher said of the 3-1 Bulldogs, who are 0-1 in the SEC. "[That is] a tough place to play. Listen, you jump in this schedule we have in this league, you'll get humbled real quick. We have great opponents."
— The Aggies will likely be without leading receiver Ainias Smith, who extended his receptions streak to 27 games last Saturday before being sidelined by what looked to be a significant injury.