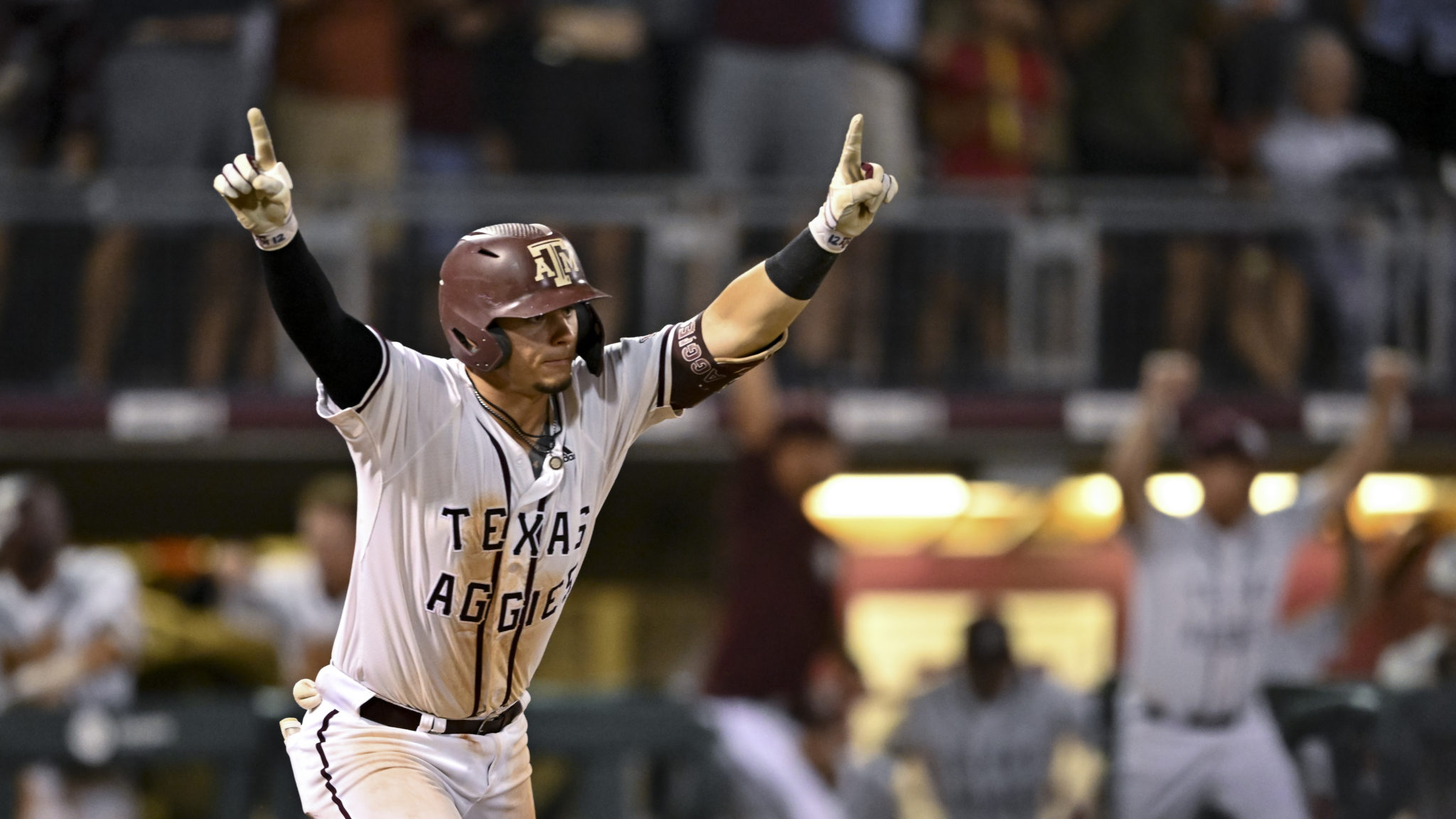 TEXAS A&M
Texas A&M is Omaha-bound with a simple message: Doubt us at your own peril
Texas A&M isn't supposed to be in Omaha. The Aggies boast a new (but highly successful) head coach, Jim Schlossnagle, a relatively low-star team, and preseason expectations that led the SEC's coaches to rank A&M 6th in the preseason.
No, not in the nation, in the SEC West.
But in an SEC where Tennessee has drawn the headlines, LSU had the all-star offense, and Arkansas had the apparent stranglehold on the SEC West, all the Aggies have done is nab that division and sweep through their NCAA regional and Super Regional. Winning games 5-4 and 4-3, as the Aggies just did over Louisville, marks a team that nobody in Omaha will want to face. Even if it still feels a little funny to say it — yes, the Aggies are headed to Omaha for the College World Series.
The Aggies did not crack any of the 6 major college baseball Top 25 polls until April 25th. The weekend before, A&M held off Arkansas in a white-knuckle 11-10 win where they nearly blew a 9-1 lead. That win gave the Aggies a series win over the Hogs and pulled them within 2 games of Arkansas in the SEC West standings. From there, A&M went 9-3 in their remaining month of SEC regular-season play and watched Arkansas falter on the last weekend, handing A&M the West division title.
Still, despite a résumé that landed the Aggies the No. 5 overall seed in the NCAA Tournament, A&M wasn't the kind of team that necessarily excited casual fans. A&M placed exactly no one on the preseason coaches' All-SEC first or second team. Even after winning the SEC West, the Aggies still didn't land anyone on the postseason All-SEC first team. Second team honors did go to 2nd baseman Ryan Targac (.298, 15 homers, 57 RBIs, 11 stolen bases), outfielder Dylan Rock (.332, 18 homers, 61 RBIs, 16 stolen bases), and utility spot pick Austin Bost (.359, 9 homers, 43 RBIs), a trio that has helped steer a rapidly improving offense. It might be telling that over the last month of the season, A&M scored double-digit runs 5 times, allowing double-digit runs just once.
But the most underrated Aggie might be catcher Troy Claunch. A .296 hitter, Claunch doesn't have the power numbers to garner headlines (just 3 homers), but he's been the conduit from a developing A&M pitching staff and the bats providing them just enough cushion to thrive. In Game 1 of the Aggies' Super Regional win over Louisville, Claunch had a pair of RBIs, and his 9th-inning walk-off single finished Louisville. In Game 2, Claunch went hitless, but again, his fingerprints were all over the game. With A&M clinging to its 4-3 lead in the 8th inning, Louisville managed a leadoff single, and pinch-ran with speedster Chris Seng. With 1 out, Seng tried to steal 2nd base, but a bullet throw from Claunch erased him easily. When Logan Beard then lined a single to center field, instead of facing a tie game, A&M simply retired the next batter and upheld their 1-run lead. Louisville stole 103 bases this season. They stole 0 on Claunch.
Claunch and the big bats aside, some of the credit has to go to A&M's pitching. Yes, the Aggies' 4.68 ERA is unlikely to win them any pitching awards. Yes, the two main A&M starting pitchers, Nathan Dettmer and Micah Dallas, have ERAs of just under and just over 5 runs per 9 innings. But in the Super Regional, A&M's bullpen totaled 9 innings of shutout pitching. Granted, those 9 innings included 11 hits and 5 walks.
Think again of Claunch — who won a CWS title as a freshman at Oregon State and is now a 5th-year veteran, calming, cajoling, and getting outs from his pitchers. And think of Schlossnagle, who was able to talk Claunch from Corvallis to College Station by selling a dream of not only SEC competitiveness but even of quiet dominance.
Claunch is hardly the lone impact transfer. Leading hitter Jack Moss arrived from Arizona State. Dylan Rock (team-high 18 home runs) arrived as a grad transfer from Texas-San Antonio. Kole Kaler is a grad transfer from Hawaii.
All of them wanted to play for "Schloss." Why? He is headed back to Omaha for the 6th time as a head coach. He doesn't need an app to find his way to Charles Schwab Field.
That quiet dominance has been a team effort. Texas A&M hasn't generated a ton of headlines. All they are is the hottest team from the best league in the nation. And all they are now is one team that nobody else will want a piece of in Omaha. In a season that began with almost no outside expectations, college baseball is catching on. The Aggies aren't loud. But they're good– really, really good.