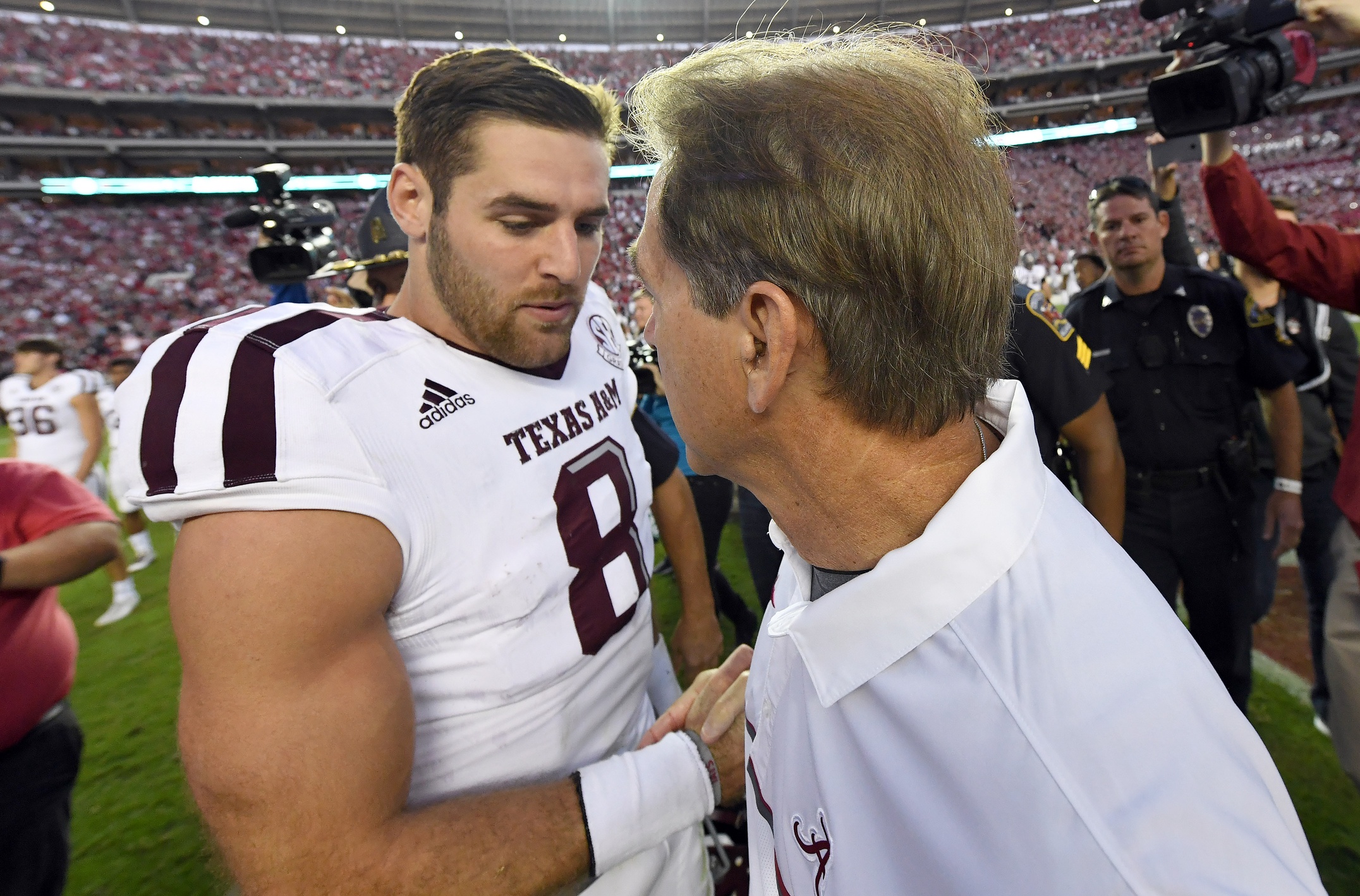 TEXAS A&M
Texas A&M looking for silver linings in 19-point loss to Alabama
If you're looking for positives from Texas A&M's 33-14 loss to top-ranked Alabama, you'll find a couple.
Take away a couple of plays late in the third quarter and it's a one-possession game. A roughing the passer penalty gave Alabama new life and instead of punting on fourth down, the Tide got a first down and then drove for a touchdown, erasing the Aggie's 14-13 advantage, their only lead of the game.
That preceded an Aggies fumble that Alabama defensive lineman Jonathan Allen scooped and scored from 30 yards out. The 13-point swing put the game out of reach. But that's what championship teams do; they force mistakes and then take advantage of them.
Now for the Aggies' positives:
The obvious is the comparison to the last time Texas A&M went to Bryant-Denny Stadium. Two years ago the Aggies visited Tuscaloosa and were embarrassed 59-0. So there's that.
But more important, improvement can be measured; not only on the scoreboard but in the trenches as well. Texas A&M was physical up front.
A young and still developing offensive line, which includes two freshmen (C Erik McCoy, LG Colton Prater) and a sophomore (RG Connor Lanfear) to go along with seniors Avery Gennesy and Jermaine Eluemunor, held their own Saturday.
The group escorted Texas A&M rushers to a total of 114 yards. That's well below the Aggies' normal output, but it was almost double the amount the Tide had averaged giving up. Alabama entered the game with a national-low 63.86 rushing yards allowed.
Keith Ford nearly reached that on his own. Displaying a bulldozing style that even Alabama had difficulty bringing down, Ford accumulated 62 rushing yards on 15 carries. The Tide were yielding just 2.4 yards per carry. Ford muscled up 4.1 yards per rush.
The Aggies' defense played relatively well until the key roughing the passer penalty in the third quarter that swung the momentum in Alabama's favor. From there, the Tide wore down an Aggies defense that was on the field for 82 plays. It would have been at least 11 fewer without the egregious infraction.
And Trevor Knight, while not particularly exceptional, certainly played well enough to keep the Aggies in the game. His performance, 164 yards passing (14-for-31) with two touchdowns and one interception was good enough to beat most teams. They are numbers not good enough to beat a team the caliber of Alabama.
The silver lining in Saturday's setback is that Texas A&M has displayed a toughness and ability to beat most teams on its schedule; perhaps the rest of them. Home games with Ole Miss and LSU will decide if that is indeed true.
Bottom line, this team is worlds ahead of the last few that started 5-0 and limped in at 8-5. Currently at 6-1, a double-digit win season is certainly not out of the question.