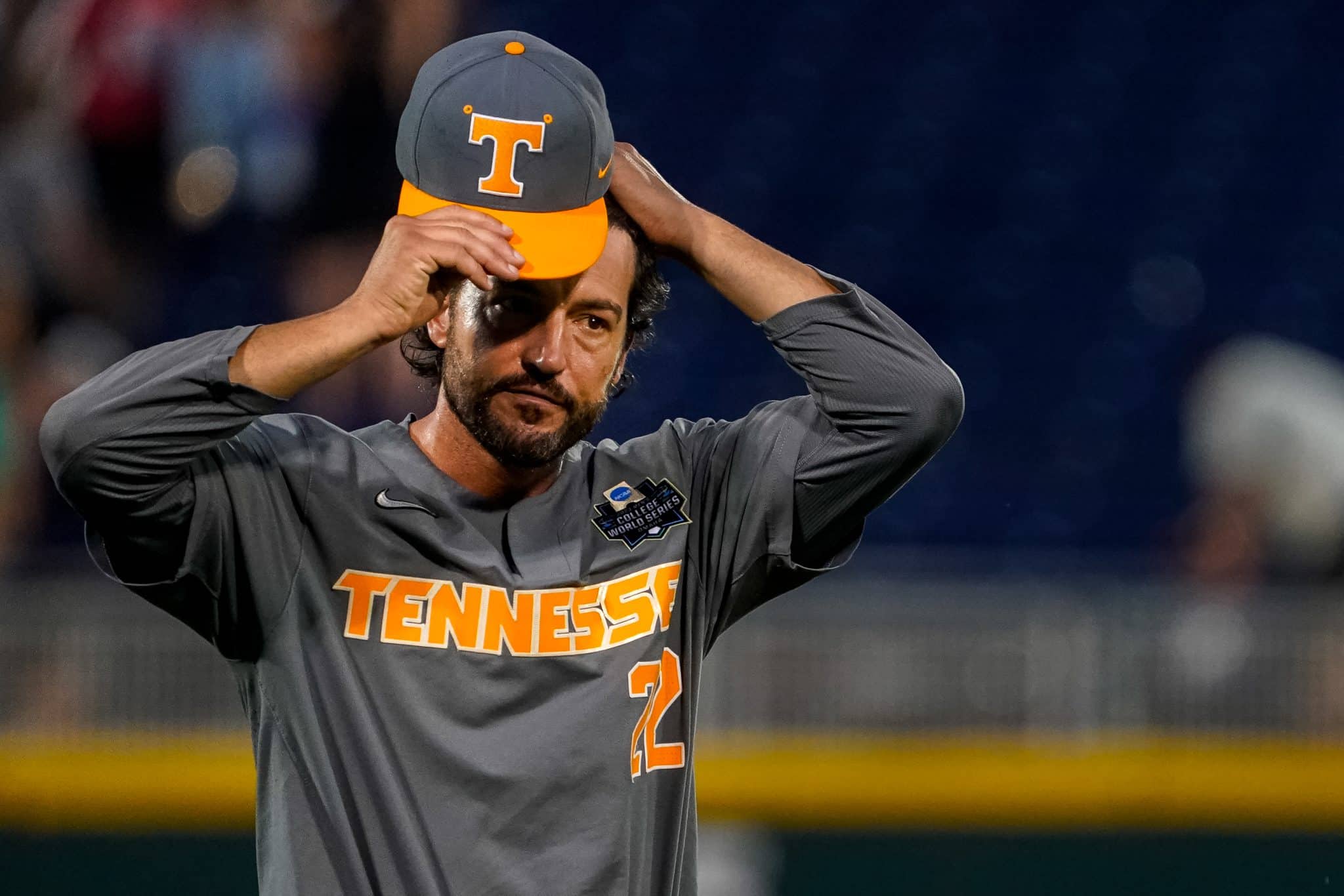 TENNESSEE
Another frustrating finish, but progress continues for Tennessee baseball
If there was a team capable of starting 0-1 at this College World Series that could still make its way to the championship series, it figured to be Tennessee.
Unlike most teams, the Volunteers had the arms to do things the hard way. As ESPN analyst Kyle Peterson noted, Tennessee is perhaps the team in this tournament best suited for taking down top-seeded Wake Forest.
But the Vols will never be able to prove that theory, because they never got the chance. Another season reached its disappointing end with a 5-0 elimination-game loss to LSU on Tuesday night.
The pitching was, in fact, there.
Drew Beam did as well as could be asked of a No. 4 college starter, allowing just 1 earned run and striking out 9 Tigers in 5 2/3 innings.
The offense was not.
Playing in the 70th College World Series game in program history, LSU recorded just its second shutout in all that time behind a duo of portly, shaggy-haired, bearded and soft-tossing lefties.
Nate Ackenhausen, who hadn't started or pitched as many as 4 innings in a game all season, gave up just 4 Tennessee hits in 6 innings. The Vols managed 2 more hits in the final 3 innings against his replacement, Riley Cooper.
For a team that finished 6th nationally with 126 home runs and 19th with 459 RBI, it was an unbelievably limp way to go out. Welcome to Charles Schwab Field, the only ballpark in the country where you're better off hitting doubles than trying for homers.
The disappointment will likely linger a little bit longer because the season ended with a pair of losses to LSU. Any other opponent, save Florida, would have made things easier to swallow.
But when the moment to look in the rearview mirror arrives, it will reflect well on what Tony Vitello's Vols accomplished in 2023.
In a potential tipping-point season, Tennessee baseball left no doubt that it is moving forward.
Moving forward from disappointment
Few things in sports are tougher than rebounding from a bitter end with an entire offseason to dwell on the negatives.
Plenty of teams fail in that quest.
To cite an example that Tennessee fans might actually be fond of, the Buffalo Bills took 18 years to make the NFL playoffs again after losing the "Music City Miracle." And the Titans only exist because Houston never mentally recovered from blowing a 35-3 halftime lead to Buffalo a few years before that.
It wasn't just a team that was beaten. The whole dang city checked out. So, the franchise left.
Some gut punches are truly that staggering.
Last year could have been that kind of gut punch for Vitello's Vols.
Tennessee wasn't just the best team in college baseball in 2022. The Vols were viewed as maybe the sport's best team of the past decade. An absolute wagon, and a team that won with a rare style and flair.
And then the wheels flew off.
The intended coronation, a Super Regional against Notre Dame, turned into a funeral when the Irish took 2 of the 3 games. Tennessee's super team wasn't even going to Omaha.
Given how polarizing Vitello's team was, the defeat drew even more barbs from SEC rivals than usual. The bitterest pill to swallow.
Tennessee was again picked to win the SEC but received a rude slap in the face at the start of conference play: swept by Missouri. Mizzou would go on to finish last in the SEC East and get its coach fired.
It wasn't just the Mizzou series. Tennessee was out of sorts for more than a month, starting 5-10 in SEC play. The preseason No. 1 in the SEC was looking at the wrong side of the NCAA Tournament bubble.
The disappointment of 2022 could have wrapped its tentacles around the future of Tennessee baseball. Squeezed out hope. And to the credit of this group, it didn't happen.
The Vols finished 11-4 in the second half of the SEC season. They were asked to do things the hard way twice, hitting the road for regionals and super regionals.
The ultimate measure of this team's mettle was the 14-inning marathon at Clemson that turned into a 6-5 win. It was clear that that point that the ghosts of last year were exorcised.
And though Tennessee fans grumbled about losing a super regional to Hattiesburg, perhaps things were better off that way. This team did its best work with its back to the wall and circumstances at their most dire.
Such as bouncing back from a Game 1 loss to Southern Miss and making it to Omaha. And erasing a 4-0 deficit against Stanford for the program's first win in Omaha since 2001.
That spirit, along with the pitching, is why there was reason to think the Vols might actually achieve the unlikely and run through the loser's bracket.
It didn't work out that way. But the aftertaste of Tennessee's 2023 finish should feel much different than the year that preceded it.
Vitello's Vols are making progress. It is gradual, and it is sometimes painful. That's how baseball usually works. But it's definitely the right direction.
And that may become increasingly evident in 2024.
Read More
Tennessee sportsbooks are live in the Volunteer state since November 1, 2020. Tennessee was the first SEC state to legalize sports betting.