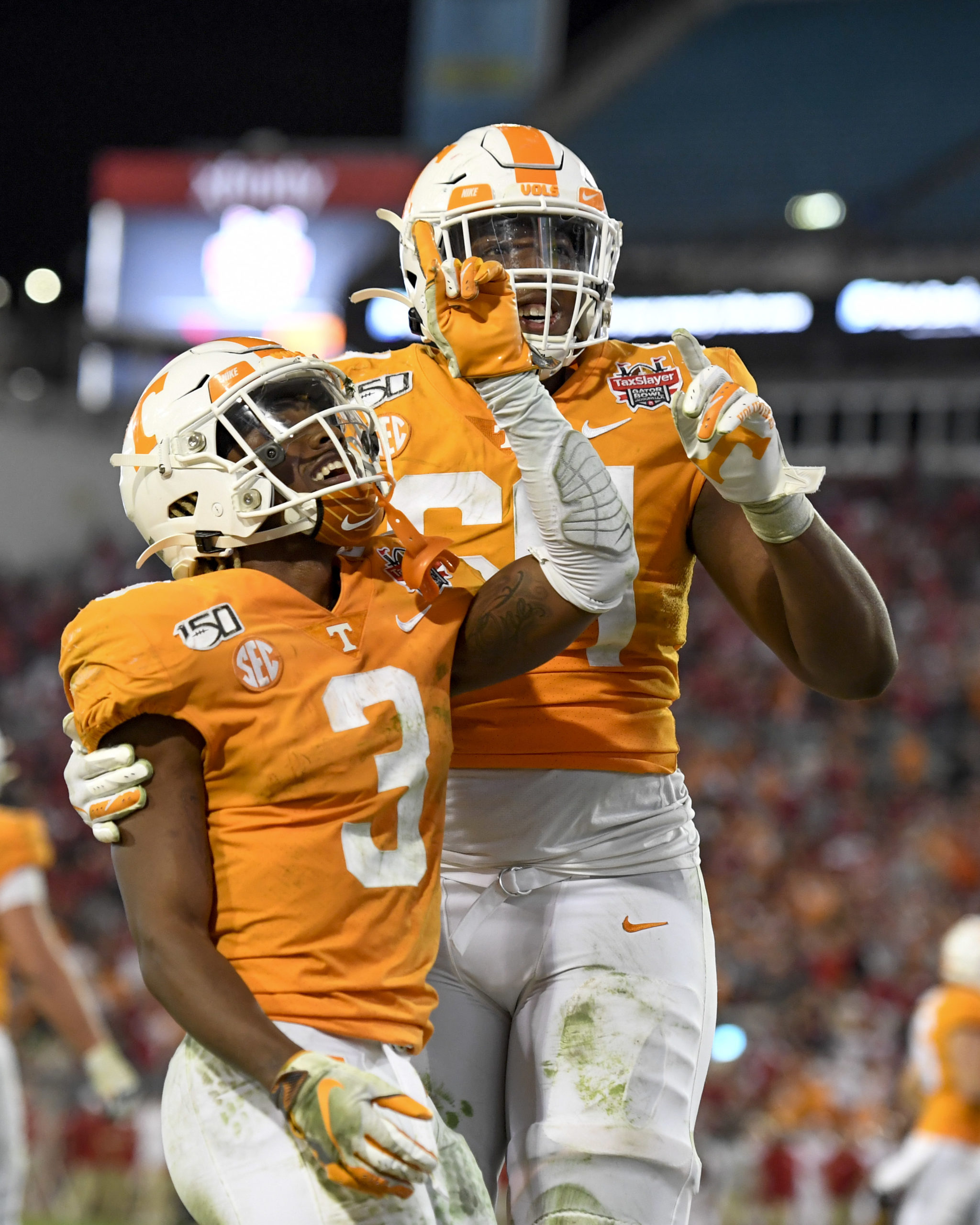 TENNESSEE
Better or worse? Previewing Tennessee's offense in 2020
Editor's note: This is the 6th in a series previewing every SEC East team's offense. Next: Vanderbilt.
I recently was on Twitter and saw some clips of Tennessee's offense in the 1990s. Whether it was Andy Kelly throwing deep to Carl Pickens or Jay Graham sprinting past opposing defenses or Peyton Manning zipping passes to Joey Kent … there was an insane collection of talent on display during the Decade of Dominance. Heck, I could write a series of books about the firepower Vols fans got to see every Saturday.
But like Mark McGwire, I'm not here to talk about the past. It's time to look to the Fall, when Tennessee hopes to take a step forward on that side of the football. In 2019 the Vols' offense was mediocre for much of the year but showed some flashes that, in time, this could be a pretty good group. There is finally some consistency on the coaching staff, with offensive coordinator Jim Chaney back for his second year (in his second tour of duty at Tennessee).
Will it be better than 2019?
Let's take an early look at what Vols fans should expect come September.
Key losses: WR Jauan Jennings, WR Marquez Callaway, WR Tyler Byrd, TE Dominick Wood-Anderson, RB Tim Jordan
Key returnees: QB Jarrett Guarantano, QB Brian Maurer, WR Josh Palmer, WR Brandon Johnson, WR Deangelo Gibbs, WR Ramel Keyton, RB Eric Gray, RB Ty Chandler, TE Austin Pope, OL Trey Smith, OL Wanya Morris, OL Darnell Wright, OL Brandon Kennedy
Key newcomers: OL Cade Mays, WR Jalin Hyatt, WR Velus Jones, Jr., WR Dee Beckwith, WR Malachi Wideman
Passing Offense: Even
Tennessee's passing game made strides in 2019. For the second consecutive year, Vols QBs combined for more yards and more TDs than the previous season.
I'd like to say that the passing game will be even better in 2020, but losing Jennings and Callaway is significant. They combined for 89 catches for 1,426 yards and 14 touchdowns in 2019. They were also team leaders and safety valves for whoever was taking the snaps. This isn't even taking into account the departure of tight end Dominick Wood-Anderson, who had 21 catches last season.
There is so much uncertainty at quarterback, as there has been since Joshua Dobbs walked off the field at the 2016 Music City Bowl. Jarrett Guarantano is back for his 5th and final season, but can any Vols fan be confident that this is finally the year his lives up to the hype? At times he looks confident and ready to command the offense, hitting receivers when open. Other times … he doesn't.
If past is prologue, maybe 2009 gives Tennessee reason for optimism at that position. Jonathan Crompton hadn't achieved big things in his first 4 years in Knoxville, but a switch flipped a few weeks into his 5th season and he eventually was an NFL Draft pick the following April. Crompton's development was Lane Kiffin's biggest accomplishment at UT. Ideally, Guarantano follows a similar trajectory.
Should he falter, Brian Maurer looks to be the backup to start the season, with J.T. Shrout and incoming freshman Harrison Bailey in reserve.
There is good news. An experienced offensive line is in play to give the quarterback time to throw, but more on those guys in a moment.
Josh Palmer, who had 34 catches last season, moves into the No. 1 receiver role. After that it's a bunch of unknowns. Ramel Keyton is a big-play threat. Newcomers Dee Beckwith, Jalin Hyatt and Malachi Wideman will get their chances. Deangelo Gibbs, the former Georgia transfer, will finally suit up for Tennessee in September. Southern Cal grad transfer Velus Jones Jr. is also in the mix. But none of those guys are guaranteed success stories waiting to happen in 2020. Austin Pope only had 4 catches a year ago at tight end, but he should get more chances with Wood-Anderson now with the Seattle Seahawks.
Running Game: Better
The Vols haven't topped 2,000 yards rushing or 15 rushing TDs in a season since 2016, when the ground game produced 2,668 yards and 31 TDs. But, just as with the passing game, the running game improved in 2019. There is genuine optimism heading into this season.
The Vols will try to spread out the carries, and they have some guys that can carry the load if need be. Ty Chandler led the Vols with 655 yards last season. (Tim Jordan picked up 428 yards a year ago but was dismissed after an offseason arrest.)
But you get the feeling that head coach Jeremy Pruitt, offensive coordinator Jim Chaney and running backs coach Jay Graham would love to see rising sophomore Eric Gray take over as the go-to option. Gray had 539 rushing yards on only 101 carries, an average of 5.1 yards per attempt. His breakout performance against Vanderbilt (246 rushing yards, 3 touchdowns) and MVP showing in the Gator Bowl win (86 rushing yards, 1 touchdown) showed that he has the potential to do big things at Tennessee.
The other bonus is that Gray will have a talented and experienced offensive line to open holes for him. Wanya Morris, Darnell Wright and Trey Smith are all future NFL Draft picks. Brandon Kennedy was given a 6th year by the NCAA. And things got even better when Cade Mays transferred home to Knoxville from Georgia. The NCAA has yet to announce whether he is eligible to play this Fall, but Tennessee feels confident that will get done.
With a passing game you can't totally count on, the Vols are fortunate to have a solid running attack.
Kicking Game: Better
Last season was a banner year for Brent Cimaglia. He made 23-of-27 field goals, plus all 69 of his extra-point attempts. Among SEC kickers, only Georgia's Rodrigo Blankenship made more field goals, and nobody with at least 20 attempts converted at a higher rate.
Barring injury, Cimaglia will leave Tennessee in the top 10 all-time in points scored. He is as close to a sure thing as you can get at football's most unpredictable position.
As for the return game, the kickoff returns are decreasing in importance by the year in college football, but Ty Chandler and Velus Jones, Jr. are solid options. In the punt return game, Callaway will be missed, but Gray should be the No. 1 choice.
Overall: Better
There are question marks (aren't there always?), but the Tennessee offense should be better in 2020 than they were in 2019, when they finished 11th in the SEC in scoring (24.2 points per game). Keep in mind, they finished 13th in 2018 (22.8) and dead last in 2017 (19.8).
So they are trending the right way.
The 2020 Vols have more experience because they were forced to start freshmen a year ago. They are deeper than they have been in recent years as well. Yes, there is reason for optimism on Rocky Top.
Read More
Tennessee sports betting officially launched on November 1, 2020. Tennessee was the first SEC state to legalize sports betting.