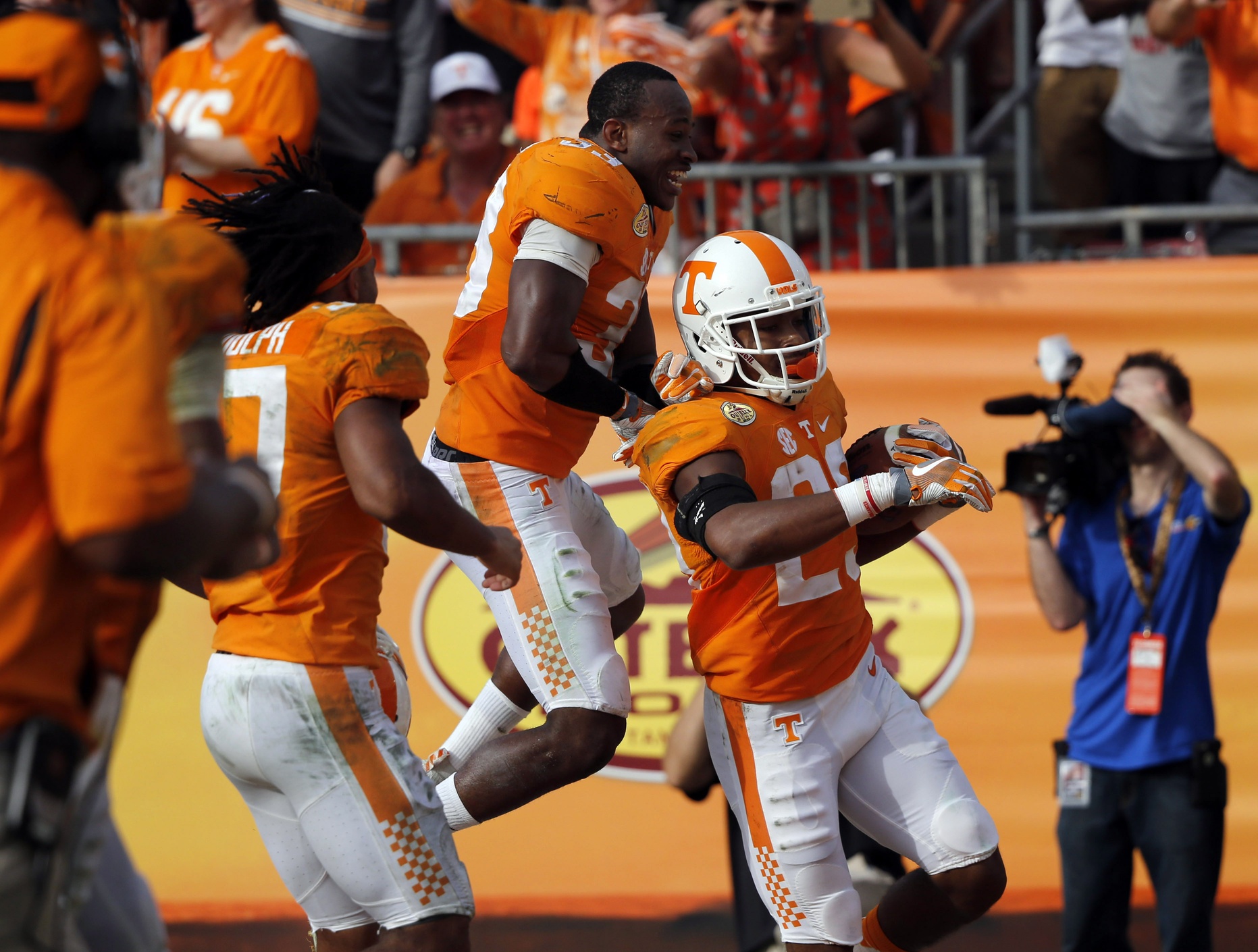 TENNESSEE
Better/Worse in 2016: Tennessee pass defense
It's happened a lot in Knoxville in the past decade or so. An overload of hype descends on campus in one form or another, and almost invariably the results on the field don't live up to the hope. We saw a touch of that last year, when many thought the Vols were ready to contend.
It didn't turn out that way, and there was plenty of blame to go around in a 9-4 season that ended well but started with four losses in seven games that all stung very, very badly. In all four games, the Vols let a late lead slip away.
The pass defense can take some blame. There were many horrific moments in just about every loss.
2015 STATS
Passing yards allowed per game (SEC rank): 210.4 (8th)
Touchdown passes allowed: 17 (tied for 9th)
Opposing passer rating: 111.03 (3rdt)
Most yards allowed, opponent: 433, Bowling Green
300-yard passers allowed: 1
PASS RUSH
The Vols are virtually loaded at every level on defense, and their defensive front is scary good. Derek Barnett, Kahlil McKenzie, Kendal Vickers, Corey Vereen, Shy Tuttle, Kyle Phillips and LaTroy Lewis all will see the field plenty, and Barnett and Vereen on the edges are future first-round picks.
Barnett has 20 sacks in two seasons and is well aware that Reggie White holds the school record at 32. Getting 13 sacks is a lot, but he'll be motivated to try in what likely will be his final college season. And Vereen is very underrated and ready to take the next step as well.
The Vols are deep at linebacker with Jalen Reeves-Maybin and Darrin Kirkland and are capable to mix and match well under new defensive coordinator Bob Shoop.
SACK ARTIST
With 20 career sacks, Barnett has surpassed his recruiting profile and continues to chase Texas A&M's Myles Garrett as the conference's premier pass rusher.
Both were part of the 2014 class. Barnett was a four-star prospect and No. 13-ranked defensive end. Garrett was the No. 2 overall prospect in the class and No. 1-ranked defensive end.
Garrett led the SEC last season with 12.5 sacks and has 24 in two years.
Like Garrett, Barnett draws an extra man all the time. He's that good.
BALL IN THE AIR
Cameron Sutton is a stud at corner and return ace Evan Berry will start at safety. Several others emerged during the spring to make this a confident group.
Junior college transfer D.J. Henderson can play, as can Marquill Osborne. There's also plenty of excitement over the newcomers. Top-100 safety Nigel Warrior, top-100 cornerback Tyler Byrd and three-star cornerback Baylen Buchanan all could make immediate impacts in the secondary as freshman. And do be a bit surprised if Warrior starts fro the get-go.
PICKOFF ARTIST
This could be a year for Evan Berry to become a star thief. He's already proven he can take the ball to the house on special teams and he's got a nose for the ball when it's in the air. He returned his only interception last year 100 yards for a touchdown against Northwestern in the Outback Bowl. Don't be surprised if he singlehandedly wins games this year.
GREATEST CONCERN
Closing games is an absolute must. Granted, the Vols weren't really ready to contend for a national title, but the way the season played out, they certainly could have. The bad losses to Oklahoma, Florida and Alabama could have changed a season.
And the pass defense played a role. The Vols allowed three touchdown passes to Oklahoma and two to Florida.
In 2016, the Vols need to lock down games late and find a way to win. They should be improved enough to do that, but we'll see.
ONE STAT THAT MUST CHANGE IN 2016
In Tennessee's four losses, three fourth-quarter collapses stood out and the huge disparity in passing yards had a lot to do with that. Against Oklahoma, Florida and Alabama, the Vols gave up 300 passing yards combined in the fourth quarter, while passing for only 111 yards combined themselves.
Here's the breakdown: Oklahoma 61-8; Florida 143-33; Alabama 96-70.
You can't lose that battle in big games and expect to hang on to win. That has to change in 2016.
BETTER/WORSE IN 2016?
When Butch Jones hired Bob Shoop to be his defensive coordinator, he challenged him to create a new culture and identity on defense, and to improve fundamentals. Mostly though, he charged him with finishing games, and that's likely to be a big difference this year. Look for the Vols to be better against the pass, and maybe even substantially better.
Read More
Tennessee sportsbooks are live in the Volunteer state since November 1, 2020. Tennessee was the first SEC state to legalize sports betting.