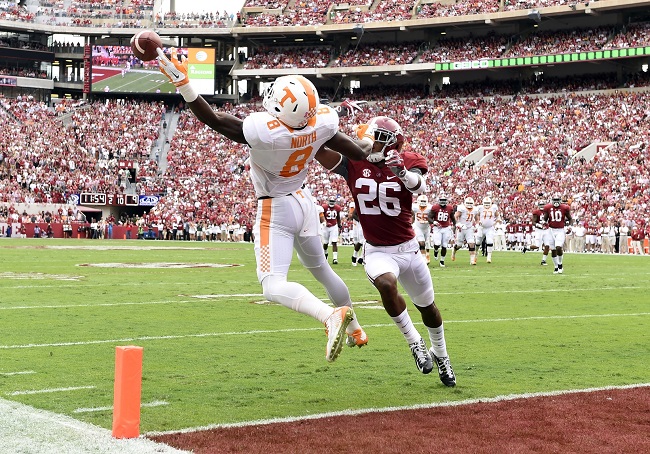 TENNESSEE
Biggest recruiting misses since 2010: Tennessee
Since 2010, Tennessee has struggled to develop and retain its top recruits.
The Vols' 2010 class included five-star recruits WR Da'Rick Rogers and OT Ja'Wuan James, but a few of the top recruits underachieved. Four-star DE Corey Miller struggled until his senior year when he had 6.5 sacks and seven tackles for loss. Four-star WR Matt Milton transferred to Louisville. Rogers was dismissed at Tennessee after two years.
The top level of Tennessee's 2011 class had similar issues. Top recruit WR DeAnthony Arnett transferred to Michigan State after one year. Four-star TE Cameron Clear was dismissed after he was arrested for stealing a laptop belonging to one of Tennessee's baseball players. And four-star DB Byron Moore didn't crack the starting lineup.
The 2012 class had a few solid players — Cordarrelle Patterson and LaDarrell McNeil — but had its share of misses. Four-star DT Omari Phillips played one game at Tennessee. Another four-star tackle, Danny O'Brien, has only 49 tackles and four sacks through his junior season. And the Vols' wide receiver recruits failed to meet expectations. Drae Bowles transferred to Chattanooga after his sophomore season. Jason Croom, who hasn't averaged more than one reception per game over his career, was sidelined in 2015 season with a knee injury. Pig Howard, who had 112 receptions during his career, was dismissed in 2015.
After Tennessee fired Derek Dooley and hired Butch Jones for the 2013 season, the recruiting classes have been more stable. But Jones' staff had some misses during its first season. Receiver Marquez North, the top recruit in 2013, never got untracked and opted to enter the NFL Draft after an injury-plagued 2015 season. The Vols' No. 3 recruit in 2015, DE Jason Carr, left after his freshman season.
It's too early to determine whether the top players from Tennessee's 2014 and 2015 classes will reach their potential, but in recent years Tennessee has done a solid job developing three-star recruits. Corey Vereen, Cameron Sutton, Dylan Wiesman, Brett Kendrick, Malik Foreman, Josh Smith, Kendal Vickers, Ethan Wolf, Jashon Robertson, Coleman Thomas, Emmanuel Moseley and Owen Williams have been solid contributors.
Read More
Tennessee online sports betting officially launched on November 1, 2020, and many of the largest sportsbooks are live and operating in the volunteer state. Tennessee is only one of a handful of SEC football states with legalized sports betting.