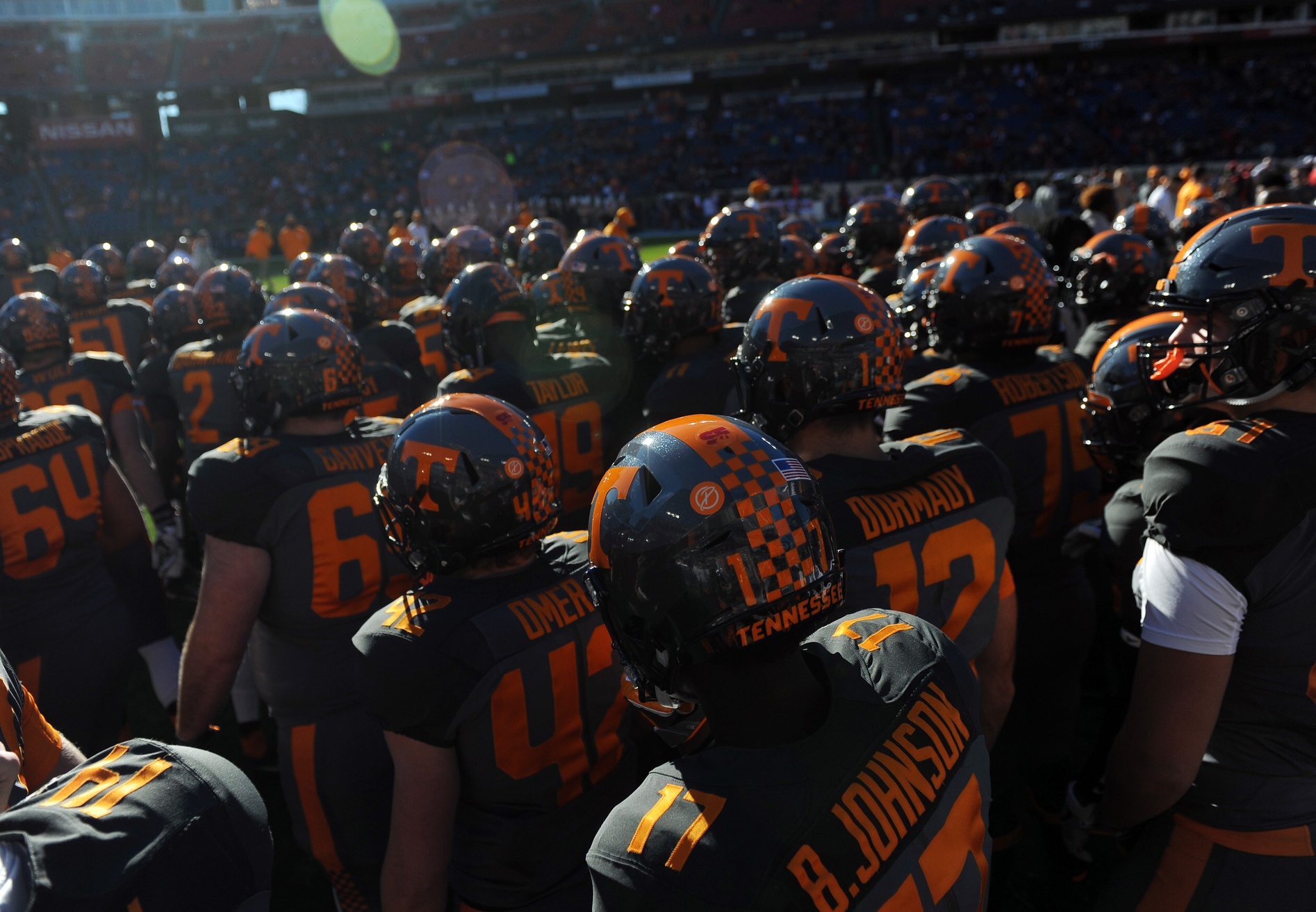 TENNESSEE
Bowl win or not, 2016 clearly a major disappointment for Tennessee
If you're a Tennessee fan and currently celebrating a 38-24 win in the Franklin American Mortgage Music City Bowl over Nebraska, stop. Right now.
The Volunteers had no business being in Nashville today. After all that brick-by-brick stuff and the countless other clichés from fourth-year coach Butch Jones, this team should at the very least have been in a New Year's Six bowl game.
Instead, UT kicked off on a Friday afternoon — against a mediocre Nebraska team — well before revelers ring in 2017. Even if the Vols weren't ready to unseat resident bully Alabama as champions of the SEC, they were more than capable of an invite to the Sugar Bowl on Jan. 2 against Big 12 champ Oklahoma.
Most everyone's preseason selection at Media Days to win the East, everything seemed to line up in Tennessee's favor.
The Volunteers returned 17 starters combined on offense and defense, more than any other program in the conference. They were also sound on special teams, including a pair of explosive return men in Evan Berry and Cameron Sutton.
Most important, they were led both on and off the field by senior quarterback Joshua Dobbs. While Chad Kelly of Ole Miss may have been the most dangerous passer in the league — prior to his injury and a cratered campaign from the Rebels, of course — Dobbs was the most experienced and, arguably, most valuable.
Nevertheless, the math never added up this year on Rocky Top. The presumed highs were dizzying, but the unforeseen lows were cavernous.
Overtime with Appalachian State. A 14-point deficit to Virginia Tech. A taffy pull with Ohio. A 21-point deficit to Florida. A last-second Hail Mary against Georgia. Even if all of them resulted in wins, it was a tenuous 5-0 at the time.
Apparently, Jones (above) forgot to bring his rabbit's foot to College Station. The Vols trailed Texas A&M 28-7 midway through the third quarter — early holes proved to be a bad habit for Dobbs and Co. — before mounting another crazy comeback to force overtime. However, the Aggies emerged victorious this time in the second extra frame.
Tennessee quickly went from contender to pretender the following week, getting shellacked 49-10 by the Crimson Tide at a numb Neyland Stadium.
Coming up short against A&M on the road? Reasonable. Not having what it takes to battle 'Bama at home? Understandable. But allowing a two-game losing streak to become three with a lethargic effort at South Carolina? Unforgivable.
The three-game slide then went from ridiculous to absurd when Jalen Hurd — one of the top running backs in the SEC — quit midseason. Apparently, he wasn't getting the ball enough. And when he did get carries, they were out of the spread. Promises were (allegedly) made that the Volunteers would feature him more prominently in the I-formation.
Some UT fans sided with Hurd and wished him well. Others groaned "good riddance." But all of them questioned Jones's command of the locker room.
With the albatross-like Hurd no longer hanging from their necks, the Vols put up yards and points with reckless abandon the next three weeks. In Ws over Tennessee Tech, Kentucky and Missouri, they averaged 559.7 yards and 55.7 points.
Unfortunately, any chance of finishing up on a high note went out the window with a 45-34 upset loss at in-state rival Vanderbilt — I use the term "rival" very loosely considering the fact that Tennessee once won 22 straight in the series — in the regular-season finale. A shot at a 10-win season went up in smoke, too.
It's tough to make excuses for Jones. The Florida squad that won the East was a paper Gator and got destroyed by the Tide in the league title game.
He had all those returning starters. He had all that experience with Dobbs (below). He had four full cycles of recruits. Sure, that month-long stretch (Florida, at Georgia, at Texas A&M, Alabama) was nasty, but overall the schedule was manageable.
To be fair, injuries were a factor. Linebackers Jalen Reeves-Maybin and Darrin Kirkland Jr. were desperately missed. Sutton isn't so easily replaced at the cornerback position, not to mention as a punt returner. The offensive line — it resembled a swinging gate more often than not — required seven different starting combinations.
It got so bad that Jones stopped discussing his injury report altogether. It's football, though. Injuries are part of the game.
Jones went from five wins in Year 1 to seven in Year 2 to nine in Year 3, so expecting double digits this season was far from unreasonable. Expecting him to capture the division was far from unreasonable, as well.
As far as bringing the Volunteers "back" — former coach Phillip Fulmer won 10 games eight times in 16 years from 1993-2008, plus a BCS championship in 1998 — into the conversation among national powers, that also seemed reasonable. All the ingredients are there. It's now time to wonder if UT has the right cook in the kitchen.
The SEC will have its fair share of coaching hot seats coming into 2017. The one in Knoxville could very well be the hottest of all.
If they couldn't win the East and perhaps threaten the West this season, then what exactly needs to happen in order for the SEC to become "home sweet home" for the Vols again? Dobbs is gone. So, presumably, is sack master Derek Barnett.
Whatever the depth chart looks like for UT next year, it will certainly have more fresh faces than it did this year. Whomever the starting QB is — redshirting freshman Jarrett Guarantano feels like the favorite — he likely won't be as productive as Dobbs. One can only hope that the training room sees less activity.
Tennessee fans don't want champions of life. They want champions of football. Jones might have swung and missed at his best chance to deliver.
---
John Crist is the senior writer for Saturday Down South, a member of the FWAA and a voter for the Heisman Trophy. Send him an e-mail, like him on Facebook or follow him on Twitter.
Read More
Sports betting in Tennessee officially launched on November 1, 2020, and many of the largest sportsbooks are live and operating in the volunteer state. Tennessee is only one of a handful of SEC football states with legalized sports betting.