TENNESSEE
Key to Tennessee's 4-headed QB derby: Starter must be able to hit deep shots
The first item on Tennessee's "To Do List" this spring is to actually hold practice.
With spring camp set to start Tuesday, the Vols have halted all team activities following another COVID-19 outbreak among players and staff.
But while it's yet another hurdle for new head coach Josh Heupel to deal with amid looming NCAA sanctions and a thinning roster, let's surmise that the Vols will ultimately get on the field sometime this March or April.
So what's the true primary focus on camp then? It has to be evaluating the four-headed derby at quarterback, right?
Heupel, along with UT offensive coordinator Alex Golesh and quarterbacks coach Joey Halzle, made it clear that there won't be any final decision on the starting job following 15 (ideally) spring practices, but all eyes will still be on the headliner battle between Virginia Tech transfer Hendon Hooker, Harrison Bailey, Brian Maurer and signee Kaidon Salter.
How the Vols split reps among 4 candidates should be interesting to monitor — is it even possible to truly get quality reps for 4 guys? — but Halzle was adamant earlier this offseason that "everyone is going to get an absolute shot to go be the guy on Saturdays."
But the decision will take time. Golesh referred to the looming competition as "a six-month process to get to Week 1 and then roll with the guy you feel is most prepared and most functional in terms of running the offense." So what does that mean for the candidates this spring?
I'm not here to make a prediction now on who will be the guy for the Vols in 2021, but looking at Heupel's offenses historically, it's clear what he's looking for from the position.
Explosiveness.
Who can push the ball vertically with the best results?
Read More
Sports betting in Tennessee officially launched on November 1, 2020, and many of the largest sportsbooks are live and operating in the volunteer state. Tennessee is only one of a handful of SEC football states with legalized sports betting.
It's overly basic to distill Heupel's offensive system as a modern homage to Art Briles' veer and shoot, but that's kinda what it is. Heupel & Co. emphasize tempo to create 1-on-1 vertical shots (running plenty of 3X1 formations) with lots of RPOs and an interior power rushing attack. The QB run game has certainly been an added element (UCF quarterbacks McKenzie Milton and Dillion Gabriel both had north 0f 70 attempts) to Heupel's offense, but it's not a requirement (Drew Lock never had more than 36 designed runs in 2 seasons under Heupel at Missouri).
Still, Heupel brings a totally foreign scheme to what Tennessee's players are used to recently, which in a vacuum is really positive since the Vols' offenses have stunk while Heupel's have been extremely productive.
But the drastic philosophical change does present Heupel and his offensive assistants with a difficult question to answer this offseason due to limited information: Which Vols quarterback is best at hitting sideline shots?
Look at this passing heat map, courtesy of Pro Football Focus, on all attempts at UCF the last two seasons. The middle of the field is largely ignored.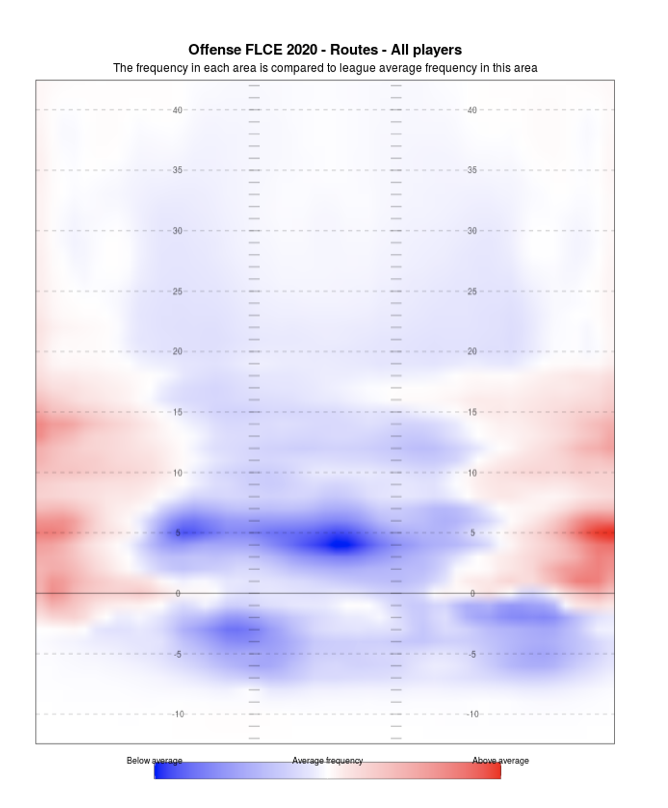 Heupel's offenses are dictated on exploiting the hashes vertically. In 2020, UCF led the nation in completions (21) over 40 yards. The Knights were No. 3 nationally (22 completions) in the same category in 2019. As Missouri's OC in 2017, the Tigers finished No. 3 nationally with 23 completions over 40 yards under Heupel stewardship.
Comparatively, the Vols have had 13 total completions over 40 yards in the last 2 seasons combined.
Now, obviously quarterbacks aren't routinely going to complete 40-yard passes. There's also plenty of run-after-the-catch examples among those stats noted above. But what about passes 20 yards beyond the line of scrimmage?
That's a bit more reasonable and still represents a great unknown among Tennessee's competing quartet.
Last year at UCF, roughly 20% of Gabriel's attempts were at least 20 yards past the line of scrimmage, per PFF data. On such throws, the Knights' dynamic quarterback went 35- for-80 for 1,338 yards and 14 touchdowns to just 2 interceptions.
In one shortened season, Gabriel's production was more than the careers of Tennessee's entire group of candidates combined. Yes, Bailey and Maurer have limited experience but Hooker comes to Knoxville with 15 starts under his belt.
Maurer didn't attempt a single pass over 20 yards in spot duty last season. As a freshman in 2019, Maurer had 22 throws over 20 yards, completing only 4 with 2 interceptions and just a single touchdown.
Meanwhile, former offensive coordinator Jim Chaney rarely asked Bailey, who started the final 3 games of 2020, to go downfield either, as the former Marietta (Ga.) standout went just 2-of-6 on throws over 20 yards in 6 games.
As for Hooker, he was only 9-of-18 for 347 yards with 2 touchdowns and 3 picks on throws 20+ yards in 2020. The transfer had just 27 such attempts in 2019, too.
Clearly, Heupel isn't dealing with much evidence to evaluate here, and that's why the next 6 months are key: To become Tennessee's starting quarterback, you better complete the long ball in practice.
The four candidates vying for UT's job all have interesting yet flawed tools, but what brings the group together is their collective lack of productivity on the very facet of what makes Heupel's offenses click.
"We are going to let you rip it," Halzle said.
That's a new concept in Knoxville, and it will put to the test between now and Sept. 4 to determine who becomes Tennessee's next signal-caller.