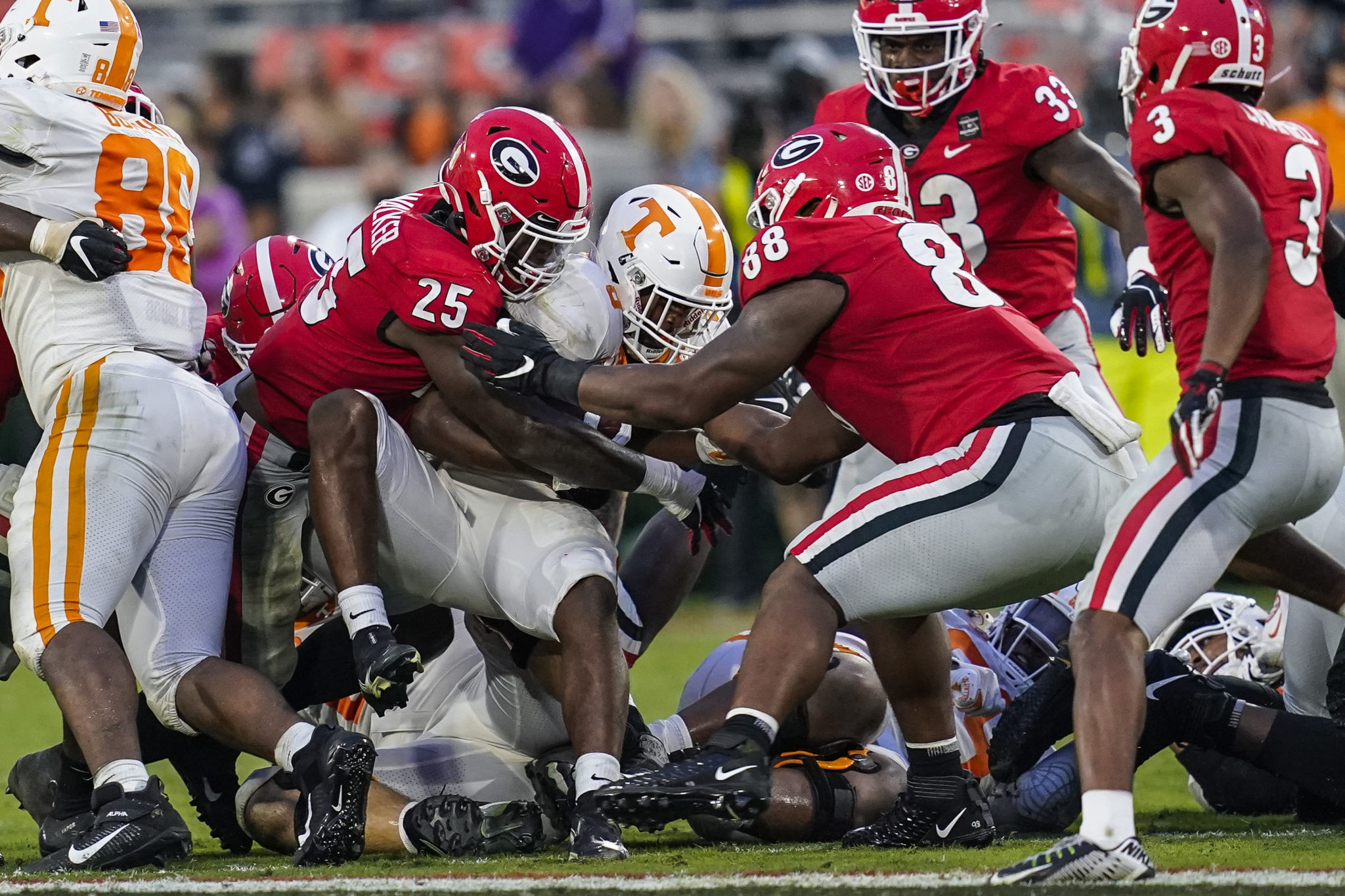 TENNESSEE
Fearless Prediction: Tennessee vs. Georgia - Nov. 2021
The Fearless Prediction is riding high these days following its Tennessee over Kentucky pick. If you look across the vast landscape of the internet, you will find that no one else picked the Vols to win in Lexington.
It's true. I've done the research so you don't have to …
Now we take aim at predicting the result of Tennessee's game against top-ranked Georgia.
The Bulldogs head to Neyland Stadium with a historically great defense. How great? Through 9 games they have allowed only 5 touchdowns (UAB scored a TD against Georgia as well, but it was a pick-6).
UGA is giving up only 231 yards per contest and a mere 3.8 yards per play. Opponents are averaging less than 7 points per game. No one has cracked more than 13 points through their first 9 games.
Numbers don't always tell the story, but in this case, they certainly do.
Georgia has playmakers on defense, including inside linebacker Channing Tindall, who leads the Dawgs with 45 tackles. Outside linebacker Adam Anderson is tops on the team with 5 sacks. Those stats aren't eye-popping, but they don't have to be because this is a balanced bulldozer.
On offense, Stetson Bennett has taken over for JT Daniels due to the fact that Daniels can't seem to stay healthy. Bennett got most of the work in last week's romp over Missouri, throwing for 255 yards and 2 scores. Daniels reappeared late in the game. So far it hasn't mattered who is playing quarterback for UGA.
Tight end Brock Bowers has become the biggest threat in the passing game with a team-leading 28 catches and 6 touchdowns. Sophomore Jermaine Burton is an attractive option as well for Bennett or Daniels, averaging nearly 19 yards per grab. Zamir White has 9 rushing touchdowns to go with 519 yards on the ground.
Georgia is ranked 44th in the nation in total offense and averaging over 38 points per game. They are more than good enough on that side of the ball to make them the odds on favorite to win their first national title since 1980.
As for Tennessee, few expected the Vols to be 5-4 in Josh Heupel's first year. Hendon Hooker has turned into one of the SEC's breakout players in 2021, with 2,352 total yards of offense, 21 passing TDs and only 2 interceptions. Hooker is completing 69% of his passes. He's added 4 rushing touchdowns as well.
Velus Jones Jr. and Cedric Tillman have become Hooker's top targets, each catching 36 passes and recording 5 touchdowns. Tiyon Evans leads the team in rushing with 525 yards but only had 1 carry last Saturday night against Kentucky. Jabari Small and Jaylen Wright should get most of the running back carries if Evans is still banged up.
On defense, the Vols have to be one of the most well-conditioned units in the country. Last week they were on the field for 99 plays against UK but still had enough left to get the stop they needed to secure the win. Tennessee's defense has been on the field for 716 plays. Georgia defense has been on the field for 549 plays. That means that every week, the Vols defense faces 18.5 more snaps than the Bulldogs.
Jeremy Banks continues to put up huge numbers with team-leading 74 tackles, 9 tackles for loss and 4.5 sacks. Aaron Beasley, Trevon Flowers and Theo Jackson each have at least 60 tackles.
Defensive coordinator Tim Banks was Heupel's most important hire and Banks has worked out better than can could have ever been expected.
The Vols are 20.5-point underdogs Saturday. That's to be expected. Georgia is No. 1 and hasn't been seriously challenged in over 2 months.
As good as Georgia is, they haven't faced an offense of Tennessee's quality this season. I think that Tennessee will score more points than any UGA opponent has to date. But Georgia simply has too much talent, and too much talent waiting to give the starters a breather.
Fearless Prediction time …
Georgia 31, Tennessee 17
Read More
Tennessee sportsbooks are live in the Volunteer state since November 1, 2020. Tennessee was the first SEC state to legalize sports betting.