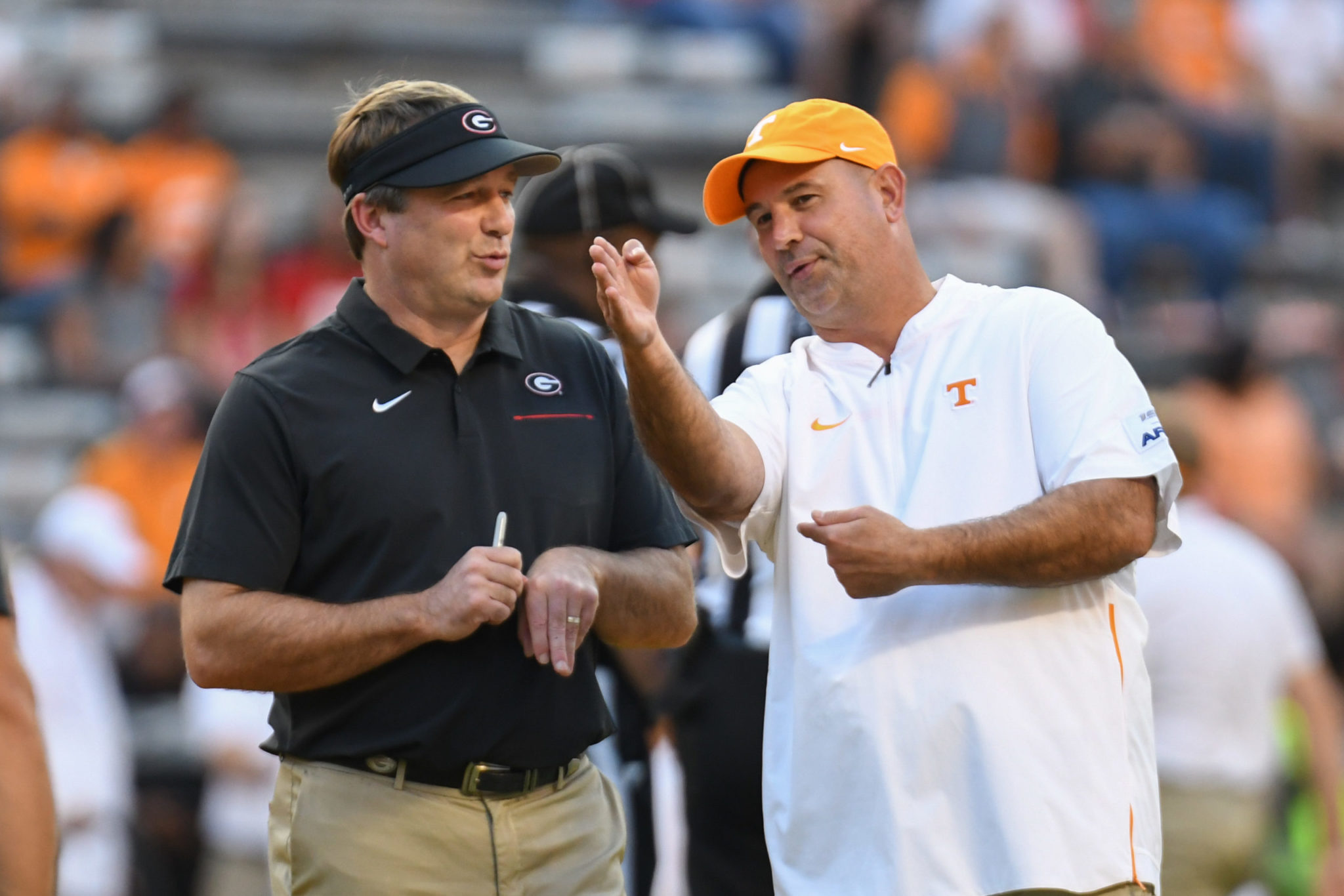 TENNESSEE
Fearless Prediction: Tennessee vs. Georgia - Oct. 2020
The Vols are back!
Well … maybe? I'm not sure. But we are about to find out. Tennessee has won 8 consecutive games, dating to its loss to Alabama last October. On Saturday, the Vols will face Georgia, their toughest opponent since that defeat in Tuscaloosa.
They have gained an identity under Jeremy Pruitt, now in his 3rd year as UT's head coach. So far this season the Vols haven't committed a turnover, while the defense has forced or accepted 3 gifts from their opponents. On offense, they want to establish the run behind a star-studded offensive line and not put all their chances on the quarterback. On defense, there's a bend but don't break mentality, while still picking their spots to pressure opponents.
This is a tough, disciplined team. And they'll need that toughness and discipline to pull the upset in Athens.
Georgia looked really good in their 27-6 win over Auburn in front of a (cough) socially distanced crowd (wink-wink) of 20,504 fans (yeah, OK GIF) on Saturday night at Sanford Stadium. Stetson Bennett IV not only has one of the great names in all of college football, but he seems to have grabbed the starting quarterback spot away from Southern Cal transfer JT Daniels, who has been medically cleared to play.
Bennett threw for 240 yards and a touchdown against the Tigers, and most important didn't commit a turnover. Kearis Jackson torched Auburn for 9 catches and 147 yards. They also ran for 202 yards. It's a balanced offense. Georgia's defense is beyond stingy. After giving up only a couple of field goals to Auburn, they've allowed a total of 16 points in their first 2 games.
They look every part of a top 5 team in the nation. After a slow start at Arkansas, UGA is serving notice that they are once again the team to beat in the SEC East.
So yes, it'll be a tall order for Tennessee this weekend. That doesn't mean a win is impossible.
These aren't the Butch Jones era Volunteers that often shrunk from what a moment required. Pruitt isn't shy about gambling. He chose to for it on 4th down on 4 separate occasions against Missouri, converting each time. "It's got to be a mindset … we aren't living in fear," said Pruitt afterward. "We aren't going to play in fear or coach in fear."
It also helps that when you need to pick up short yardage, you have a mean, physical offensive line to push forward for the necessary inches. Tennessee's line, already one of the best in the nation, got a boost when the Cade Mays saga finally came to its rightful completion. Mays' eligibility was approved by the SEC late in the week, and the Georgia transfer played against Missouri.
That unit bullied the Tigers. Eric Gray ran for 105 yards and Ty Chandler added 90 yards. Most often they had huge holes to run through. It should be terrific chess match between the UT offensive line and the UGA defensive line, which also has future NFL talent.
The Tennessee/Georgia rivalry has seen its share of close games, but the Vols haven't fared well against Kirby Smart's Bulldogs in recent years. They've lost by an average of 32 points a game the past 3 years.
When you watch Tennessee play, you can see that this program has taken a few steps forward since the Georgia State loss in the 2019 season opener. They are getting closer to competing with the elite teams in the SEC. But they aren't there yet. I'll believe that they can beat 1 of the Big 3 on their SEC schedule (Alabama, Florida, Georgia) when they beat 1 of them.
Fearless Prediction time …
Georgia 27, Tennessee 20
Read More
Sports betting in Tennessee officially launched on November 1, 2020, and many of the largest sportsbooks are live and operating in the volunteer state. Tennessee is only one of a handful of SEC football states with legalized sports betting.