TENNESSEE
Film Study: Tennessee's offense has been objectively terrible, but is Guarantano enough to fix it?
These are desperate times at Tennessee. The Volunteers are 0-2 in SEC play, effectively eliminated from any chance of winning the East Division, and in a do-or-die year for coach Butch Jones the reality is worse than the record: Before his team was humiliated by Georgia, 41-0, in front of a disgusted home crowd, it had only narrowly escaped an upset bid from Massachusetts, one of the most hopeless outfits in the entire FBS.
Before that, the Vols fell in typically heartbreaking fashion at Florida and needed a series of minor miracles to put away Georgia Tech in a game in which they were outgained by nearly 300 yards. The lineup has been besieged by injuries; the message boards have already moved on to pie-in-the-sky gossip over Jones' successor. The boos that rained down from Neyland Stadium at halftime of the Georgia debacle were weeks in the making, if not years.
With his job in the balance, this week Jones finally acceded to the fans' most urgent demand by benching quarterback Quinten Dormady, at least temporarily handing the reins to redshirt freshman Jarrett Guarantano for this weekend's must-win date with South Carolina.
By waiting as long as he did to pull the plug on his day-one starter, Jones effectively let the decision make itself. Guarantano has only a handful of relevant snaps under his belt, but he was among the most high-profile recruits in Tennessee's 2016 class, and if nothing else frankly it's hard to imagine the offense faring much worse under the rookie than it already has: Out of 14 SEC teams, the Vols rank 11th or worse in total offense (13th), scoring offense (13th), rushing offense (11th), pass efficiency (13th), yards per play (13th), third-down conversion rate (12th), red-zone conversion rate (13th), and turnovers (12th). In 16 quarters of football against FBS opponents, they've been shut out in 10.
Tennessee also ranks dead last among SEC offenses in plays that have gained at least 20 yards, and if any single number or trend has defined the broader malaise this season, it's the lack of explosive plays — specifically, the lack of explosive pass plays, where UT lags well behind the rest of the league despite putting the ball in the air more than 30 times per game. (Only Ole Miss and Missouri have thrown it more often.)
What limited success it has managed has been largely the result of screens and other run-after-catch opportunities on short, safe throws, which have been few and far between. As defenses have felt less threatened downfield, the ground game has suffered in turn.
Dormady's decision-making has been suspect, as evidenced by the league's worst interception rate; still, more than anything else it was his inability to offset the mistakes with big plays that doomed him to the bench. Guarantano's grasp of the offense might not be any better, at least not in time to save his coach's job. If his arm is as advertised, though, the job is his for the taking for the rest of 2017 and beyond, whether "beyond" includes Butch Jones or not.
The Vols are trying to stretch the field, but Dormady has been objectively terrible, completing just 5 of 34 passes that traveled 10 or more yards beyond the line of scrimmage.
Not So Deep Thoughts. This may come as news to the segment of Vols fans who think the offense has played it too close to the vest, but if the film reveals anything it's that the lack of downfield success is certainly not for lack of trying: On the contrary, in four games against FBS opponents, Dormady has attempted 34 passes that traveled at least 10 yards beyond the line of scrimmage in the air — almost nine per game — a number that doesn't include check-downs, throwaways, sacks, scrambles, or missed opportunities on plays that were designed to go deep but for whatever reason didn't come off. Those are just the attempts he actually succeeded in getting it downfield.
The second thing the film reveals is that by any measure Dormady has been objectively terrible on those attempts, connecting on just 5 of the 34. Nor has he been under constant pressure from opposing rushers. Just to prove that I'm not cherry-picking negative clips for the sake of piling on, here's the complete ledger on downfield attempts in the season-opening win over Georgia Tech, on which Dormady was 2-of-12: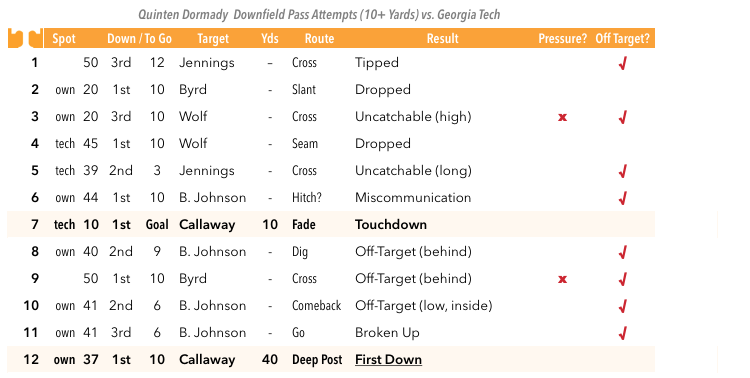 We'll get to the successful throws to Marquez Callaway a little further down. (Spoiler: They had a lot more to do with Callaway than with the guy throwing to him.) For now, focus on the "Off Target" column, which reflects whether each pass was actually put in a spot where the intended receiver could reasonably come down with a catch — a red checkmark means it was not.
To be fair, off-target throws weren't always Dormady's fault. Take this 3rd-and-10 play in the first quarter, on which Georgia Tech rushed just three but still managed to get immediate pressure from end Antonio Simmons (No. 93), who torched Tennessee RT Marcus Tatum (68) around the edge; Dormady has time to get a pass off, but Simmons prevented him from setting his feet, forcing the throw to sail well over the head of tight end Ethan Wolf on a crossing route: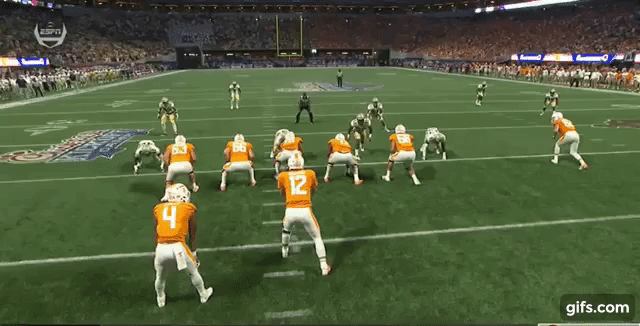 More often, though, the off-target throws were just … off, and not always on obvious passing downs. Here's a 2nd-and-3 attempt from later in the first, on which a play-action fake to RB Ty Chandler (3) gave Dormady plenty of time and space to scan the field and maneuver in the pocket; instead, he chose to lob a hopeless pass into double coverage, unnecessarily stepping into the line of fire of a Tech rusher in the process: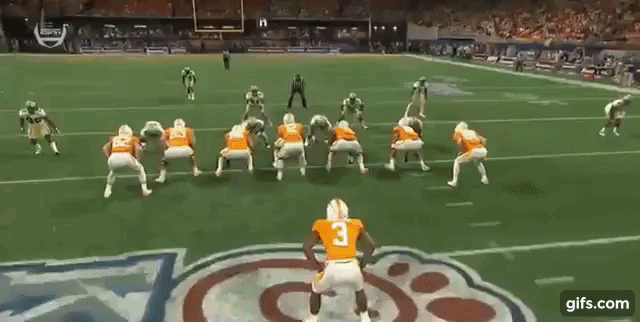 Jumping ahead the fourth quarter, with Tennessee trailing 28-14 but not yet in must-pass territory with more than 12 minutes to go; this time, Dormady was able find an open receiver, Tyler Byrd, on a deep crossing route on 1st-and-10, but left the ball well behind him, forcing Byrd to adjust on the fly and allowing Tech safety Lawrence Austin (20) to break up the throw with a well-timed hit: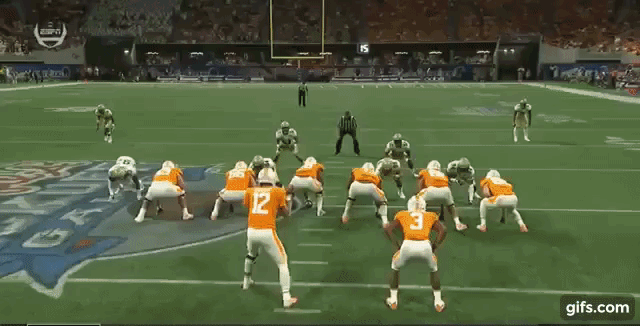 Even with a late-arriving rusher up the middle, that's the kind of throw a reliable SEC starter should make, and a good example of the kind Dormady has consistently missed.
Against Florida the story was the same, with Tennessee trailing throughout virtually from start to finish and Dormady struggling to deliver a remotely catchable ball to anyone who wasn't Callaway:
Read More
Tennessee sportsbooks are live in the Volunteer state since November 1, 2020. Tennessee was the first SEC state to legalize sports betting.

Notice that the list doesn't include any of the three interceptions Dormady threw against the Gators, all of which came on shorter routes. But it could have, if UF safety Chauncey Gardner (No. 23 below) had managed to come down with an ill-advised, 3rd-and-9 attempt in the second quarter that was more or less begging to be picked: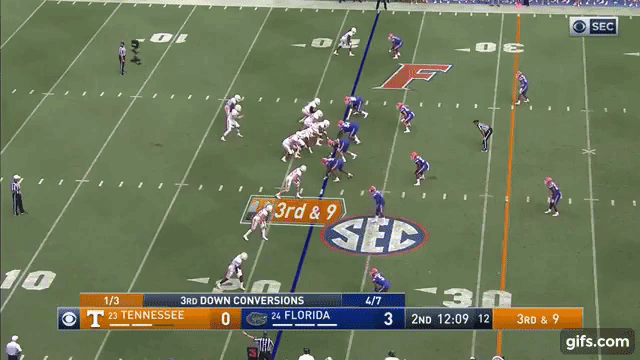 Later in the second, on 1st-and-10 from the Florida 35, the Vols tried a little sleight of hand by swapping the tight end, Wolf, and left tackle Drew Richmond (No. 51), who lined up as a decoy wide receiver to the bottom of a five-wide formation; the play was designed to catch the Gators napping on the opposite side, where Wolf ran a go route straight up the field while RB John Kelly (split wide) and WR Josh Smith (in the slot) collaborated on a standard smash concept. The design worked: Florida LB Vosean Joseph (No. 11) blew his assignment — below, notice him waving and pointing to himself after the play to acknowledge his mistake — leaving Smith wide open on a corner route. Dormady's throw, however, did not: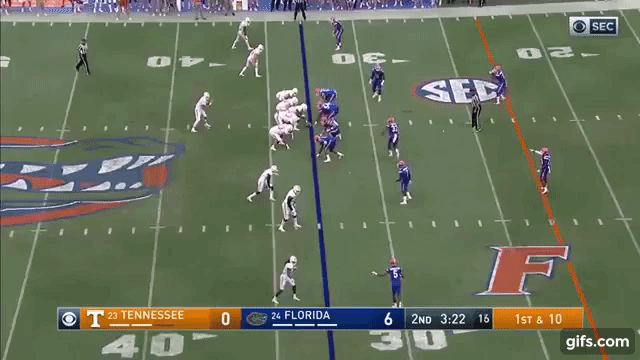 The Vols found themselves in a nearly identical situation in the third quarter, with 1st-and-10 from the Florida 25; they got a nearly identical result, this time with Dormady leaving the ball just out of Smith's reach on a death-defying post route from the slot: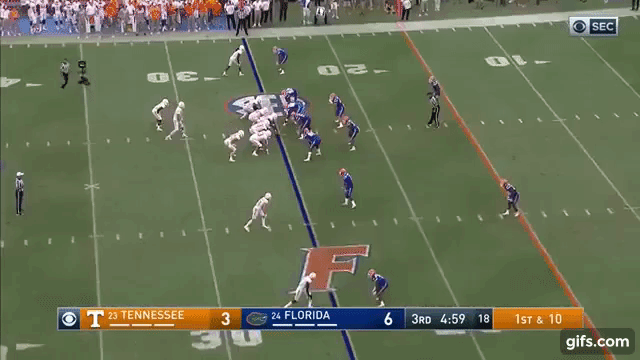 Again, Smith appeared to have a step on the safety playing directly over the top of him at the snap (Gardner, No. 23), but was prevented from fully laying out for the catch by the other safety (Nick Washington, No. 8), who paid no heed to Dormady's pump fake toward Callaway down the left sideline and had Smith in his crosshairs. If not for Smith's sense of self-preservation this one could have had an even uglier ending than it already did.
The following week, Tennessee spent nearly the entire game clinging to a tenuous lead over UMass, and apparently surmised (with good reason, given that the defense was in firm control) that attempting to open things up downfield was more likely to open the Vols up to a killer mistake. The result was their most conservative effort to date:

The big play by Brandon Johnson set up the first of UT's two touchdowns vs. the Minutemen and still stands as the Vounteers' longest gain of the season. Otherwise, the results were all too familiar. Facing 3rd-and-9 in the first quarter, the Vols called for a wheel route to TE Ethan Wolf, similar to the late touchdown pass against Florida (from the same spot on the field) that pulled them within range of the tying field goal in the closing minutes of that game; against UMass, Dormady's off-balance throw sent Wolf sprawling almost 10 yards out of bounds: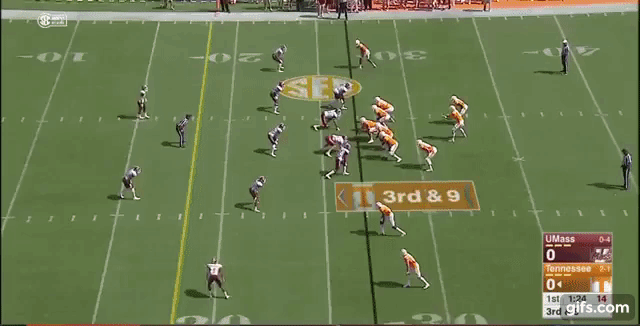 In the second half, Dormady launched a deep attempt on 1st-and-10 from midfield that probably serves as the best evidence of the limits of his arm strength. In the games I charted, I only saw one other example of him targeting a receiver more than 30 yards downfield on any route (see below), much less on the dead run, and based on this it's not hard to see why: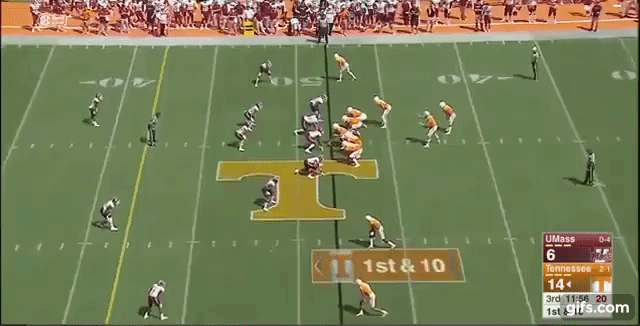 Again, the protection was fine. With better footwork, perhaps Dormady could have achieved better distance; or maybe he was deliberately leaving the pass short in hopes his receiver, Jeff George, could make a play on the ball over a much smaller defender. (Although George appeared to be well behind the coverage if he didn't have to come back for it.) Regardless, to this point that's about as deep as an opposing secondary could expect to be challenged.
Altogether, UMass — one of just seven FBS teams that remains winless on the year — held Tennessee to fewer total yards (319) and yards per play (4.5) than any of its other five opponents to date, none of whom happens to play in a Power 5 conference; on the scoreboard, the Vols' 17-point effort tied Old Dominion for the season low at the Minutemen's expense. For his part, Guarantano got three series to himself in the second half, which collectively yielded one first down and three punts.
Which brings us to Georgia, and the breaking point: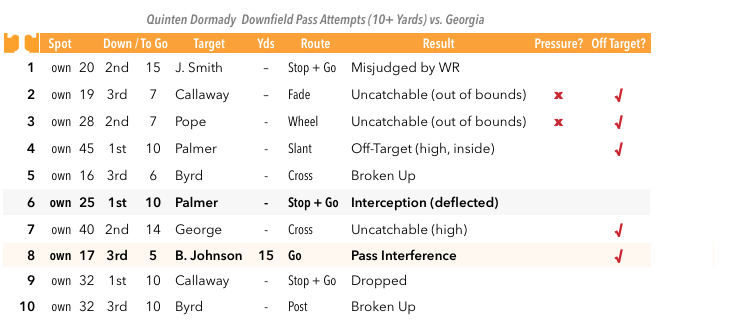 Two of those 10 attempts (the initial stop-and-go route to Josh Smith and the later fade route to Callaway) were conceivably catchable, although both would have made for spectacular catches; the rest were not close, including a badly underthrown ball to Johnson that drew a dubious pass interference penalty against the Bulldogs in the second half. Some of the more recognizable lowlights included an early fade to Callaway that landed so far out of bounds it bounced off a Georgia equipment cart …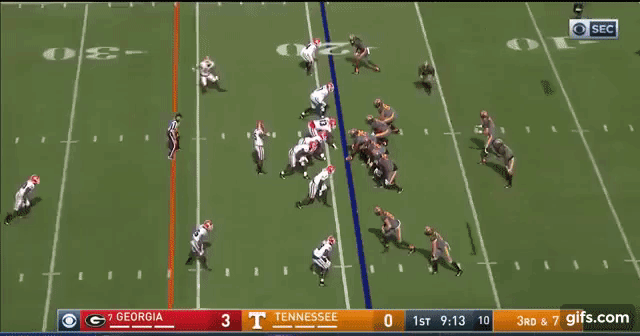 … an uncatchable pass that fell well behind backup TE Austin Pope, running a wheel route …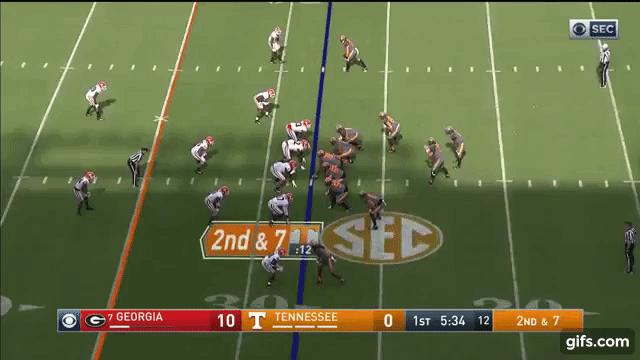 … and a dangerous through over the middle that sailed well past the intended target, Jeff George, and was very nearly intercepted by a safety (Dominick Sanders) lying in wait: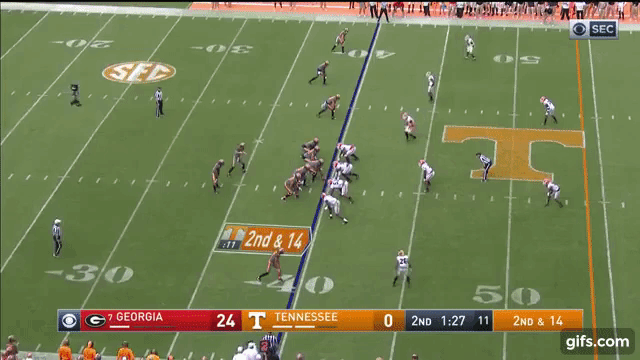 By comparison, Dormady's second interception — a reasonably on-target throw down the left sideline that was deflected at the last second into the hands of a trailing safety — was almost forgivable. After his first pick, though, there was zero margin for error, and on anything more than a screen or dump-off he continued to offer nothing but.
Where is Marquez Callaway? Against Georgia Tech, Callaway looked like a next-level talent whose time had arrived, accounting for a majority of Tennessee's total receiving yards (115 of 221) on just four catches. All four were impressive and consequential, beginning with a 10-yard, jump-ball touchdown reception late in the third quarter …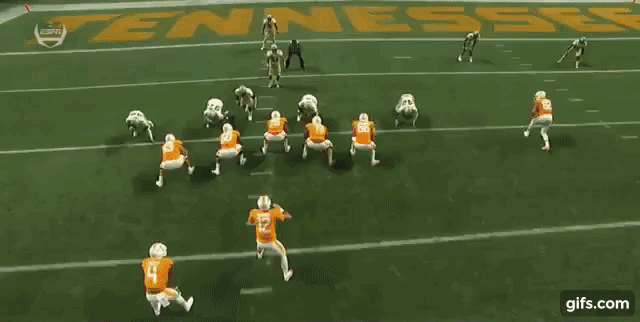 … and continuing on the Vols' next possession in the fourth, when he seared himself into the national consciousness by singlehandedly turning a simple, 5-yard in route into an eye-opening, 50-yard score that kept UT alive:
A few minutes later, with Tennessee still trailing 28-21, Callaway added to his nascent legend by hauling in a 40-yard jump ball in double coverage that set up the Vols' tying touchdown and quite literally had onlookers swooning: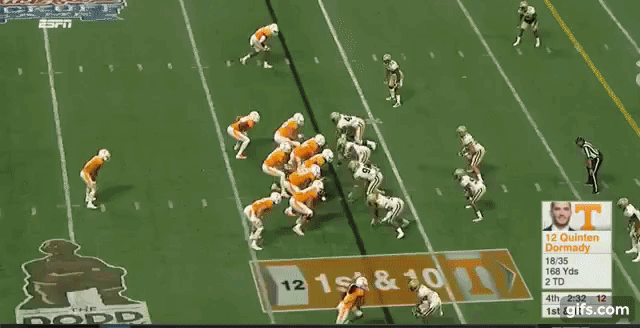 And so forth. In overtime: A 15-yard reception against press man coverage that set up the eventual game-winning touchdown. In Week 2, against Indiana State: A 37-yard, catch-and-run TD on his only catch of the game. Against Florida: A 20-yard reception against press man coverage on the Vols' first possession, and later a crucial, third-and-long conversion in the third quarter: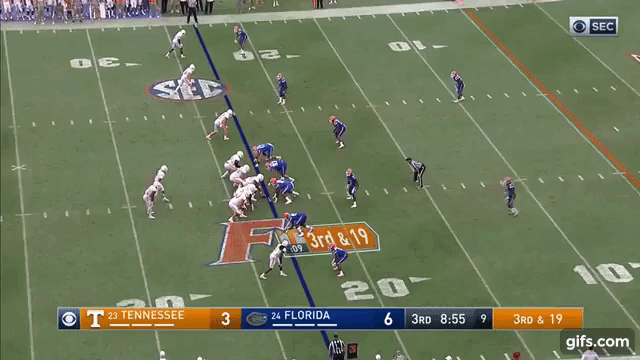 Since then … silence. Although he's continued to earn regular reps, Callaway was a non-factor down the stretch against Florida, and was basically ignored against UMass, finishing without a catch on a single target. He was shut out against Georgia, too, coming up empty on just two targets. With the ball in his hands, Callaway is clearly one of the SEC's most lethal downfield threats at 24.8 yards per catch, and a nightmare for opposing corners in man-to-man coverage. So why has it been nearly a month since he's had the ball in his hands on offense?
Butch Jones hasn't answered that, but he has confirmed that Callaway is likely to play this weekend after leaving late in the Georgia game with an apparent head injury. Behind him the downfield options are uninspiring: Last year's leading receiver, Jauan Jennings, is done for the year with a wrist injury, veterans Ethan Wolf and Josh Smith are intermediate possession types, and none of the other young receivers have established themselves beyond complementary roles.
No matter who's playing quarterback, if this offense is capable of a surge over the second half of the season it's hard to see how it will be possible without Callaway reemerging as a catalyst.
To Saturday and Beyond. The Volunteers are at home again against South Carolina, which accounts for the three-point spread in their favor. Realistically, no one really has any idea what to expect: Guarantano comes highly rated by the recruiting sites, but he hasn't done anything of note with the few opportunities he's been given so far, and given Dormady's obvious limitations, frankly it has to be a concern that he didn't inspire enough confidence in coaches for them to feel comfortable turning to him sooner. (Or that he wasn't able to beat out Dormady for the job in the first place.) If his first start goes badly enough it's not out of the question that it could be Butch Jones' last.
On the other hand, the change was overdue, and if Guarantano provides any semblance of a spark in the passing game the Vols have a solid enough foundation with John Kelly in the backfield to hammer out a respectable finish.
The Oct. 21 trip to Alabama is a slaughterhouse; other than that, every remaining game is winnable enough for a relatively young, resurgent offense to build some momentum en route to eight wins and a January bowl game. If the freshman can't give defenses more to worry about downfield than his predecessor, though, an already grim situation could get very dark very fast.