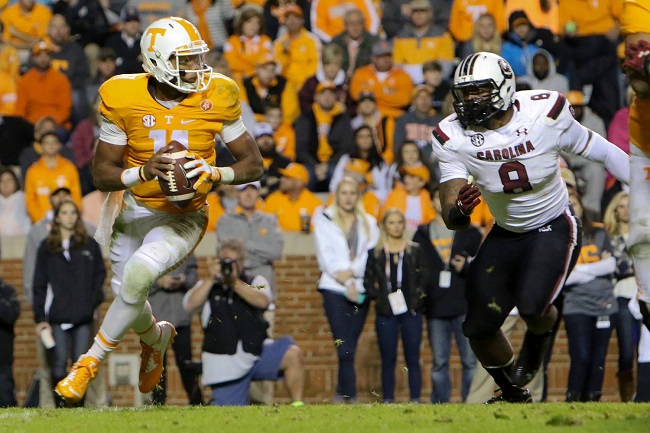 TENNESSEE
5 areas where Tennessee needs to improve in 2016
During this offseason, Tennessee will be under the microscope. The Volunteers will be poked, prodded and scrutinized constantly.
Tennessee didn't win the SEC Eastern Division in 2015, and it was far from being a playoff team. But after finishing the season with six straight wins, including a demolition of Northwestern in the Outback Bowl, the Vols are the likely favorites to win the SEC East in 2016.
Here are five areas where Tennessee must improve to avoid another slow start.
1. Downfield passing game: Tennessee QB Joshua Dobbs completed 59.6 percent of his passes in 2015, but most were short throws, swing passes and screens. The Vols did not establish a deep threat in 2015, and only one of Tennessee's returning wide receivers — Josh Malone — had a 100-yard game. In 2016, Tennessee's three-pronged rushing attack should create opportunities for Dobbs to make plays downfield. But it will be up to him to throw accurate passes and his receivers need to finish plays.
2. Pass protection: In 2015, Dobbs was sacked 21 times, and Tennessee ranked 53rd in the nation in sacks allowed. Protection needs to improve to develop a downfield passing game. In losses to Oklahoma, Florida and Alabama, the Vols allowed 11 sacks, and threw for less than 200 yards. Dobbs is athletic enough to create plays, but solid protection from his offensive line would help him keep his composure in the pocket.
3. Fourth-down defense: The Vols defense gave up 18 fourth-down conversions in 2015, and allowed opponents to convert fourth downs on 75 percent of their attempts. Tennessee gave up a crucial fourth-and-goal conversion in the first overtime of its loss to Oklahoma. It also allowed Florida to convert all five of its fourth-down attempts, including three on Florida's game-winning, fourth-quarter touchdown drives. At Penn State in 2015, new defensive coordinator Bob Shoop directed a defense that ranked first in the nation on fourth down — giving up only two conversions and allowing opponents to convert only 15 percent of their attempts.
4. Creating turnovers: Tennessee's defense created only 19 turnovers in 2015, ranking 73rd in the nation. Creating turnovers changes the momentum of games, and Tennessee could have used a few more momentum-changing plays in 2015.
5. Kicking game: Tennessee kicker Aaron Medley had a decent season in 2015 — making 21-of-31 of his field goal attempts — but missed crucial kicks in Tennessee's four losses this season. If Medley can improve his accuracy, Tennessee should have one of the best group of special teams units in the country.
Read More
Sports betting in Tennessee officially launched on November 1, 2020, and many of the largest sportsbooks are live and operating in the volunteer state. Tennessee is only one of a handful of SEC football states with legalized sports betting.