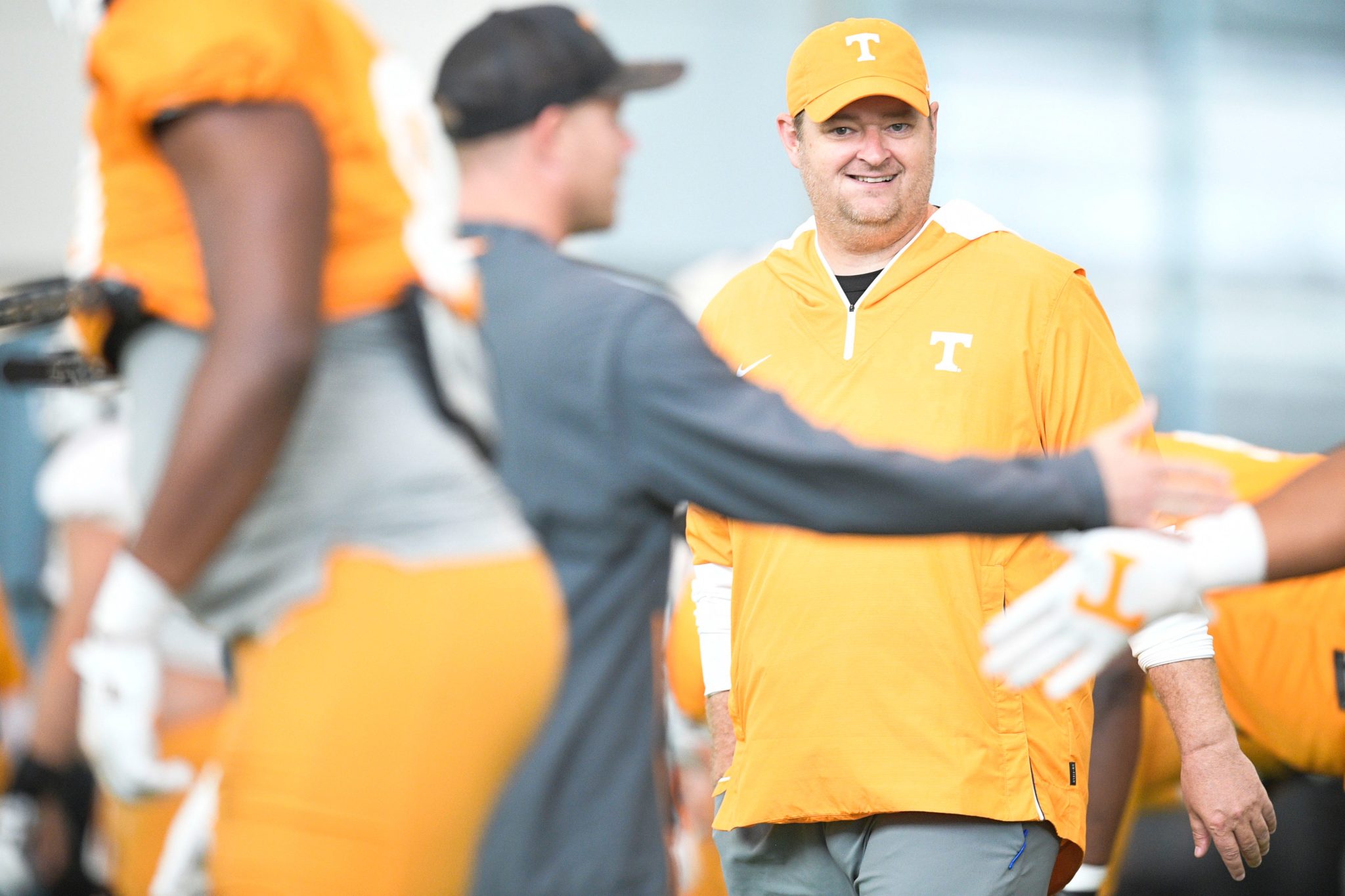 TENNESSEE
Hayes: Josh Heupel's next, biggest trick? Fixing Tennessee's defense
The sales pitch is numbers. Or more specifically, which numbers Josh Heupel chooses to use.
His point, and it's a solid argument, is Tennessee last season was a top 10 team on defense efficiency in the first 2 downs of a series.
Third down, on the other hand, was clearly a problem.
"We're playing in 3rd-and-long," Heupel says. "Guess what? That's where you want to play defense."
And then it all fell apart.
Heupel worked wonders last season in Year 1 as coach at Tennessee, his Blur Ball offense setting school records at warp speed. The goal in Year 2: Fix the defense.
The ugly, sick to your stomach numbers:
103rd in the nation in 3rd-down defense (42.1% — 52.6 in SEC games).
120th in red-zone defense (92% of opportunities converted into points).
90th in scoring defense (29.1 ppg. — 33.6 in SEC games).
99th in total defense (421.7 ypg. — 471.9 in SEC games).
122nd in pass defense (273.2 ypg.).
"I don't buy into that idea that you can't have a defense that makes critical stops against the offenses of today," Heupel said. "I believe in what we're doing defensively, and I believe we're going to play better."
That begins and ends with not panicking. Too often in football — at every level — one season translates to drastic change.
This is a Tennessee program that dealt with significant change in 2021, and not just because former coach Jeremy Pruitt was fired amid an NCAA investigation that recently revealed 18 Level I violations.
Heupel says Tennessee lost 24 players — including critical losses to the defense — who eventually started for other teams, and was playing with less than 70 scholarship players.
Want to know why Tennessee couldn't get off the field on 3rd down, or couldn't affect the quarterback enough to create turnovers (16 total)? Too many young players in important positions — guys who just weren't ready to play that many snaps in the best conference in college football.
That's not to say the Vols didn't have impact players; they did. But on 3rd down, when one mistake can evolve into an explosion play or worse, offenses find a defense's weakness and exploit it. And more times than not, they're attacking young players.
That's not to say Tennessee doesn't have talented players to build around. Byron Young and Tyler Baron are legit SEC defensive linemen, and LB Jeremy Banks is uber-talented.
Two new transfer additions — CB Andre Turrentine (Ohio State) and S Wesley Walker (Georgia Tech) — will help immediately, but so will another season with defensive coordinator Tim Banks.
Heupel didn't bail on Banks after last season's dismal showing on 3rd down, or after the season ended with an ugly defensive performance against Purdue in the Music City Bowl. Remember, he's not panicking.
More important, neither are the players.
"A lot of us had to take a long, hard look in the mirror and figure out who we wanted to be," Vols safety Trey Flowers said. "We have to do it on the field, but we've had a really productive offseason. I feel like we're all buying, and we're on focused on the same thing."
After last season's exit interviews with players, and self-evaluation on the coaching staff, Heupel was convinced the Vols were moving in the right direction defensively. His offense that changed so quickly in 2021 can help, too.
Fewer quick 3-and-outs, more extended drives. Less time on the field for the defense, more production when they're on it.
"We're all together in this thing, I can promise you that," Tennessee quarterback Hendon Hooker said. "We all have to play better if we're going to take that next step."
Late during spring drills in 2021, it was obvious the offense would be different under Heupel. The tempo, the timing, the relentless pace.
"Playing them in practice, man, you see it. It's real," Flowers said.
Fast forward to this spring, and they saw it on the other side of the ball. An aggressive front seven, a secondary that had figured out combination coverages and angles and pursuit.
"We were like, oh yeah, this is good," Hooker said. "Wait and see the defense this year."
If the defense makes the same improvement the offense did, there will be no need for sales pitches.
Read More
Tennessee sportsbooks are live in the Volunteer state since November 1, 2020. Tennessee was the first SEC state to legalize sports betting.