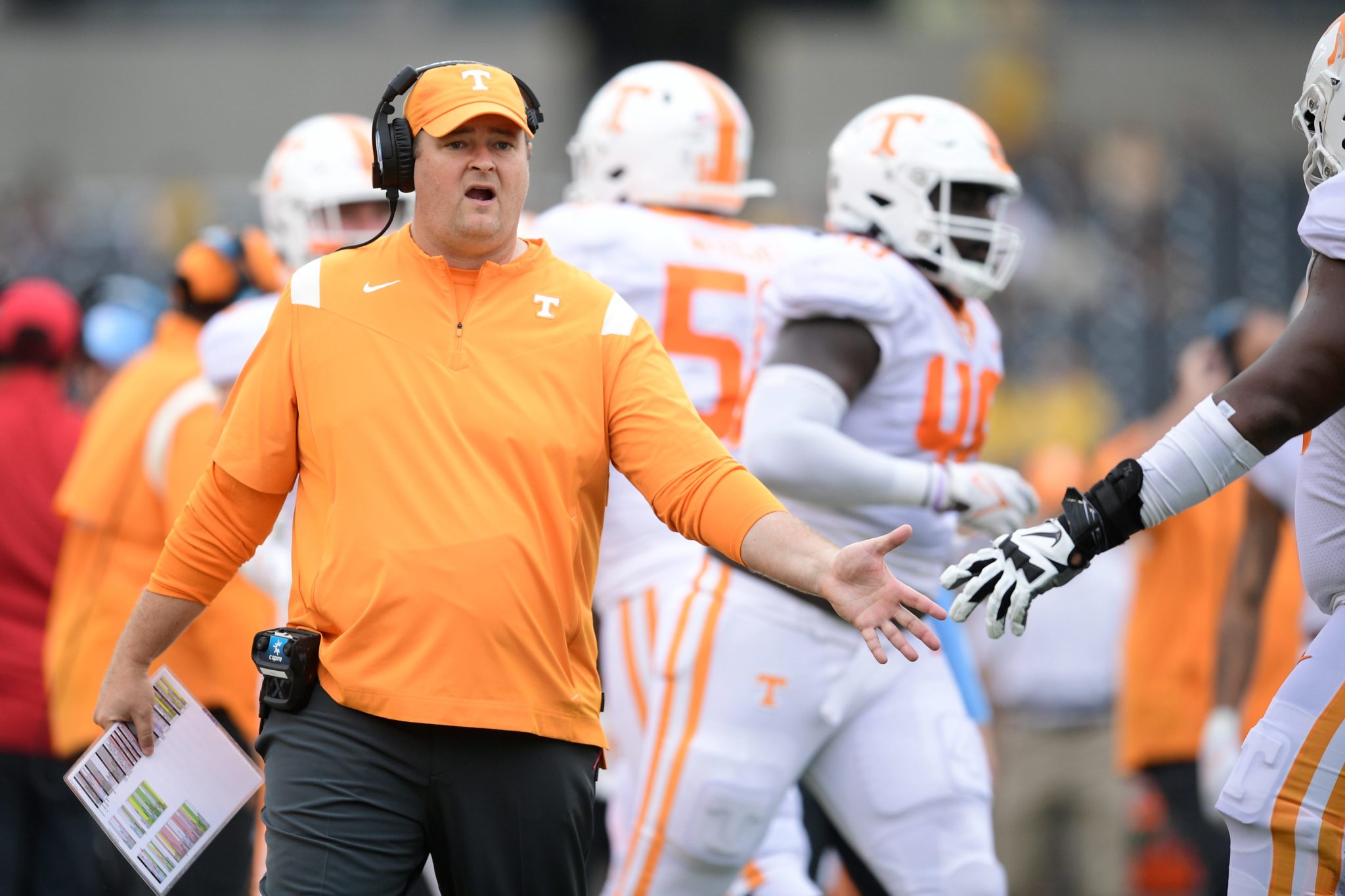 TENNESSEE
Hayes: Tennessee is at the doorstep. Now it's time to take the last small step
When they arrived in Knoxville, the house was gutted to the studs and nothing worked.
As fall camp begins today and kicks off Year 3 for Tennessee coach Josh Heupel, the program is a punch-out list away from being completely remodeled.
"We started out needing yards," Heupel says. "Now we need inches."
The metamorphosis of the past 2 seasons has been remarkable, a rare quick-fix despite so many inherent obstacles that would've suffocated so many programs.
A coaching change. An NCAA investigation. The loss in 1 offseason of 35 players to the transfer portal for the inherited roster.
And a program that had been spinning its wheels for the previous 2 decades, changing coaches and athletic directors and never finding the right combination.
There were 2 different administrative coups, multiple failed coaching searches, and a loyal fan base running on fumes.
Two years later, the Vols won 11 games and a major bowl — their first major bowl win since the 1998 national championship season.
Now look: "Inches," Heupel said again, leaning back in his chair and smiling during a rare break last month at SEC Media Days. "We need inches."
Translation: The program left for dead 2 years ago — that "settled" for Heupel after missing on other options — isn't that far from winning the SEC. That's right, winning the SEC.
As bad as it looked last season in an ugly upset loss to South Carolina, the Vols weren't that far away from a different outcome in the only other loss of the season to Georgia. Quarterback Hendon Hooker, brilliant all of last season, missed 3 deep throws in the rain and mud — throws that could've changed the game.
Inches that could've changed the game.
Heupel says those inches are the difference between playing for an SEC championship or kicking yourself for an entire offseason because of what could've been.
The difference between a November reality of controlling your fate in the race for the SEC Championship Game and the Playoff, and the consolation of winning the Orange Bowl 6 weeks later.
What little things, you ask? Eliminating the big play on 3rd-and-long, for starters.
Tennessee began last season with a singular goal on defense: get off the field on 3rd down. The Vols in 2021 gave up an unthinkable 52.5% of 3rd-down conversions in SEC games.
Last year, Tennessee knocked down that number to 39.8%.
But it's the little things within that defensive metric that cost Tennessee. Specifically, 3rd-and-long.
Six times against Georgia and South Carolina on 3rd-and-long, Tennessee gave up double-digit yards on runs, passes and quarterback runs. Back-breaking plays of double-digit yards.
And that was only part of the problem with big plays. While the defense got better at getting off the field on 3rd down, it still struggled to prevent the big play overall.
In 2021, Tennessee gave up 204 plays of 10-plus yards, including 61 plays of 20-plus yards and 8 plays of 50-plus yards. Only Ole Miss was worse.
Last season: 198 plays of 10-plus yards, including 58 of 20-plus yards and 14 of 40-plus yards. only Florida and Arkansas were worse.
"It's killing us," Tennessee defensive tackle Omari Thomas said. "It's a missed tackle, or a wrong angle or a bad read. We're so close to becoming the defense we want to be."
The defense Tennessee needs to vault past Georgia in the SEC East Division and get to the league championship game for the first time since 2007. Especially considering the only time Georgia has looked more vulnerable was coach Kirby Smart's 1st season in 2016.
The offseason at Georgia was full of drama and tragedy, beginning in January with the death of guard Devin Willock and staffer Chandler LeCroy in a racing/reckless driving accident. Georgia players have since had at least 14 speeding and/or reckless driving and racing citations.
The university and athletic association are part of a $40 million lawsuit from Willock's estate, and are also being sued by former recruiting analyst Victoria Bowles — who was in the backseat of the car driven by LeCroy.
"We're focused on us. How do we get better?" said Tennessee quarterback Joe Milton III, who like the program, is a reclamation project. "We don't care about anyone else but us."
Because when you walk into a place gutted to the studs, there is nothing else. Fix it, or fail.
Two years ago, Heupel showed up at his first SEC Media Days event and said the great unknown of what he walked into at Tennessee would one day be a speed bump in the emergence of the program.
Two years later, Tennessee won 11 games. Its quarterback was leading the Heisman Trophy race before sustaining a season-ending injury in November.
The NCAA case is behind them (with no postseason ban), they've sold 71,000 season tickets and they're positioned to reclaim national relevance lost over the years from so many self-inflicted wounds.
From gutted to gleaming in 2 short seasons.
"Yeah, well, there's more out there," Heupel said.
Getting there doesn't take yards.
It's inches.
Read More
Tennessee sportsbooks are live in the Volunteer state since November 1, 2020. Tennessee was the first SEC state to legalize sports betting.