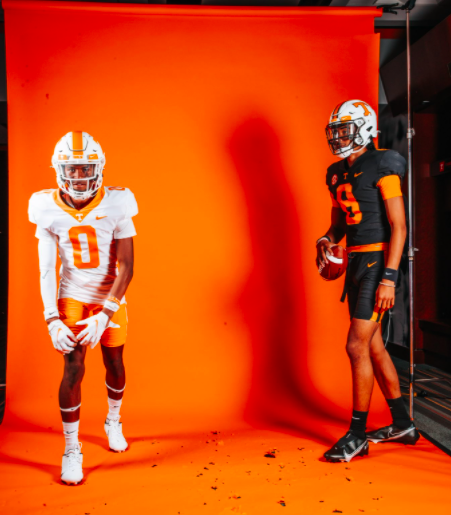 TENNESSEE
How 5-star QB Nico Iamaleava can be the guy who restores Tennessee football
Let that loss in the NCAA Tournament fade into the background. It's recruiting season in Tennessee!
There's not much that could lift the Vols' spirits after Tennessee's basketball team was eliminated by Michigan on Saturday. How about a historic recruiting coup? Well, consider that served right up. The Vols secured a commitment from 5-star quarterback Nico Iamaleava on Monday. One of the top 10 prospects in the country in the class of 2023, Iamaleava committed to Tennessee over just about every other school that had ever seen video of him, including Alabama and Georgia.
It's always worth noting that a commitment has no contractual obligation to be fulfilled. However, Iamaleava's commitment seems like it will stick even though other teams won't give up the chase. Iamaleava, a 6-5 gun-slinger from Long Beach Poly in Long Beach, Calif., had spoken highly about the Vols after a recent visit. Based on his public comments, it seemed just a matter of time until he would commit to Tennessee, but recruiting can be a tricky business.
Iamaleava had the recruiting pedigree to take his time even if he was intent on playing football in orange. He's the No. 4 QB and No. 7 player overall in the country; uncommitted Arch Manning is No. 1 in this class. No program in the nation could force Iamaleava into a commitment before he was ready. Tennessee didn't have to play hard ball. Why? They have plenty to offer.
What offensive player wouldn't want to play for Tennessee and Josh Heupel? The Vols broke numerous offensive records last season with a quarterback Heupel inherited. Imagine what Heupel can do with a quarterback he has been able to mold. The current starter, Hendon Hooker, looked good last year after just spending a few months with Tennessee's offensive staff. Iamaleava could get years with Heupel. There's a good chance Iamaleava already has a playbook. As for Hooker, he would have been an All-SEC player last year had he played the entire season and not shared an SEC logo with two really good players: Alabama's Heisman winner Bryce Young and Ole Miss' Matt Corral. Hooker was good enough to be All-SEC. Unfortunately for him, the seats were already filled by quarterbacks who had a massive head start in their respective offenses.
Other than the current offense, Tennessee checks all the boxes and one you might not have heard of. Let's begin with the obvious. Tennessee has the facilities, exposure and support that every top prospect expects. The latter includes money earned on Name Image and Likeness. Some have said that Hooker could be paid $1 million during his one full season as a starter. That's called a recruiting advantage … or, at worst, it keeps the Vols in the hunt for elite talent.
There is one factor in Tennessee's football program that was likely a strong factor as well. No matter the offense, Heupel and his staff are viewed as good people by the players they coach and the people they work with it. That's a consistent sentiment that I hear from speaking to people within the athletic department. Heupel wants his players to succeed and truly seems to care for them. That seems like it would be a given for a college head coach, but it wasn't always the case by Heupel's predecessors. Please don't ask me to get into all the gory details. Butch, please.
As for the here and now, there's no question that Iamaleava will have a significant, positive effect on Tennessee's upcoming signing class. We've seen that before. Highly-rated prospects like to play with other highly-rated prospects, especially if one of those highly rated prospects plays quarterback. If I were a top-flight receiver prospect, Tennessee would be high on my list just based on what I've seen from afar. Why visit? The Vols already have an explosive offense, with an incredibly skilled offensive head coach who calls the offense and, now, a quarterback for the future.
There's not a long list of prospects who committed to Tennessee that rated even nearly as high as Iamaleava. The first is probably Heath Shuler, but that was long before recruiting rankings were a common thing. Shuler's decision to attend UT began a golden era of quarterback recruiting at Tennessee. Shuler was followed by Peyton Manning, who raised the bar. Then, the Vols signed Casey Clausen from California, Erik Ainge from Oregon, Jonathan Crompton from North Carolina and Jarrett Guarantano from New Jersey. The Vols could walk into any state in the country and take an elite quarterback.
For those looking for a way to beat Alabama or Georgia, signing an elite quarterback is the best way to do so immediately. If — and that's a big if — Iamaleava is as good as his recruiting stature, then he could be the kind of game-changing player who can shift a rivalry and certainly impact a win-loss record.
There's another way to beat Alabama and Georgia. It's simple to say, but nearly impossible to do: Out-recruit them consistently. Sending a Big Orange missile to Mars may prove more doable, but we'll see. Heupel and his staff may prove to be incredible recruiters and still finish 3rd in the SEC to Alabama and Georgia in recruiting. Those teams are proven and not going anywhere any time soon.
A single player can't have the same impact in football as he can in other sports, like basketball. However, Iamaleava can challenge that notion. And, as for basketball, I thought we were supposed to be beyond that. How about volleyball? Iamaleava is a bona fide prospect in that sport as well.
Cover photo of Jordan Anderson (0) and Nico Iamaleava (8) via Twitter @AndersonJJJ
Read More
Tennessee sports betting officially launched on November 1, 2020. Tennessee was the first SEC state to legalize sports betting.