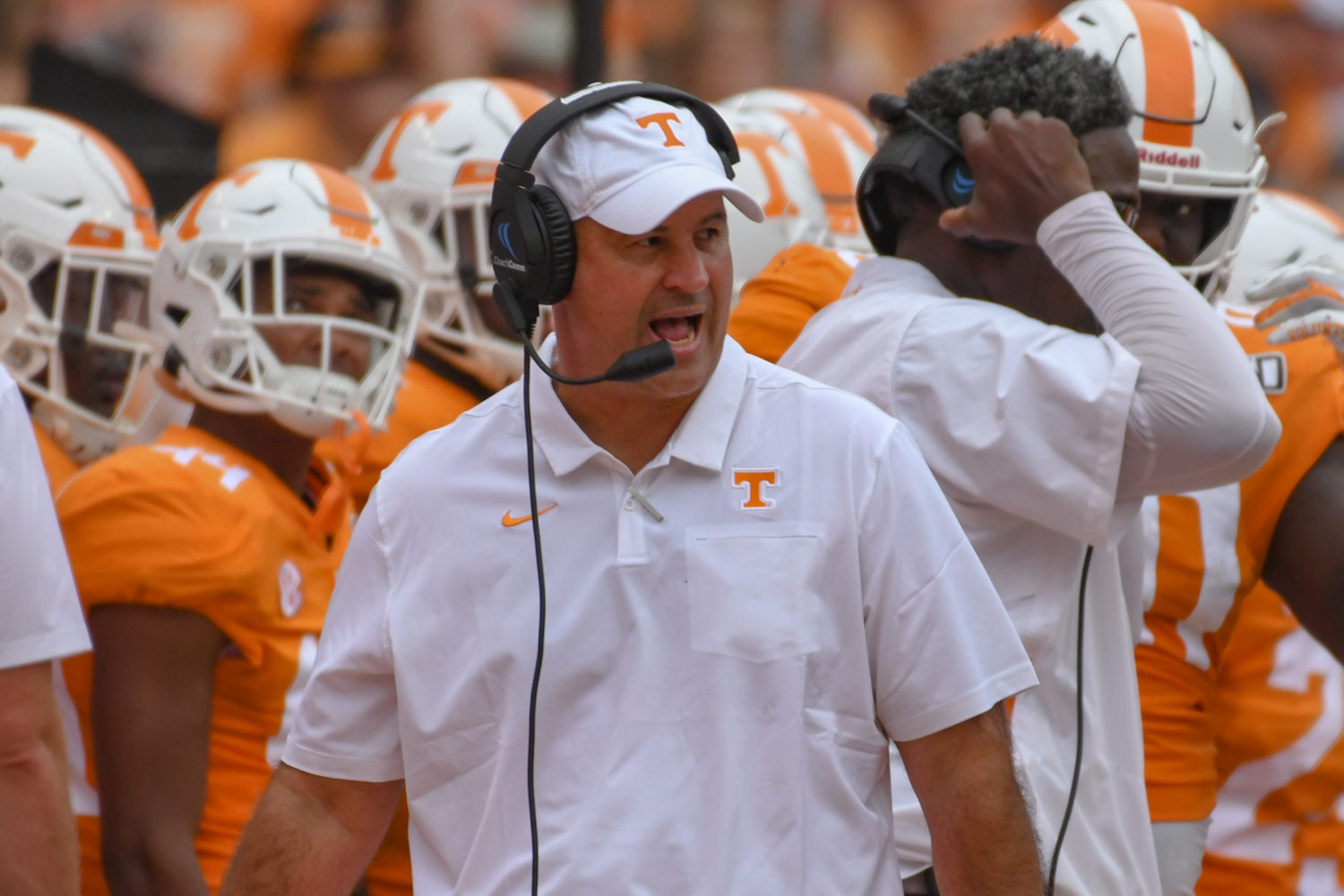 TENNESSEE
In fumbling Jeremy Banks' arrest, Jeremy Pruitt shows yet again he has no business being a head coach
Jeremy Pruitt is proving to be as good of a coach off the field as he has been on it. And that's not very good.
Pruitt's response to a police officer's call about one of his players being arrested proved more than Pruitt will ever prove on the field. Wins and losses matter. A total unjustifiable response to a player being arrested in the wee hours of the morning is something far different. It showed Pruitt has no business being a head coach at Tennessee or any other school with a reputation it would like to uphold.
In response to linebacker/running back Jeremy Banks being stopped for a minor traffic violation, Pruitt questioned the police officers about why they would want to arrest Banks for an outstanding warrant.
"So why do you, I mean, why do you have to arrest him just 'cause he has a warrant?" Pruitt can be heard saying over the phone.
Well, because that's the law.
This piece of the transcript between Jeremy Pruitt and the Knoxville police during the Jeremy Banks arrest is quite fascinating https://t.co/CUciA3LoFT pic.twitter.com/k7UUGeN5dY

— Dan Wolken (@DanWolken) October 2, 2019
Pruitt sounded asleep when Banks made the phone call to his head coach, as documented by a police body camera. Noncoherent or not, Pruitt never should be the first line of defense at such a late hour. Being a head coach means providing layers for a player to go through in such times of need. However, Banks thought it was time to call the most recognizable person in the state of Tennessee — and Pruitt answered.
Taking a phone call from a player in need is one thing. Trying to justify letting him go is another. Pruitt said he had coached at several other places and none of this would have happened in those college towns. Not a great message to send.
How does Pruitt not have more insulation? Remember when former UT football support staffer Gerald Harrison was called when UT offensive lineman Josh McNeil wouldn't answer his bedroom door? Harrison quelled the situation despite the embarrassing backlash. I'm sure former UT coach Phillip Fulmer was involved in the situation, but he wasn't the one knocking on McNeil's door in the middle of the night.
It would be easy to just blame Banks and simply discard Pruitt's role in the matter. However, a seasoned coach would have had protocols in place to better handle the situation. Tennessee's players knew who to call in case of such an embarrassing situation with Fulmer. Banks called Pruitt. That wasn't the best legal counsel.
"So why do you, I mean, why do you have to arrest him just 'cause he's a warrant?" Pruitt can be heard saying over the phone during the video.
Can you imagine if someone with a warrant wasn't arrested and harmed one of your loved ones?
Banks seemed to agree with Pruitt's attitude toward the police. Banks even took it a step further during his ride to prison when he spoke to a female police officer.
"Ma'am, you don't wanna be an intern because where I'm from we shoot at cops. I'm from Memphis, Tennessee," he said. "… I should have ran, test y'all's speed. Y'all would've never caught me. … Next time, I am, I promise you. Never again y'all boys will take me to jail. Not UT police."
Why would Banks think that he was devoid of the law? Pruitt's comments would indicate as much. That seems to be the lesson that he's teaching.
It's also fair to wonder why Banks still was on the roster. Either Pruitt didn't know just how bad the incident was entirely or he chose to play one of his more talented players in hopes of saving this embarrassment of a season. The latter is understandable. However, if Pruitt didn't have the video before the media obtained it, then that's just another troubling sign of negligence.
Pruitt responded with all the correct public relations answers this week when he said in a statement, "Jeremy's (Banks) behavior and comments are unacceptable and portrayed himself and our football program very poorly and he understands that. We will address the matter internally. I'm determined to do what I can to help Jeremy grow up and become a better man. Our team and staff respect our law enforcement and we will continue to educate our players on how to carry themselves at all times."
Tuesday, Banks apologized after a video of the incident was released. His mea culpa was scripted. His initial reaction was anything but.
It's nice to see Pruitt apologizing for Banks but shouldn't Pruitt apologize for himself? Pruitt questioned the police in a tense situation, wasn't at all prepared to handle a very delicate situation and surely made him look worse in the eyes of the police. Sounds like a guy who was never ready to be a head coach.
Read More
Tennessee sports betting officially launched on November 1, 2020. Tennessee was the first SEC state to legalize sports betting.