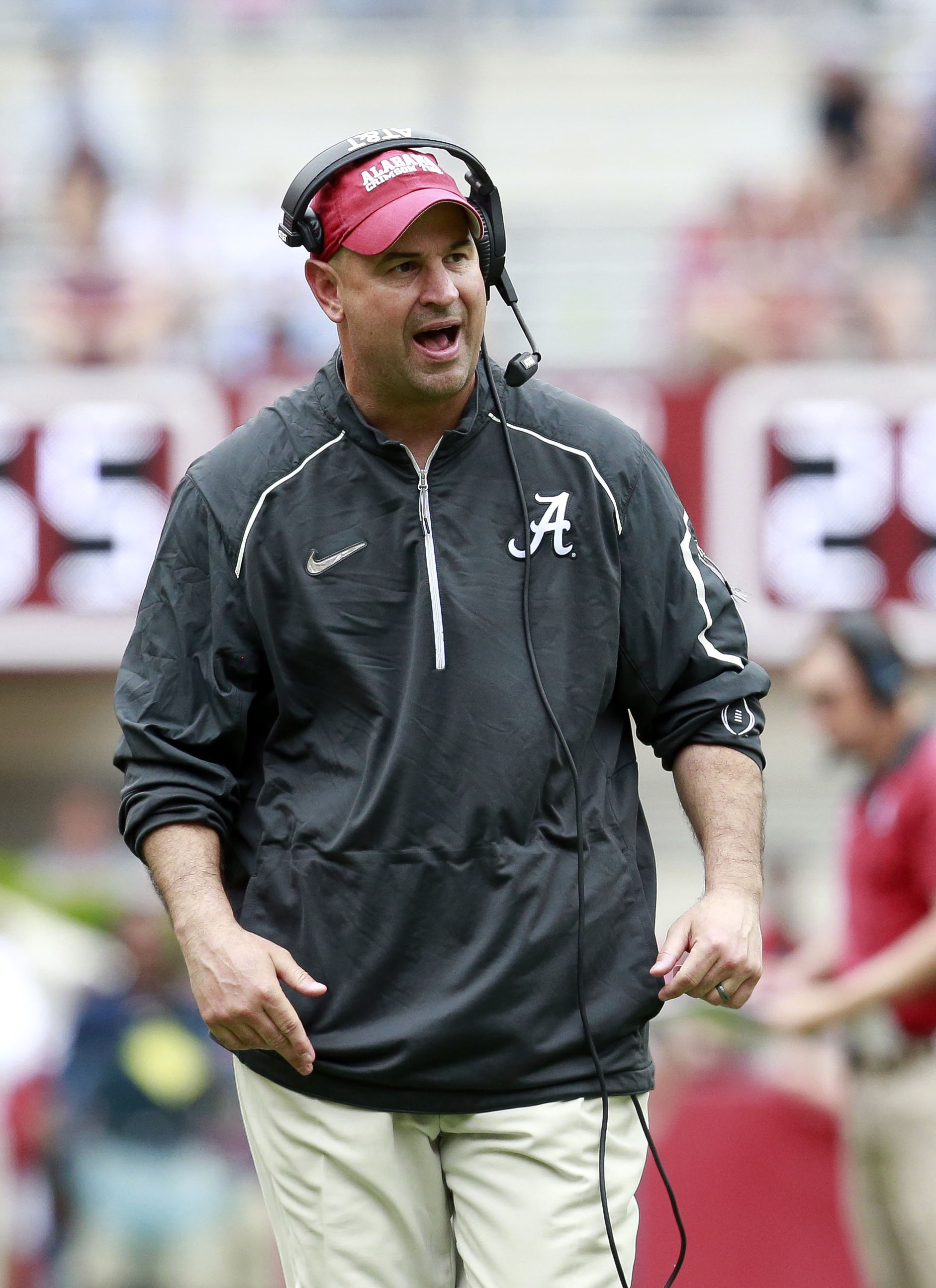 TENNESSEE
Jeremy Pruitt may be another Kirby Smart, but Tennessee isn't another Georgia
Our long national nightmare is over. Tennessee has a new boss. It only took 26 excruciating days following the firing of Butch Jones.
Jeremy Pruitt, currently the defensive coordinator at Alabama, was formally announced Thursday as the 26th coach in Volunteers history. Despite all those humiliating swings and misses, UT might have made an outstanding hire.
No question about it, Pruitt has honed his craft while working for some phenomenal coaches at several powerhouse programs. Prior to his most recent stint with the Crimson Tide — this is his third time on staff at his alma mater — he was the DC at Florida State under Jimbo Fisher and then at Georgia under Mark Richt.
RELATED: Reviewing the AP's All-SEC Team
While Pruitt has never been a head coach at any level, neither was Fisher before leading the Seminoles to a national championship in 2013.
Like Fisher, Pruitt is a disciple of 'Bama coach Nick Saban. However, unlike Fisher, Pruitt isn't what you would call a Saban clone. There's every reason to believe that he'll make the Vols his own and not just copycat what he did with the Tide.
That will be very interesting to watch as Pruitt takes over in Knoxville. He'll be competing annually in the East with Georgia, a sleeping giant that was quickly woken up — the Bulldogs are in the College Football Playoff this season — by another Saban protégé, Kirby Smart. He has essentially turned Athens into Tuscaloosa East.
Personally, I'd be surprised if Pruitt enjoyed the same level of immediate success. Today's Vols aren't the Dawgs of 2015.
When Smart arrived at UGA, Richt had won 10 games in each of his last two seasons. Even if the program was stale and needed a new voice, this wasn't some rebuilding project. This was rearranging the furniture, not tearing down the house.
Tennessee, on the other hand, has morphed into the proverbial dumpster fire. Not only has the product on the field dipped to historic lows — the Volunteers lost eight games for the first time ever — but all the off-the-field drama has been exhausting. At least the near month-long coaching search has mercifully come to a close.
Personally, I'd be surprised if Pruitt enjoyed the same level of immediate success in Knoxville.
It's impossible to know where Pruitt's name was on the original list. Nowhere near the top. Maybe in the double digits.
You had the yearly flirtation with Jon Gruden, who is quite comfortable in the "Monday Night Football" broadcast booth but has sentimental attachment to UT. He loves being wooed, too. Some fans convinced themselves that he was coming to the rescue.
Perhaps the two hottest prospects on the coaching carousel at first, Chip Kelly and Scott Frost, never considered the Vols. Kelly went to UCLA, while Frost returned to Nebraska — he was once a terrific player there. Were either of them ever on the radar? We'll never know. It's safe to assume that their agents were contacted.
Dan Mullen (below) reportedly had a deal in place to depart Mississippi State for Tennessee. Then Florida called. He chose the Gators.
Don't forget about the Greg Schiano debacle. He may not have been the perfect coach for the Volunteers at the time, but #GBO and #VFL types were one step short of burning down their own campus to prevent it from happening. Not a good look.
There was a steady stream of "thanks, but not thanks" after that — the Schiano embarrassment no doubt played a role. Duke's David Cutcliffe. Oklahoma State's Mike Gundy. Purdue's Jeff Brohm. NC State's Dave Doeren. Cutcliffe and Gundy? They're too comfortable where they are. But Brohm and Doeren? Choosing to stay put at Purdue and NC State, respectively? Cue the snickers.
Not to mention the fact that they don't hand out trophies on National Signing Day. If that were the case, then Jones would still be employed. His recruiting classes were beyond respectable, but he didn't get much out of them.
Three D-coordinators from the SEC were next: Pruitt, Auburn's Kevin Steele and Georgia's Mel Tucker. In the end, Pruitt was the guy.
It's only Year 2, but Smart has Georgia in prime position to compete for a national title and was just named SEC Coach of the Year for his efforts. Like Pruitt, Smart used to run Saban's D. The blueprint is there.
Nevertheless, Smart inherited a fairly full cupboard — both the talent on the roster and the pipeline for recruits. The defense already featured the likes of Trenton Thompson at tackle, Roquan Smith at linebacker and Dominick Sanders at safety. The recruiting grounds in the Peach State have become more fertile lately, too.
Pruitt will have no such advantages. UT has a bad defense and a worse offense. The Volunteer state is short on blue-chippers, as well.
Additionally, you have to wonder about the support system Pruitt has in place. Athletic director John Currie was deep-sixed in the carnage of the coaching search. Phillip Fulmer is the new AD. It's fair to say that he has a tendency to meddle.
When the Vols were rolling at the end of the 20th century and beginning of the 21st — Fulmer won a national championship in 1998 — they were a coast-to-coast brand. Peyton Manning was from Louisiana. Eric Berry was from Georgia. Michael Munoz was from Ohio. Travis Henry? Cedric Houston? Jamal Lewis? None of them were homegrown tailbacks.
Pruitt was a recruiting monster at Alabama, Georgia and Florida State. Those places have 4.4 kids on every corner, though.
Not to mention the fact that they don't hand out trophies on National Signing Day. If that were the case, then Jones would still be employed. His recruiting classes were beyond respectable, but he didn't get much out of them.
There's a lot to like — if not love — about this hire. Aaron Suttles, who covers the Crimson Tide for The Tuscaloosa News, told me on the SDS podcast that he thought Pruitt has been an even better coordinator than Smart. Credit Smart for leaving Saban's nest and finding success, but others have tried and failed. Derek Dooley anyone?
Jones obviously didn't work out. Neither did Dooley before him. Or Lane Kiffin before him. Is Pruitt another Smart? It's a steeper climb up Rocky Top, that's for sure.
* This column originally referenced James Stewart as another Volunteers tailback not from the state of Tennessee. While Stewart was indeed born in Texas, he eventually moved to Tennessee and suited up for Morristown West High School.
Read More
Sports betting in Tennessee officially launched on November 1, 2020, and many of the largest sportsbooks are live and operating in the volunteer state. Tennessee is only one of a handful of SEC football states with legalized sports betting.