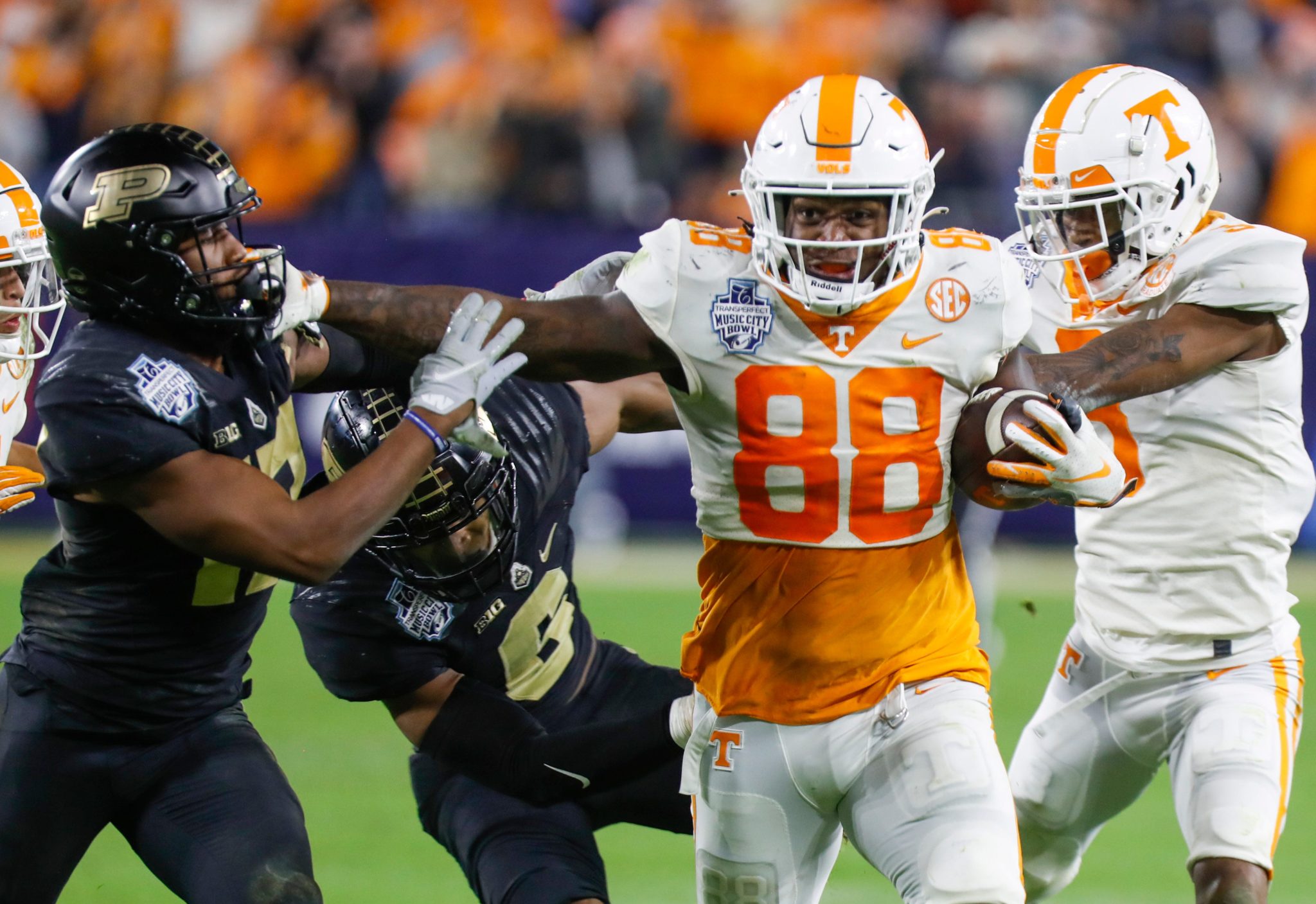 TENNESSEE
Music City Bowl lesson: Forget the rough ending and focus on the future. Tennessee is on its way back to relevance
OK, first things first … if you had no dog in the hunt, how much fun was the TransPerfect Music City Bowl!
You had fireworks. A lot of fireworks. Both teams combined for 93 points and nearly 1,300 yards of offense. You also had some defense as Tennessee intercepted 3 passes and linebacker Jeremy Banks collected approximately 99 tackles.
You had all sorts of controversy. Purdue's defensive players seemed to take note of the way Ole Miss defenders slowed down the Vols' offense. Some of the injury delays were certainly on the level … but not all of them.
The ACC officiating crew had better days, and their decision that Jaylen Wright's forward progress was stopped short of the goal line in overtime will be replayed in the memories of Tennessee fans for a generation.
The Vols lost 48-45. Their season finishes with a 7-6 record.
But in no way should this discourage Vols fans, who I know are going to be Vonore level mad for a while.
If Tennessee is anywhere near putting a competitive team on the field, Vols fans show up in droves. An announced crowd of 69,489 fans went through security at Nissan Stadium, and while Purdue did have a surprisingly good turnout, most of the butts in the seats were in Orange and White.
And those fans were loud. Really loud.
There aren't many programs that would get that level of support after what the Vols have put on the field for most of the past 14 seasons, but Tennessee is a different animal.
And if this season was any indication, Vols fans are going to have more to cheer about in the immediate future.
Tennessee set a program record for points in a season with 511. Quarterback Hendon Hooker finished the year with nearly 3,000 passing yards and 31 touchdown passes, plus over 600 yards rushing. He heads into 2022 as one of the best 2 or 3 quarterbacks in the conference.
Wide receiver Cedric Tillman, who could barely get on the field under Jeremy Pruitt, had 64 catches for 1,081 yards and 12 touchdowns. He'll be back, too. The running game looks solid with Jabari Small and Wright still in the fold.
Defensively the Vols still have holes to fill, but Tim Banks has proven to be more than capable of being their coordinator. Tennessee should be active in the transfer portal once again.
And as for head coach Josh Heupel, he far exceeded any expectations placed on him before the season. His system has worked everywhere he's been, and that appears to be the case thus far at Tennessee.
That all said, there is a lot of work to be done. First and foremost, the Vols have to prove that they can beat their 3 biggest rivals. Since the beginning of the 2008 season, they have beaten Georgia 3 times, Florida once and have no victories of Alabama.
That's 42 games … and only 4 wins.
Since 2017, the Vols haven't even been anywhere near competitive against the elite teams in the SEC. That has to change.
Heupel also needs to find ways to close out close games. This season they played 4 contests decided by a single score, winning only the Kentucky game. They had multiple opportunities to put Purdue away in the first half, but they let the Boilermakers stick around, and it cost them dearly.
But there is still a learning curve for Heupel. This was only his 4th season as a head coach, and his 1st in the SEC. Tennessee AD Danny White didn't hire his old coach at UCF if he didn't think Heupel would make the moves necessary to get UT back to SEC relevance.
Tennessee fans have reason to be upset this morning … but that will fade.
Tomorrow is another day.
And the future for Tennessee is bright.
Read More
Sports betting in Tennessee officially launched on November 1, 2020, and many of the largest sportsbooks are live and operating in the volunteer state. Tennessee is only one of a handful of SEC football states with legalized sports betting.