TENNESSEE
Nike upsets Tennessee fans with new shirt
Tennessee fans are upset with a misprint on a new team shirt released by Nike. The orange shirt features Tennessee's tri-star state emblem over a checkerboard pattern, only the alignment of the stars is incorrect.
This one is so close to being the greatest ever. But @whiskey_girl33 can tell me why it's not…. pic.twitter.com/OX8i3ENIfa

— Chad Fields (@CfieldsVFL) July 17, 2016
Tennessee's state law dictates that "the arrangement of the tree stars shall be such that the centers of no two stars shall be in a line parallel to either the side or the end of the flag, but intermediate between the same; and the highest star shall be the one nearest the upper confined corner of the flag."
Clearly, the design mistake was an oversight on Nike's part, but it will need to be changed if the company hopes to sell the shirt to the Volunteer faithful.
Here's a correct look at the stars: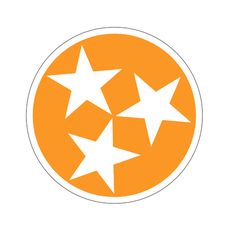 Read More
Tennessee sports betting officially launched on November 1, 2020. Tennessee was the first SEC state to legalize sports betting.