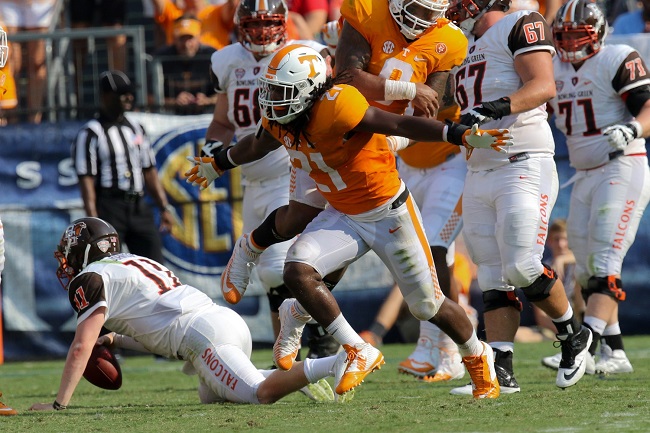 TENNESSEE
What the return of Sutton, Reeves-Maybin means for Tennessee
Last week, Tennessee OLB Jalen Reeves-Maybin and Tennessee CB Cameron Sutton announced via twitter that they would return to Knoxville for their senior seasons.
In 2016, Reeves-Maybin and Sutton will be Tennessee's two most experienced players on defense. Reeves-Maybin has started the past two seasons and Sutton has been a starter since his freshman season.
Both players also bring a great deal of production back to the Volunteers' defense. Reeves-Maybin led the team with 105 tackles in 2015, including 14 tackles for loss and six sacks. Sutton accumulated 28 tackles, intercepted one pass and broke up six more.
Sutton is also a dangerous punt returner. Last season, he set Tennessee's single-season record for with 467 punt return yards. Sutton also ranked first in the nation in average with 18.7 yards per return, including two touchdowns.
Keeping Sutton was crucial for Tennessee's defense because his presence will boost a secondary losing departing senior safeties Brian Randolph and LaDarrell McNeil. Junior Justin Martin is expected to play on the opposite side of Sutton during the 2016 season.
Having both Reeves-Maybin and Sutton return is also a huge gift for Tennessee's newly hired defensive coordinator Bob Shoop.
When Shoop was asked about Reeves-Maybin's return, he responded: "I get the impression that he and (quarterback Joshua) Dobbs are the undisputed leaders of this group."
Read More
Tennessee sports betting officially launched on November 1, 2020. Tennessee was the first SEC state to legalize sports betting.