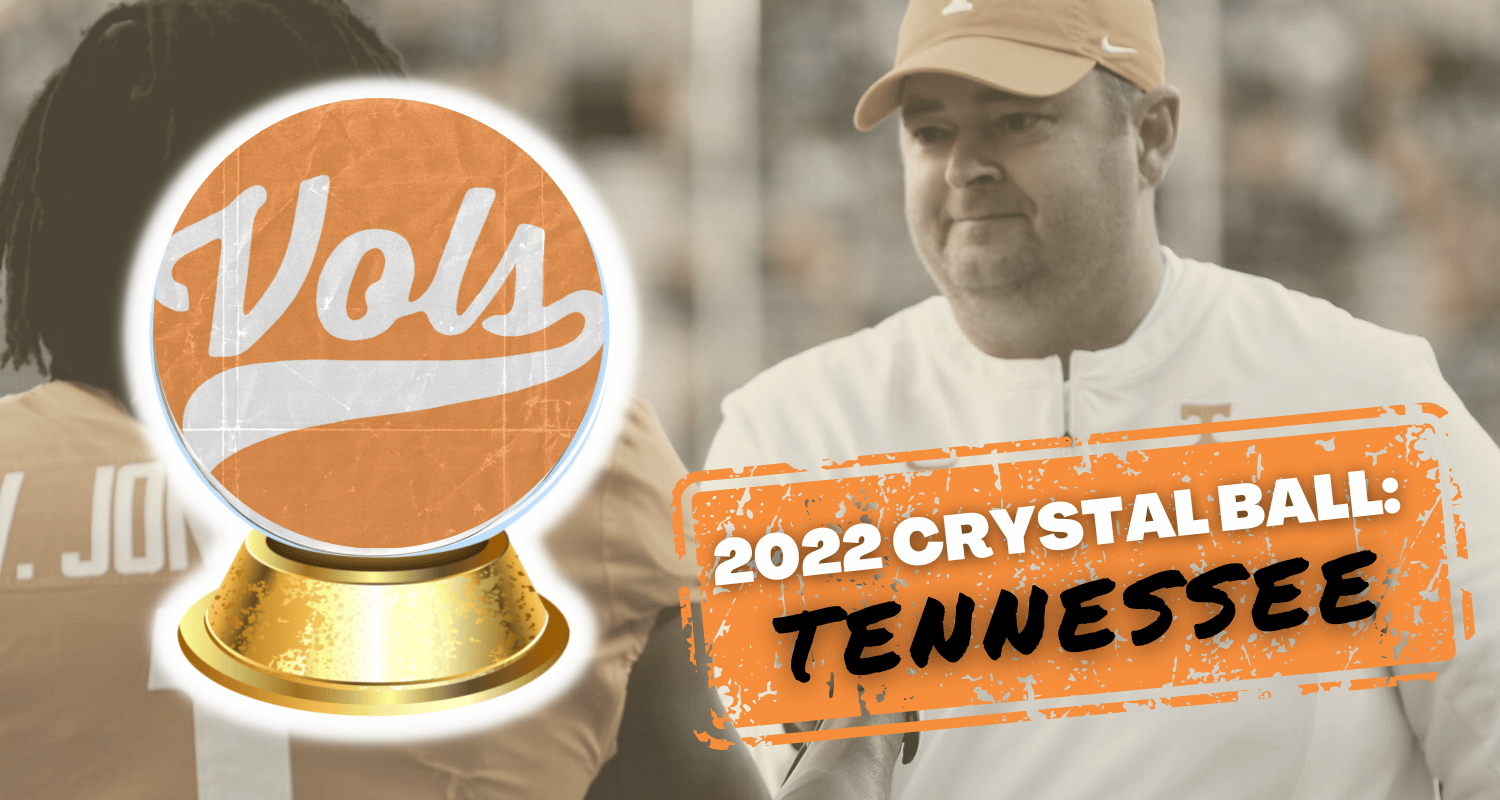 TENNESSEE
The SDS Crystal Ball: Predicting every game for Tennessee football in 2022
Editor's note: Saturday Down South's annual Crystal Ball series continues today with Tennessee. Last week, we predicted every game for every SEC West team. This week, we'll predict every game for every SEC East team.
Tip of the cap, Josh Heupel. I don't know how the rest of this turns out, but you surpassed my low Year 1 expectations for Tennessee.
In the fallout of the Jeremy Pruitt era, Tennessee's roster appeared to be more like a "Year 0" instead of a "Year 1" for Heupel. The Vols ranked No. 122 out of 127 FBS teams in percentage of returning production after a disastrous 3-7 season in 2020. Even if there was hope that Heupel could turn the offense around, there was still doubt about whether the Vols had the personnel to execute his up-tempo, high-powered attack.
As it turned out, yes, they definitely did.
Following the decision to keep Hendon Hooker as the starting quarterback instead of Joe Milton, the offense took off. By season's end, Tennessee finished with the No. 7 offense in the country. Only 3 Power 5 teams had more scrimmage plays of 40 yards (23) than Tennessee and Michigan was the only P5 team with more plays of 70 yards (5) than Heupel's group.
Of course, it took a little while to get going. Tennessee never appeared in the AP Top 25 because of those 2 September losses. And even once it did get going, Tennessee still didn't keep it within 23 points of Alabama, Florida or Georgia (more on that in a minute). The Vols' lone win against a team with more than 6 regular-season wins came against Kentucky, which has lost 34 of the past 37 matchups to Tennessee.
But still, it was a nice proof of concept for Heupel. Even without a roster full of his hand-picked players, his offensive identity was obvious and the Vols weren't a laughing stock like many predicted. What does that mean for 2022?
Expectations are here.
Check out DraftKings latest promo ahead of the season
The college football kickoff is almost here, and the DraftKings college football promo code will get you excited. The promo is simple. Make a $5 bet on any game. Then, receive a $200 bonus instantly. That's it.
We have streamlined the DraftKings college football promo code activation process. After you click one of the links on this page, the code will be triggered automatically. When you arrive on the landing page, you will be opted in and eligible for the $200 reward.

DRAFTKINGS SPORTSBOOK
21+ and present in participating states. Gambling problem? Call 1-800-GAMBLER.
NEW USER BONUS
BET $5
GET $150
IF YOUR BET WINS!
The offensive potential is what exactly?!?
Yes, Tennessee can have the No. 1 offense in America. That's not as far-fetched as some might think. For starters, Heupel and Lincoln Riley are the only 2 play-calling coaches who have 4 consecutive top-10 offenses. The only FBS teams that averaged 39 points per game and return their starting quarterback are Alabama, Coastal Carolina, Ohio State and Tennessee (Wake Forest would've been part of that group if Sam Hartman hadn't been ruled out indefinitely with a non-football medical issue).
Let's take it a step further. Here are where those offenses stack up in terms of percentage of returning offensive production:
Tennessee, 80% (No. 26 in FBS)
Ohio State, 70% (No. 53 in FBS)
Alabama, 61% (No. 80 in FBS)
Coastal Carolina, 43% (No. 123 in FBS)
And remember that Tennessee's 2 best offensive players, Hooker and Cedric Tillman didn't even step into bigger roles until multiple weeks into the season. Oh, and the Vols return 4 starters on the offensive line to block for Hooker and the talented backfield duo of Jabari Small and Jaylen Wright. Why can't that yield a significant improvement?
What seems likely is that this group will pass the 1993 squad for the most prolific offense in school history. That Heath Shuler-led offense averaged 40.3 points per game, which was good for No. 2 in FBS. If Hooker is in the same conversation with Shuler by season's end, 2022 will have been another smashing success for Heupel's offense.
It's OK to point out the rivalry game struggles and use that as a barometer
This isn't the last time I'll mention the fact that Tennessee is 4-35 against Alabama, Florida and Georgia in the post-Phil Fulmer era. That includes an active 16-game losing streak. The last time Tennessee kept it within single digits against one of those teams was, well, you know.
#PlayOfTheDay (2017): Florida QB Feleipe Franks throws an absolute bomb for the game-winning TD pass on the final play of the game against Tennessee. pic.twitter.com/bv8Ke2gk8t

— Pick Six Previews (@PickSixPreviews) September 23, 2020
Of those 16 defeats in a row, that was 1 of 2 instances in which Tennessee stayed within 21 points (the other was the 2020 Florida game).
So is progress just simply not getting blown out by all 3 of those teams? Eh, not really. The bar should be higher than that. Like, you know, beating 1 of those teams. That's obviously the "yeah, but" any time Tennessee has expectations. The Vols did, however, just have their best offensive output against Alabama since 2003, and the only other team that hit 17 points against that historic 2021 Georgia defense was Alabama.
Progress? Maybe, maybe not. What's fair is that the Vols are never going flirt with being a consistent East contender until they can do more than land moral victories against those 3 teams.
Dare I say, 2022 is as good a time as ever to turn that around.
That defense won't be anything to write home about, but mediocrity can play with an offense like that
I went on record saying I thought Tennessee was going to have the SEC's worst defense in 2021. Why? It wasn't just the players lost in the transfer portal. It was the fact that it took Heupel 3 weeks to hire a defensive coordinator after several reported rejections. And it was no secret that Heupel's offense wasn't exactly known for playing complementary football.
Kudos, Tim Banks. You proved me wrong.
Tennessee's DC led a group that finished No. 12 in the SEC in scoring, but was actually in the top half of the SEC in yards per play allowed (No. 6, 5.43). Alontae Taylor, Matthew Butler and Theo Jackson were all studs. That's why they got drafted. That's also why I have more doubt about the Vols' defense heading into 2022.
I won't say they're about to be the worst group in the SEC. Jeremy Banks, Tyler Baron and Byron Young all have legitimate All-SEC potential. It's not a group that was decimated because the Vols actually ranked in the top half of FBS in percentage of returning defensive production. But the concern is about the limited ceiling of a group who'll be on the field a ton, and what that will look like without a shutdown No. 1 corner like Taylor and a versatile, high-motor interior presence like Butler (he played 135 snaps more than the next-closest SEC interior defensive lineman).
That's the bad news. The good news is that it's 2022. Offense is king. You don't necessarily need to have a top-20 defense to win games at the Power 5 level if you can score the way Tennessee does, though obviously it helps. Here are the Power 5 teams in the last 10 seasons who won 9 games even though they didn't have a defense that ranked in the top 90 in FBS:
2013 Texas A&M (No. 96 defense, No. 5 offense)
2015 Oregon (No. 116 defense, No. 5 offense)
2018 Oklahoma (No. 101 defense, No. 1 offense)
Of course, 2 of those teams overcame bad defenses because they had Johnny Manziel and Kyler Murray (that Vernon Adams-Royce Freeman duo at Oregon was also more fun than it got credit for). Can Hooker play at a Heisman-like level if Tennessee's defense simply maintains its No. 90 ranking from a year ago?
That, we don't know. We do know that Tennessee having a top-5 offense seems perfectly realistic. Shoot, for all I know, Tennessee's defense will improve slightly and that stat will be for naught. We just watched Ole Miss fail to have a top-100 run defense, yet the program went 10-2 in the regular season. Whatever the case, the Vols could be in position to join some rare company in 2022.
Game-by-game predictions
Week 1: vs. Ball State (W)
This has "28-0 at the end of the first quarter" written all over it. Even if Hooker comes in a bit too hot and overthrows a few deep balls, I expect Small and Wright to do the heavy lifting in the ground game. My guess? Joe Milton gets at least a quarter's worth of reps.
Week 2: at Pitt (W)
Some poor decision-making in the red zone cost Tennessee this game last year, wherein Hooker nearly led a late comeback. This time, against a Pitt squad that won't have Kenny Pickett and Jordan Addison, I think we see the Vols flex those offensive muscles a bit more. Kedon Slovis tries to keep up with the Vols' high-octane attack and forces a throw that Trevon Flowers picks off to squash the Pitt comeback attempt. Heupel gets a little revenge on Pat Narduzzi.
Week 3: vs. Akron (W)
Shoutout to my guy Joe Moorhead. He'll have the Zips turned around by Year 3. But in Year 1? He could recruit Akron's finest, LeBron James, and it wouldn't make a difference to keep pace with the Vols.
Week 4: vs. Florida (W)
The Florida and Tennessee teams that faced off last year were unrecognizable by season's end. Trying to keep pace with this Tennessee offense with the pieces it has returning will be a dangerous game. Tillman and breakout candidate Jalin Hyatt should both have their moments making home-run plays against a questionable Florida secondary. Points will be plentiful. Both defenses should have some rough days trying to slow down Anthony Richardson and Hooker. But for just the 2nd time in the past 18 matchups, the Vols prevail thanks to a go-ahead 50-yard Wright touchdown run.
Week 5: Bye
Week 6: at LSU (L)
Will we get a showdown like their 2005 game? It's certainly possible, though I wouldn't bank on it being a matchup of top-10 teams. But 2 teams fresh off emotional victories over rivals both look sloppy. Both quarterbacks get picked off early and turn to their legs to get their respective offenses going. What's the difference? Or rather, who's the difference? Kayshon Boutte. Tennessee can't stay with him in the second half. He explodes for a 200-yard game and LSU squeaks out a wild 35-31 victory.
Week 7: vs. Alabama (L)
This 3-week stretch is going to tell us a lot about Alabama in 2022. I don't think it'll be quite at the level of that 2010 stretch that ended with a stunning loss to South Carolina, but is it possible that the Tide maybe struggle to put Tennessee away after facing Arkansas and Texas A&M? Absolutely. Eli Ricks vs. Tillman should be a fantastic individual matchup, and watching Hooker handle Will Anderson and Dallas Turner will be a treat. This game might stay a bit too close for comfort for Alabama fans, but ultimately, Bryce Young is too precise and he finishes with a 500-yard day to extend the winning streak to 16 against the Vols.
Week 8: vs. UT Martin (W)
Tennessee quickly morphed into a team who is suddenly a joy to watch in these lopsided matchups. Having an explosive offense does that. Squirrel White scampers into the end zone multiple times in a blowout win on Rocky Top.
Week 9: vs. Kentucky (W)
This is a measuring stick game for Kentucky's defense after the Vols gashed them at will in Lexington last year. The battle for East runner-up honors follows a similar game script. Both quarterbacks put up video game numbers in what turns out to be a 2021 Arkansas-Ole Miss replay. But instead of a 2-point conversion that comes up short, Levis picks on Ohio State transfer Andre Turrentine, who makes his biggest play as a Vol with a game-ceiling interception. Kentucky's bid to avenge last year's shootout in Lexington comes up short.
Week 10: at Georgia (W)
I know, I know. Tennessee is 4-35 against Alabama, Florida and Georgia in the post-Fulmer era (I told you I'd bring that up again). That includes 16 consecutive losses to them, 5 of which came vs. UGA. So why is this time different? Tennessee's offense. The Vols have the formula to put pressure on the UGA defense. Hooker attacks downfield with Tillman and Hyatt, and that young UGA defensive line can't get pressure with 4 against a Tennessee offensive line that returns 4 starters. Heupel's offense stretches the field with pace and balance. UGA can't adjust until it's too late. Stetson Bennett, even against a porous Vols defense, can't quite rally the troops back late facing obvious throwing situations. Tennessee pulls off the upset of the year in the SEC.
Week 11: vs. Mizzou (W)
Kris Abrams-Draine vs. Tillman should be a phenomenal 1-on-1 matchup. The problem for Mizzou is that Hooker is more than capable of working through his progressions and finding other weapons like Hyatt and Bru McCoy (who I assume will be eligible by this point of the year?). This game was so lopsided in Columbia last year — it was over at the end of the first quarter — that with so many of those pieces returning on the Tennessee offense, I can't fathom a turnaround that drastic. An experienced Tennessee offensive line wins the battle up front and gives Mizzou a reality check coming off the Kentucky victory.
Week 12: at South Carolina (L)
In a battle of red-hot teams who are clicking on all cylinders with the passing game, yeah, South Carolina's November mojo continues. Hooker and Spencer Rattler go back and forth in a game that has plenty of NFL eyes on it. But the difference is Hooker is asked a little too much to bail out the Vols on the road. A raucous South Carolina crowd fuels a couple of late defensive stands. Jordan Burch and Jordan Strachan both get in the backfield to force key stops. The Gamecocks close out the home slate with their most impressive win at Williams-Brice of the Shane Beamer era.
Week 13: at Vanderbilt (W)
Tennessee might not be playing for a division title, but it could very well still have a New Year's 6 Bowl berth up for grabs. What the Vols do better than anyone in the country is get ahead from the jump. That puts pressure on Mike Wright to throw out of some obvious passing situations, and with a leaky offensive line, a turnover-happy Tennessee defense pounces. Gone are the days of Tennessee getting embarrassed by the less-talented in-state program. Make it 4 consecutive lopsided wins for Tennessee against Vandy.
2022 projection: 9-3 (5-3), 2nd in SEC East
#GBO
At 9-3, Tennessee would be in the running for a New Year's 6 bowl. There's no chance at this time last year that I'd be talking myself into that kind of Year 2 projection for Heupel. I assumed we'd be debating whether the Vols were ready to make a bowl game. Maybe that'll blow up in my face. Lord knows it's not the first time that someone got a bit ahead of their skis about Tennessee.
But the difference is Heupel's proven scheme and what we've already seen from Hooker in it. This isn't some 2019 Jarrett Guarantano projection. Hooker was in the top 3 in FBS in quarterback rating and he was 1 of the top 10 rushers among Power 5 signal-callers. And that was in Year 1 in the system after a midseason takeover. The guy can play.
Heupel is in position to have his 5th consecutive season with a top-10 offense, so long as Hooker stays healthy. He's gotta cut down on the hits he takes, but one would think that high sacks taken number (36) will decrease with more experience in the offense. Georgia will really be the ultimate test for that.
If this plays out and Tennessee does indeed win 2 rivalry games and finish with a legitimate case to reach a New Year's 6 bowl, it'll be hard to stop the hype train from going off the rails. That's not a bad place to be. It sure beats the alternative.
Not all 9-win seasons are created equal — Tennessee might find that out in 2022.
More Crystal Ball previews
Want to read about Tennessee's rivals? The entire Crystal Ball series is here.
Read More
Tennessee sportsbooks are live in the Volunteer state since November 1, 2020. Tennessee was the first SEC state to legalize sports betting.