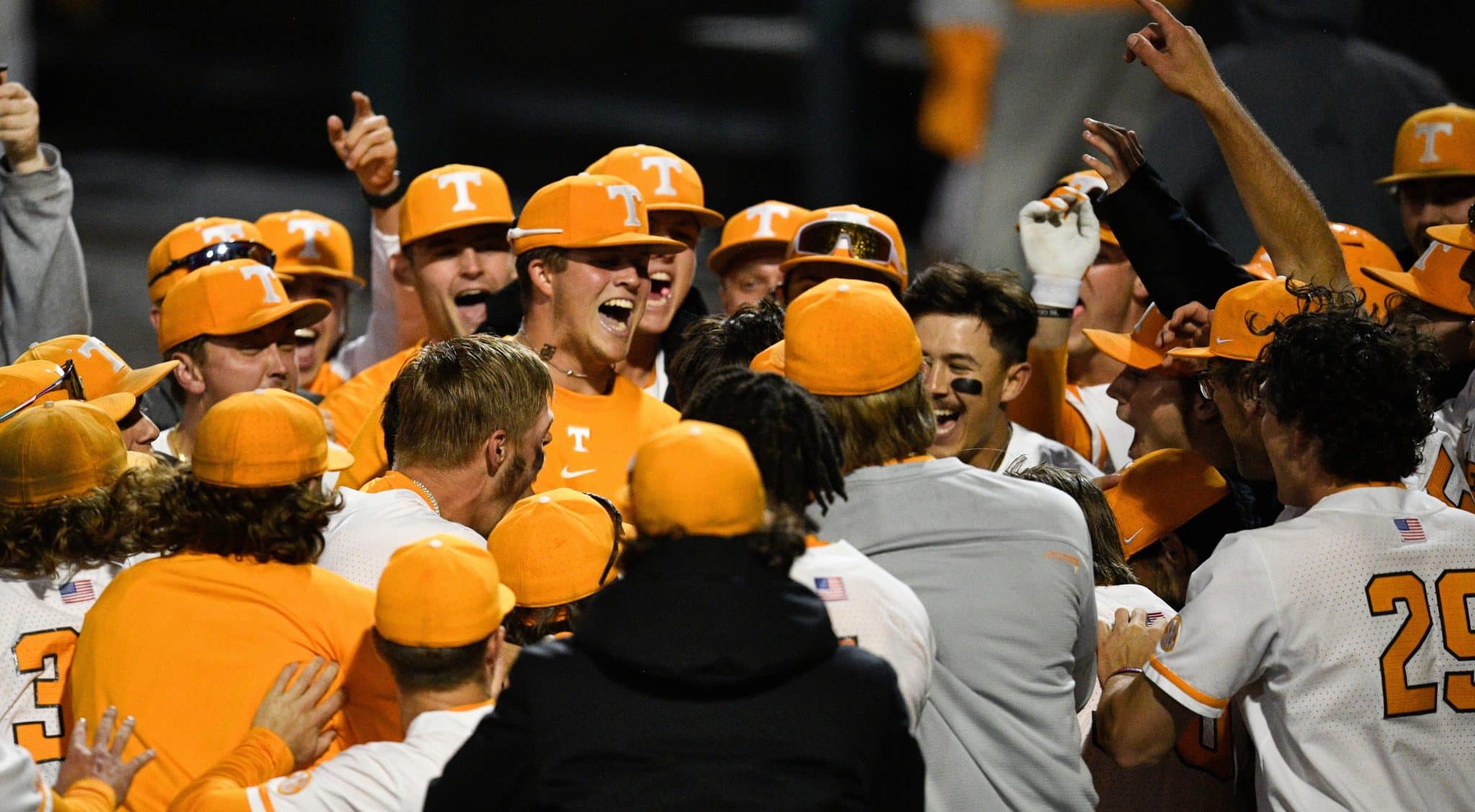 TENNESSEE
Winner, winner: Tennessee's athletics rebirth started with baseball
KNOXVILLE — Far too often as sports fans we wax poetic about "the good old days." The beer was colder, the sun shined brighter, and the victories were sweeter.
The problem with that, of course, is that it can cause us to ignore or minimize the accomplishments of the present day.
But considering the dumpster fire that was Tennessee athletics between 2008 and 2021, I don't think Vols fans are guilty of not enjoying the current successes of its teams.
When we say everything …

we mean everything. pic.twitter.com/mK0IfaI6dM

— Tennessee Athletics (@Vol_Sports) June 13, 2023
And this rebirth all started with the baseball program.
Yes, I know full well how important it was for Tennessee to hire Danny White as Athletics Director in January 2021. UT had just fired football coach Jeremy Pruitt for alleged NCAA violations. At the same time, then-AD Phillip Fulmer "cough, cough throat clear, eye-roll wink, wink" retired. White took control of an athletics department in shambles and has helped transform it into one of the nation's most successful and financially stable.
Hiring White was the first sign that Tennessee was prepared to enter the modern world of collegiate athletics.
The Tennessee baseball team was the first group to step up during his tenure.
For as much grief as John Currie receives (and deservedly so) for the mess that was "Schiano Sunday" and everything surrounding the football coaching search of November/December 2017, he should be commended for hiring Tony Vitello in June of that same year as Tennessee's baseball coach.
Vitello, an Arkansas assistant, was one of the top recruiters in college baseball. His was a level of expertise that Tennessee needed desperately. Lindsey Nelson Stadium simply didn't stack up when compared to the SEC's other baseball facilities. In addition, Tennessee baseball was a conference bottom feeder. In 4 years under Todd Raleigh and 6 more under Dave Serrano, the Vols never finished higher than 5th in the SEC East. From 2008-2017, the Vols went a combined 97-198 in the SEC.
"I believe that Coach Vitello is the right person to build our program into a perennial contender and bring championship baseball back to Knoxville," Currie said.
And it didn't take long for Vitello to prove that he was ready to lead a program in this, his first head coaching job.
Vitello led Tennessee to the 2019 NCAA Tournament in his 2nd year. The Vols were 15-2 when COVID stopped the 2020 season.
Which leads us to 2021.
That Vols team was the first during White's tenure to prove that yes, you can win something of note at Tennessee in a sport that fans truly care about.
Tennessee won the SEC East for the 1st time in 24 years. They hosted an NCAA Regional and if you try hard enough you might still hear the roar from the crowd at Lindsey Nelson as Drew Gilbert's walk-off grand slam gave Tennessee a 9-8 victory over Wright State. The Vols would carry that momentum all the way to the College World Series for only the 5th time in program history.
And while all of that was going on, Vitello was rumored to be the top choice to replace Paul Mainieri as the head coach at LSU, the team Tennessee beat in the Super Regionals. Even the most passionate Vols fan would admit that the LSU gig was certainly a better job than Tennessee's. This was an early challenge for White, but he made sure that Vitello wouldn't go anywhere, making him one of college baseball's highest paid coaches while promising much needed improvements to Tennessee's baseball facilities.
Tennessee's athletics department inferiority complex, hardened by coaching departures and on-field failures, was starting to weaken.
Since then, over the past 2 years you've seen the Lady Vols basketball program make it to 2 Sweet 16s. The men's basketball program won an SEC Tournament for the 1st time in over 4 decades in 2022 and advanced to the Sweet 16 last March. This year, the softball team won the SEC's regular season and tournament titles and were 1 of the last 3 teams standing at the Women's College World Series.
The football program drives the economic engine of an athletics department, and Tennessee finally has that back on track. The Vols won 7 games in 2021 and in 2022 they had their best season in decades. Tennessee won 11 games, beating Florida and LSU, besting Alabama for the 1st time in 15 years, while also knocking off Clemson in the Orange Bowl.
As for baseball? They've kept trucking along. In 2022 Vitello's group was the top-ranked team in the country for much of the year, winning the SEC's regular season and tournament titles before they were upset in the Super Regionals against Notre Dame.
They lost 10 players from that squad to the MLB Draft and struggled early in the 2023 season, but got things figured out in the final weeks.
They've won games this postseason when down to their last strike (thanks, Alabama transfer Zane Denton!). They've won games in hostile environments at Clemson in the Regionals and Southern Miss in the Super Regionals. They've napped under bleachers during weather delays.
This baseball team has faced every obstacle that has been in front of them, and climbed over them with poise and yes, a little bit of swagger. And now they've earned a trip to Omaha for their 2nd College World Series in 3 years.
The good times never last. Every empire eventually falls. But today Tennessee athletics stands amongst the top departments in the nation. Baseball led that charge … and we'll see if they come back from Nebraska with more hardware for the ever-expanding Tennessee trophy case.
Read More
Tennessee sports betting officially launched on November 1, 2020. Tennessee was the first SEC state to legalize sports betting.