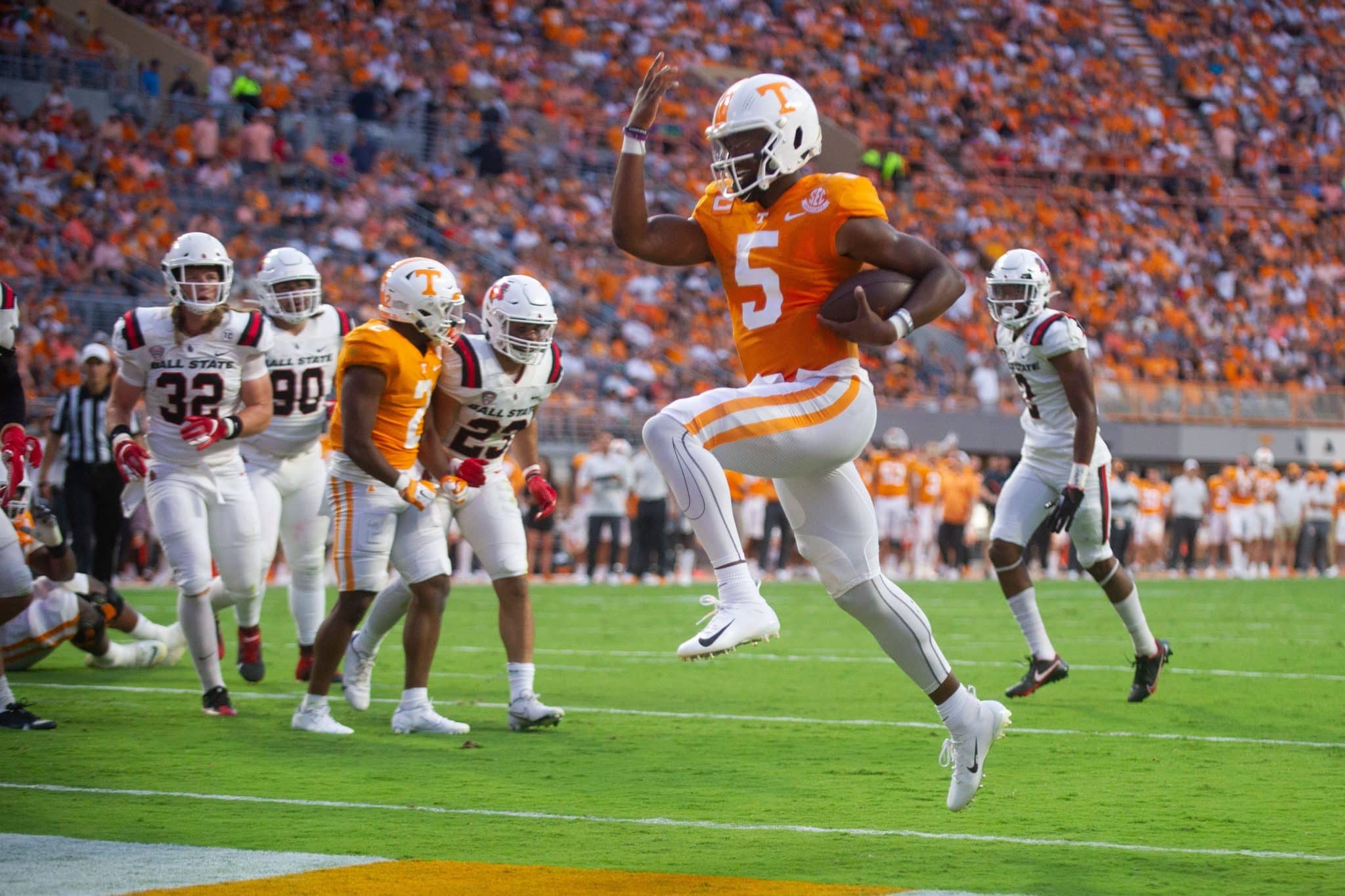 TENNESSEE
5 bit-too-early thoughts on the Tennessee-Pittsburgh game
Tennessee and Pittsburgh will face off on Sept. 10, and both teams got a head start on game planning by opening up last Thursday night.
Their matchups could not have been more different. The Vols had a 59-10 laughter against Ball State. while the Panthers survived a 38-31 rock fight against their most bitter rival, West Virginia, in the Backyard Brawl game.
What can we expect from this SEC vs. ACC meeting? Here are my 5 bit-too-early thoughts on the Tennessee-Pittsburgh game.
1. Which team benefited most from the early start?
Both teams playing earlier than normal means a couple of extra days to prepare. Tennessee has been concentrating more on the Week 2 game than Pittsburgh because Ball State didn't present nearly the challenge that West Virginia did for the Panthers.
That said, I think playing on Thursday night helped Pittsburgh more than Tennessee. It gives the Panthers a couple of extra days to heal following what was a very physical game. By contrast, Tennessee was able to pull most of its starters early in the 3rd quarter and got out of that game mostly unscathed.
2. Pittsburgh DE John Morgan III could be a problem
With Tennessee well in command against Ball State, I got to watch a good amount of the Pittsburgh-West Virginia game. One of the biggest takeaways for me was that Panthers defensive end John Morgan III could be a problem for Tennessee's offensive line.
Morgan had 3 tackles for loss, 1 sack, 1 forced fumble and 2 quarterback hurries. He was a game changer, and he started his redshirt senior season in dominant fashion.
He will be getting a lot of attention from Tennessee coaches this week, and deservedly so.
3. Can Pittsburgh put the Backyard Brawl in the rearview?
It was the most-attended sporting event in the history of the city of Pittsburgh, with 70,622 fans packing into Acrisure Stadium (the artist formerly known as Heinz Field). The resumption of the Backyard Brawl for the 1st time in nearly a decade did not disappoint in intensity.
Some Panthers players spoke afterward about how it was the biggest game of their careers.
Coaches talk all the time about only focusing on the next game ahead, and how the past means nothing. But here you are dealing mostly with 18- to 22-year-old kids, none of whom had played in a game like the Backyard Brawl.
The quicker they can move on from that memory, the better. If there's any letdown, Tennessee will benefit.
4. Tennessee's offense hasn't missed a beat
Going back to last year, the Vols have scored at least 45 points in 4 straight games. That didn't happen in the Peyton Manning era, or even when Tyler Bray was lighting up opposing defenses. You have to go all the way back to Heath Shuler's 1993 Heisman runner-up season to find a Tennessee team that scored that many points that often.
The game plan against Ball State was fairly vanilla because … well, why wouldn't it have been? There was no reason to give West Virginia more interesting film to watch.
Hendon Hooker was his typical efficient self, completing 72 percent of his passes. The Vols scored 6 TDs and a field goal in Hooker's 8 possessions before he gave way early in the 3rd quarter.
Tennessee spread the football around, with 10 receivers making at least 1 catch. That means more options for Hooker in what is already a seemingly limitless offense.
West Virginia's offense put up 31 points against the Pittsburgh defense. Tennessee scored 34 against the Panthers in 2021 and should eclipse that total.
5. Tennessee's defense looked better. Maybe?
The Vols were ranked 99th in total defense a year ago, allowing more than 421 yards per game. If UT is going to take a step or 2 forward this season, it has to improve on that side of the football.
Against Ball State, the Vols' defense came up with 3 turnovers and didn't allow a point until midway through the 3rd quarter. At that point, the Vols were up 45-0 and the game was already well in hand.
But Pittsburgh is not Ball State.
Southern Cal transfer Kedon Slovis looked pretty good in his Pitt debut, throwing for 308 yards and 1 score. The much-maligned Tennessee secondary will be tested.
But up front, Tennessee's pass rushers likely enjoyed watching Pittsburgh's offensive line allow 5 sacks and are looking to find ways to achieve similar success in pressuring Slovis.
Read More
Tennessee sports betting officially launched on November 1, 2020. Tennessee was the first SEC state to legalize sports betting.