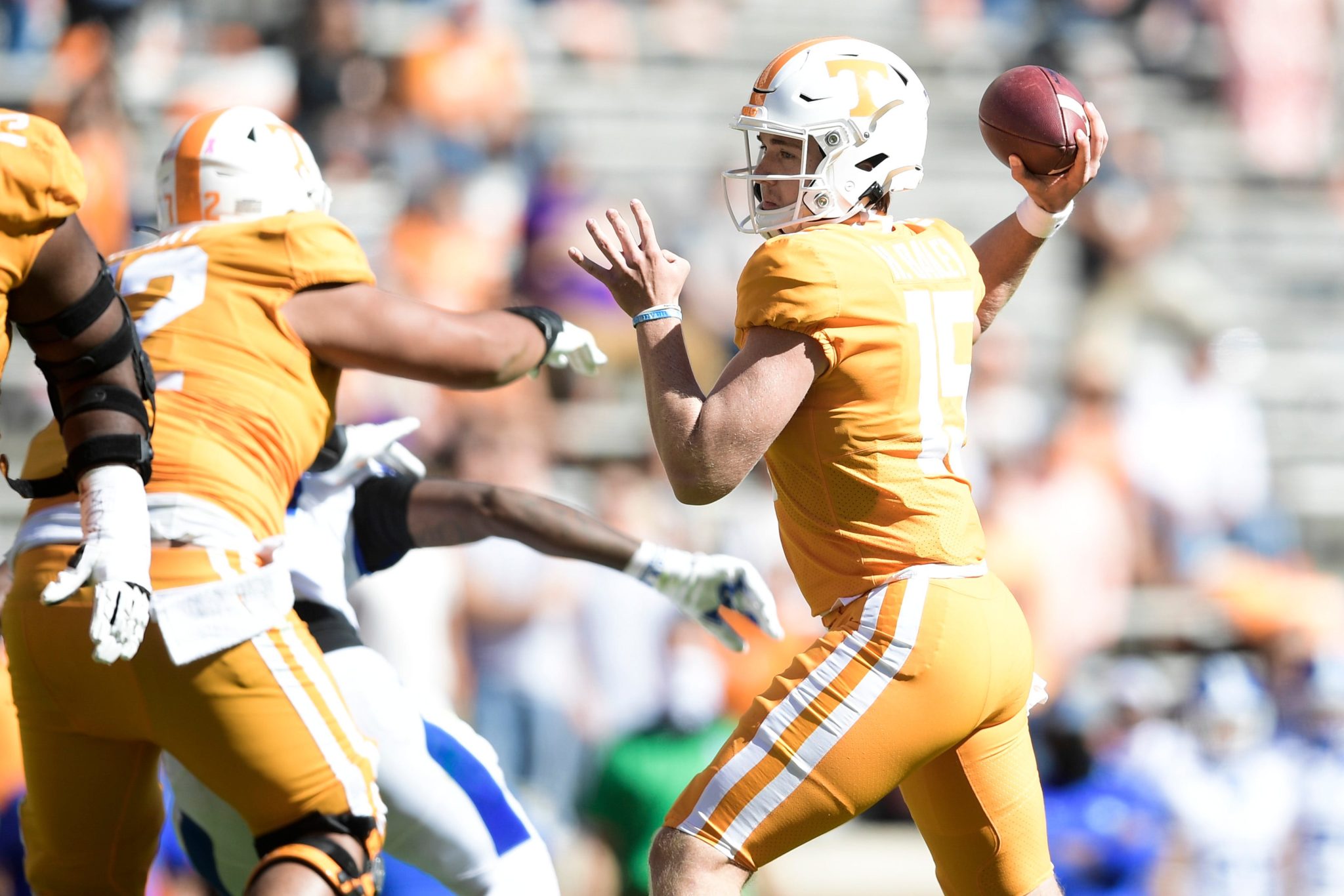 TENNESSEE
Tennessee football: Harrison Bailey's time is coming, but so is Alabama
You know who the most popular player on any football team is, don't you?
The backup quarterback.
He's the guy who didn't overthrow a receiver, fumble a snap, or toss an interception. He's the guy who surely would look like a combination of Sammy Baugh, Joe Montana and Lamar Jackson … if only the coaches would give him a shot.
These are the facts, and it's why Tennessee fans are praying that the young backup one day can save this team.
Tennessee's 34-7 defeat at the hands of Kentucky was a historically bad loss. It was only the 3rd time UT has dropped a game to UK since 1984. It was also the first time since 1984 that Tennessee lost to Kentucky in Knoxville. It's a big reason the calls for true freshman Harrison Bailey to get a shot are getting louder and louder right now.
Bailey arrived in Knoxville early this year with all the typical hype that comes with being a blue-chip scholarship quarterback at Tennessee. Those guys inevitably get compared to the best quarterbacks in the program's history. Is that fair? It most certainly is not. But Vols fans have seen some great ones (Peyton Manning, Heath Shuler, etc.) and some not so great ones (Nick Stephens, Nathan Peterman, etc.), and hope Bailey leans more towards the winning side.
He made his debut at the end of the Vols' dumpster fire performance against Kentucky, completing 1-of-4 passes for 24 yards to fellow true freshman Malachi Wideman. It's a small sample size obviously, but the fact that Tennessee coach Jeremy Pruitt put him in the game shows that this is something they've been considering at some point … maybe since the start of the second half of the Georgia game, when the wheels fell off the Jarrett Guarantano bus.
Guarantano's pick-6s on consecutive drives against Kentucky might not top the Alabama game goal line fumble from a year ago in terms of moments he'd rather forget … but they will be remembered by Tennessee fans forever, as will the fact that he was the quarterback of record in 2 of the Vols 3 losses to Kentucky over the past 36 years.
What about J.T. Shrout you ask? Well, he threw an interception in his only series against Kentucky. Or maybe Brian Maurer? Well, he's been injured and in quarantine.
We definitely know what Tennessee has (and doesn't have) in Guarantano. We've seen a decent amount of Shrout and Maurer over the past couple of seasons, too, and there's been nothing from those performances that makes you believe that the woes of the Tennessee offense will be solved if either gets the call. Frankly, I'm surprised that at least one didn't transfer in the offseason.
So that leaves us with Bailey. He's certainly the future of the position for Tennessee.
But is he also the present?
After the Kentucky loss, when asked who the starting quarterback would be going forward, Pruitt said, "I would say it's undecided. Right now, when you lose 34-7, I think everyone in our organization has got to look and see what went wrong. We could make changes at any level."
Complicating the issue is the fact that Tennessee plays Alabama this week. That's not exactly an ideal situation for a freshman to make his first college start. The Vols have a bye week on Halloween and then face Arkansas on Nov. 7.
Tennessee might only be 1 game off the pace in the SEC East, but even the Vols fan wearing the "orangiest" of orange colored glasses doesn't think they are winning the division this season for the first time since 2007. It should be all about player development, something that this coaching staff has excelled at … except at the quarterback position.
If all of that is true (and it is), Bailey probably needs to play as much as possible … because 2021 isn't that far away. In theory, that could mean as early as this Saturday against Bama.
Of course, when the backup quarterback becomes the starter? Well, that changes everything. That's when the pressure begins and the criticism is plentiful if things don't go well.
But it's what Bailey signed up for … and sooner than later, we might be about to find out what he is capable of doing.
Read More
Tennessee online sports betting officially launched on November 1, 2020, and many of the largest sportsbooks are live and operating in the volunteer state. Tennessee is only one of a handful of SEC football states with legalized sports betting.