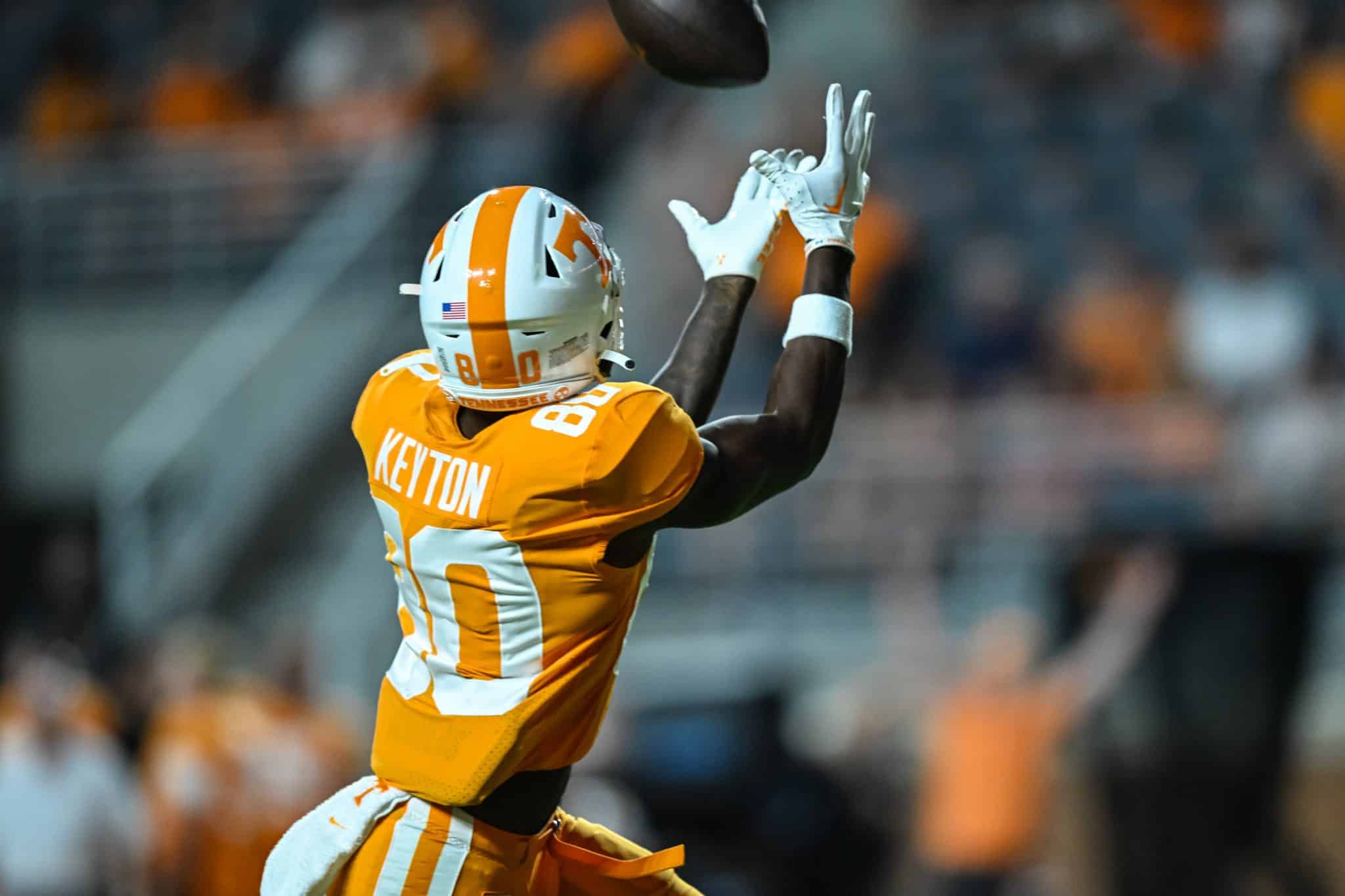 TENNESSEE
Tennessee football: Ramel Keyton is ready for his time in the spotlight
KNOXVILLE — Ramel Keyton has never been "the guy" for Tennessee football.
The senior wideout was recruited by Tennessee as the top receiver in an impressive 2019 class. Keyton was heralded as Jarrett Guarantano and eventually Harrison Bailey's go-to target in what was advertised to be an era of dominance under Jeremy Pruitt.
But things rarely go as planned.
Keyton has amassed 28 catches in 24 games at Tennessee. The senior receiver has just 1 touchdown in that time, a 57-yard bullet via Joe Milton against Akron in Week 3 of this season.
Joe. On the money.

? SECN+/ESPN+
? https://t.co/HoJ8pzPrDB pic.twitter.com/dezuFZXnsD

— Tennessee Football (@Vol_Football) September 18, 2022
For now, that's it. But I can assure you it won't be his last. Keyton has done things the right way for Tennessee football, and it's getting ready to pay dividends. Week 4 was a great example of that. The Vols do not beat Florida without Keyton.
For starters, the best catch in a Tennessee uniform since Marquez North came when it absolutely had to. On 3rd-and-10 with the offense sputtering, Keyton laid all the way out for a 43-yard snag to move the chains and jumpstart the engine of the offense.
Unreal effort here ?
pic.twitter.com/rVNGwa9urK

— Tennessee Football (@Vol_Football) September 24, 2022
An amazing effort, but the job was not finished. Tennessee was still down with just over a minute remaining. If the Vols don't find the end zone, his catch is for nothing.
What's being swept under the rug is his next catch on that drive. Keyton also moved the chains on 2nd-and-7 from the Florida 32 to keep the drive alive. Four plays later, Tennessee was in the end zone and on top. The Vols never looked back.
Of those 28 catches listed above, 8 have come this season for 183 yards. Six of those have been for first downs. Just a casual reminder that Keyton is Tennessee's No. 4 option in this offense.
And Cedric Tillman, Jalin Hyatt and Bru McCoy have proven their spots as the top 3 receivers. But even head coach Josh Heupel agrees Keyton has impressed in his role.
"Ramel's catch was a great example, but that's just one play that he made on Saturday," Heupel said after the Florida game. "The greatest tribute you can give to him is, there wasn't anything that was different about what we did. You can see the trust that Hendon (Hooker) had in him and when the ball went his way, he came away with it and made plays."
Keyton waited his turn, the ball came his way and he capitalized. He's going to have plenty more chances in the coming weeks, too.
Tillman, Tennessee's top receiver, underwent "Tua Tightrope" surgery to accelerate his recovery from a high ankle injury he suffered against Akron. He missed the Vols' game against Florida, will miss their Week 6 game against LSU and is questionable moving forward after that. It's tough to rush recovery after a surgery, so if I had to wager I'd say he will miss Tennessee's Oct. 15 matchup against Alabama, too.
Heupel, Hooker and offensive coordinator Alex Golesh have shown they are more than OK looking Keyton's direction when it counts. That's why Tennessee fans should feel safe if the Vols ask Tillman to take his time. The numbers are not there for Keyton at first glance, but he may finally be ready for his moment in the spotlight.
He detailed his goals for himself and the wide receiver corps this season following the win over Florida.
"(Wide receiver) Coach Kelsey Pope said I worked for that one," Keyton said of his big drive Saturday. "The whole offseason we were working, all of the receivers really. We just worked for that. We've got to continue to make those plays. We don't want to be a one-catch guy, we've got to be consistent with that. That was the main thing, just coming back and being more consistent with the plays."
Consistency being Keyton's goal is encouraging to hear from a development standpoint.
He first started seeing real reps his sophomore year in 2020. In Tennessee's first game against South Carolina, he dropped a wide-open pass that would have moved the chains. He had a few more drops during the season too, enough to where Pruitt decided to all but faze him out of reps.
His junior year was when the waiting game started. Heupel arrived from UCF and chose Tillman, Velus Jones Jr. and Mississippi State transfer JaVonta Payton as main targets for Joe Milton and Hooker. Hyatt's presence delegated Keyton to a WR5 in the country's fastest offense.
Truth is, Keyton has just as much potential as Tillman did when Heupel gave him the nod that ultimately led to his breakout campaign. Tillman exploded for 1,081 yards and 12 touchdowns on 64 receptions as a senior in 2021. In his previous 3 years in Knoxville, Tillman amassed a grand total of 7 receptions for 124 yards and 2 touchdowns.
Sounds familiar.
LSU in Death Valley awaits. It's time to see what Ramel Keyton can do.
Read More
Tennessee online sports betting officially launched on November 1, 2020, and many of the largest sportsbooks are live and operating in the volunteer state. Tennessee is only one of a handful of SEC football states with legalized sports betting.