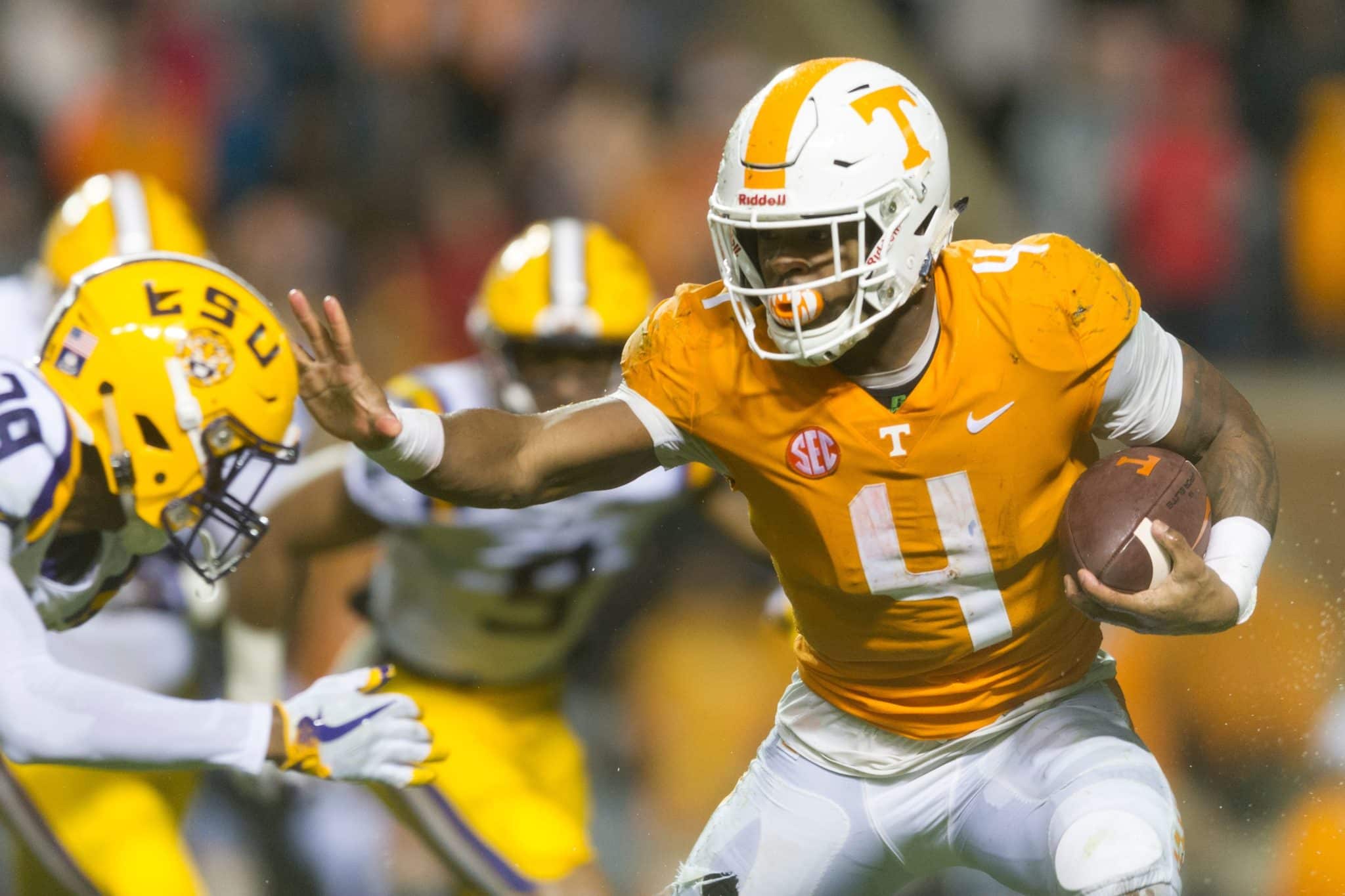 TENNESSEE
Tennessee vs. LSU: There have been some wild moments to remember
Tennessee vs. LSU takes place on Saturday afternoon in Baton Rouge. The Volunteers got a break with an early 11 a.m. local time kickoff, but it will still be a packed house at Death Valley.
Currently, the Vols hold a 20-10-3 all-time advantage in this series, but LSU has won 5 in a row against Tennessee. While the Vols and Tigers don't play every year, this matchup rarely has been a boring affair. Sometimes the showdowns are just flat-out bizarre.
Let's take a look at each LSU-Tennessee game from the past quarter-century, in all their glory:
2000: LSU 38, Tennessee 31 (OT), in Baton Rouge
The Tigers had a new head coach named Nick Saban. The locals were uneasy following 2 consecutive losses to Auburn and UAB, but LSU jumped on top of the 11th-ranked Vols 24-6 at halftime.
A furious Tennessee rally sent the game to overtime though. A Rohan Davey-to-Robert Royal TD pass gave LSU a 38-31 lead. UT would get to the LSU 4, but when AJ Suggs' pass fell incomplete, a raucous celebration ensued, complete with fans rushing the field and torn-down goalposts.
2001: Tennessee 26, LSU 18, in Knoxville
This was the first football game for both teams after 9/11, and an emotional 108,000-plus fans packed Neyland Stadium.
Vols wide receiver Kelley Washington, a former minor-league baseball player, had a huge game with 11 catches and a program-record 256 receiving yards, plus a TD in the Tennessee win.
2001: LSU 31, Tennessee 20 (SEC Championship Game), in Atlanta
The rematch less than 3 months later in the SEC title game set Tennessee on a dark path.
The Vols were 10-1 and fresh off an upset of Florida. A win in Atlanta would send Tennessee to the Rose Bowl to play that legendary Miami team in the BCS Championship Game.
Tennessee's defense knocked both the starting quarterback Davey and starting tailback LaBrandon Toefield out of the game. The Vols led by 10 points at halftime.
But an unknown backup quarterback named Matt Mauck (like Washington, a former minor-league baseball player) gave Tennessee's defense fits with a series of draw plays that it just couldn't stop.
LSU upset Tennessee, and the Vols have never been as close to playing in a major bowl game since that afternoon in Atlanta.
2005: Tennessee 30, LSU 27 (OT), in Baton Rouge
Postponed 2 days following Hurricane Rita, the Vols flew into Baton Rouge the day of the game, the 1st Monday night game in Tiger Stadium history.
LSU, with new head coach Les Miles, raced out to a 21-0 lead. Tennessee quarterback Erik Ainge was ineffective, thrown into a goalpost and replaced by Rick Clausen, a former LSU quarterback.
Clausen improbably led the Vols all the way back to force OT, and when Volunteers running back Gerald Riggs Jr. powered into the end zone from the 1-yard line, Tennessee had escaped with a thrilling win.
And the Vols haven't beaten LSU since.
2006: LSU 28, Tennessee 24, in Knoxville
Both the Vols and Tigers were ranked in the Top 15.
Ainge tried to go despite a sprained ankle suffered a week earlier but had to give way to backup Jonathan Crompton. His 54-yard TD pass to Robert Meachem put Tennessee ahead 24-21 midway through the 4th quarter.
But future No. 1 overall draft pick JaMarcus Russell found Early Doucet in the end zone on a 4-yard touchdown pass with only 9 seconds left, giving LSU the comeback win.
This was a really good football game … and might be the least memorable of the lot.
2007: LSU 21, Tennessee 14 (SEC Championship Game), in Atlanta
Tennessee won the SEC East despite scoring fewer points in the aggregate in league play. LSU would go on to win the national title despite losing twice.
Man, the 2007 season was fun, wasn't it?!
A couple of hours before the SEC title game, Miles held a press conference to deny reports that he was leaving to take the Michigan job. And while the Tigers were seemingly distracted, the underdog Vols, wearing a surprise all-orange combination for the 1st time in 8 years, were playing loose and free.
Tennessee led 14-13 with 10 minutes left, but LSU defensive back Jonathan Zenon picked off an Ainge pass and returned it 18 yards for what would prove to be the game-winning score.
The Vols haven't played for an SEC title since.
2010: LSU 16, Tennessee 14, in Baton Rouge
You want bizarre? I've got bizarre …
With the Vols clinging to a 14-10 lead, LSU was driving for the game-winning score. Tigers quarterback Jordan Jefferson took a snap at the UT 2-yard line with 32 seconds left. He was stopped at the 1. LSU didn't have any timeouts left and was in mass panic mode. With players on each side substituting, the Tigers couldn't get a play call. The snap went behind Jefferson, time ran out and the Vols had pulled a huge upset.
But while Tennessee was celebrating and its new head coach Derek Dooley was hugging his players, the head referee announced that the Vols had too many men on the field, giving LSU 1 final untimed down from the half yard line. Due to a massive miscommunication, the Vols ended up with 13 men on the field.
Some Tennessee players were already in the locker room. Dooley couldn't get his headset to work. It was anarchy, and LSU had new life. Tigers running back Stevan Ridley then took the handoff, the football barely crossed the plane and LSU survived.
2017: LSU 30, Tennessee 10, in Knoxville
Tennessee had just fired Butch Jones and interim coach Brady Hoke was in charge. Visiting LSU fans taunted Vols players with "0 and 6" (their SEC record) and "champs of life" (one of Jones' many sayings) chants during warmups.
This game was played during what felt like a monsoon. High winds caused the south end zone goalposts to lean to the side. A bank of lights went out before the 2nd-half kickoff, but for some reason the game wasn't halted.
Tennessee's Marquez Callaway fumbled 2 punts inside his own 20, leading to 10 Tigers points. Hoke iced his own kicker. It was a full comedy of errors and a perfect representation of the Vols' season, at 4-8 the worst in program history.
Read More
Sports betting in Tennessee officially launched on November 1, 2020, and many of the largest sportsbooks are live and operating in the volunteer state. Tennessee is only one of a handful of SEC football states with legalized sports betting.