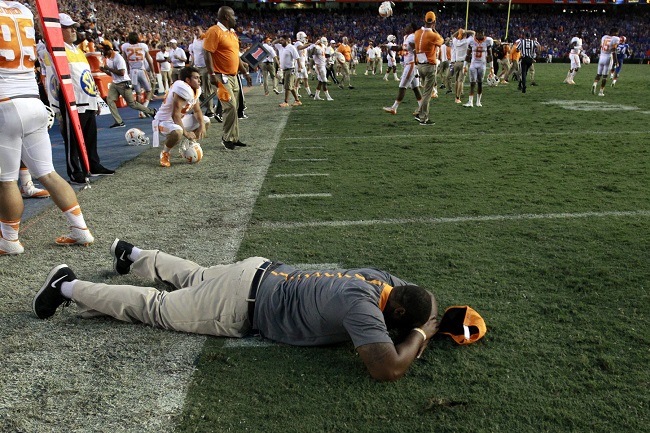 TENNESSEE
Tennessee's five defining moments of 2015
After starting the season 3-4 and falling out of the SEC East title race, Tennessee won its final six games, showing significant progress during Butch Jones' tenure as coach.
Let's take a look at five defining moments for Tennessee in 2015.
1. Butch Jones deciding not to go for two against Florida: Jones made many questionable in-game decisions during Tennessee's 28-27 loss to Florida, but the one that stood out was his choice to kick an extra point early in the fourth quarter. The Volunteers went up 26-14 after a touchdown with 10:19 to go in the game. It seemed obvious that a two-point try was the smart play. But Tennessee opted to kick the extra point and subsequently gave up two touchdowns. The Vols lost by a point, and it was Tennessee's 11th consecutive loss to Florida.
After the game, Jones gave this response during his postgame press conference when asked why he choose to kick the extra point:
"We have a chart that's pretty standard in football that maps it out," Jones said. "We just felt at that stage in the game, we have great confidence in our defense of getting off the football field. … We felt very comfortable with that decision."
The coach's response resulted in stories that had headlines such as: "Butch Jones Explained Stupid Two-Point Conversion Decision Stupidly."
One could argue that going for the extra point made some sense. But even if Tennessee had gone for two and failed, Florida would have still needed to score a touchdown and two field goals at a minimum to win. And at that point in the game, it seemed doubtful that Florida would have gotten three more possessions, so the Gators would have needed two touchdowns anyway.
Ultimately, Jones' decision contributed to the Tennessee loss that cost the Vols the SEC East title.
2. Antonio Callaway's 63-yard touchdown reception on fourth-and-14: The key play in the loss to Florida was Callaway's TD reception in the fourth quarter. Everything that could go wrong went wrong for Tennessee. On fourth down, the Vols rushed only three linemen, giving Will Grier plenty of time to sit in the pocket and find Callaway open on the right side of the field beyond the first-down marker. Callaway should have been tackled immediately, but Tennessee CB Malik Foreman took a bad tackling angle, allowing Callaway to bolt down the sideline for a TD.
Tennessee kicker Aaron Medley would eventually miss a 55-yard field-goal attempt as time expired, giving Florida its 11th straight win over Tennessee.
3. Tennessee erases 21-point deficit to upset Georgia at home: Coming into the game, Tennessee hadn't showed it could finish a game. After blowing three leads of 13 points or more, the Vols erased a 24-3 first-half deficit to stun Georgia 38-31. Tennessee QB Joshua Dobbs led the Vols' furious comeback with 430 total yards and five TDs, including 118 rushing yards. It was Jones' biggest win at Tennessee.
4. Tennessee's 53-28 win over Vanderbilt caps a five-game winning steak to close the regular season: The Vols finished the regular season with an 8-4 overall record — their best since 2007. Tennessee also went 5-3 in conference play and finished second in the SEC East — its best since 2009.
5. Tennessee begins 2016 with a blowout win over Northwestern in the Outback Bowl: The win should provide Tennessee with positive momentum heading into the offseason, and after the way the Vols dominated Northwestern, they should be regarded as the favorites to win the SEC East next season.
Read More
Sports betting in Tennessee officially launched on November 1, 2020, and many of the largest sportsbooks are live and operating in the volunteer state. Tennessee is only one of a handful of SEC football states with legalized sports betting.