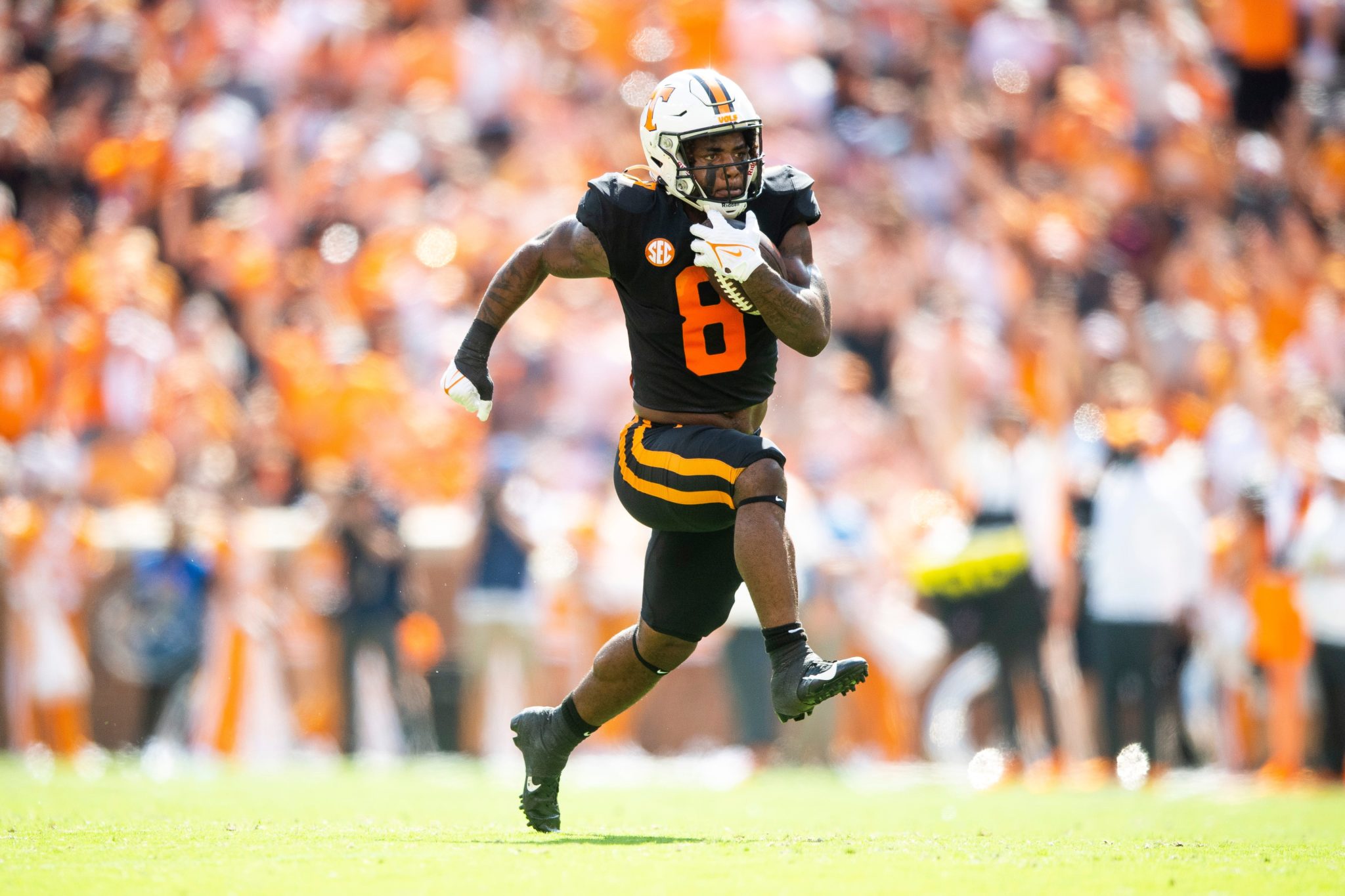 TENNESSEE
Tennessee's improvement can't be dismissed after another lopsided win
Tennessee faced little resistance for the second straight week as it dominated South Carolina 45-20 on Saturday.
UT's transformation has been pretty incredible considering Tennessee looked like the "same ol' Vols" in a 38-14 loss to Florida just 3 games ago. Remember that? It was a salt-in-the-wound type of loss, especially after Gators coach Dan Mullen suggested that he rested some players he didn't deem necessary to beat Tennessee. Since that game, the Vols have proven that they're not just a glorified bye week when they come up on the schedule.
Any inference as such is insulting and should be brought up when the Vols prepare for Florida next year. That should add to the motivation that the Vols will have to upend the Gators. Yes, the Vols were beaten soundly by Florida, but that seems like eons ago.
UT has outscored its past 2 opponents, Missouri and South Carolina, by a combined score of 107-44. Frankly, neither game was even that close. UT led South Carolina 35-0 on Saturday. The Vols led Mizzou 45-10 the week before. No matter who Tennessee has played, it has been an impressive 2-game display.
It would be easy to discount the Missouri and South Carolina wins as just victories against lesser foes. Missouri is 3-3 with a loss to Boston College. South Carolina is 3-3 and doesn't have an SEC win. But before you get too far ahead, remember that both teams have had success against the Vols during their decade-long rebuilding effort, which is still ongoing.
The days of beating up on teams like Kentucky, Vanderbilt and South Carolina don't come along as routinely as they used to. Losing to those teams hasn't even been considered much of an upset since the Vols fell from grace almost 15 years ago. The Cats could be favored by more than a touchdown when they host the Vols on Nov. 6. While the Vols have languished, Kentucky has thrived. Still, UT's offense should keep them in the game with a chance to win late if the Vols keep playing like they have over the past 2 weeks.
It might surprise some to know that South Carolina's defense was only giving up 160 yards per game passing before the Gamecocks played the Vols. South Carolina was actually 3rd in the conference in passing yards allowed. Tennessee quarterback Hendon Hooker didn't seem aware of that statistic as he efficiently sliced up South Carolina's defense for 225 yards and 3 touchdowns while completing 17-of-23 passes. Throwing for 225 yards is nothing to brag about, but there was a sense that the Vols could have topped 400 yards passing if they needed to. They didn't.
Tennessee's dominant play over the past 2 weeks has to make you wonder. Just how good are these Vols? Well, they're probably not as good as they've looked at times recently. They're also not as bad as they looked in a lopsided loss to Florida. They're somewhere in between.
Tennessee fans must have been concerned last week when the Gators lost to Kentucky. Florida beat UT handily then lost to Kentucky. Where does that leave the Vols? Well, not as low on the totem pole as you may have thought before this weekend. After Saturday's win against LSU, we can confirm that Kentucky is legit. The Cats never trailed LSU as they beat the Tigers 42-21 in The Commonwealth.
Tennessee's realistic goal should be to finish 3rd in the SEC East, behind Georgia and a team to be named later, which is likely Kentucky. If the Vols can finish 3rd in the SEC East, it would be time for the college football world to take notice of the Vols, especially considering their brutal SEC schedule.
We'll see just how good Tennessee's offense is because the schedule gets much tougher immediately. The next four games are against teams all ranked in the top 13 of the current AP poll. The Vols' success will certainly be put to the test.
UT plays Ole Miss at home on Saturday. Then, the Vols will travel to Alabama and Kentucky before hosting Georgia. Would you take 1-3 in that run? You probably should have just a few short days ago. Now, with another dominating win by the Vols, there's reason to be more optimistic about the next 4 games. After what I've seen, I'd pass on 1 surefire win for a chance to see if the Vols can win more than just 1 game in the next 4. I'd be shocked if UT lost all 4 games based on how well they've played lately. I wouldn't be stunned if the Vols somehow went 2-2 in that stretch.
Let's rule out the obvious. Tennessee isn't going to beat Alabama unless something completely unforeseen happens. However, the other 3 teams on the horizon are far more intriguing — and certainly more beatable.
Start with Ole Miss. Former UT coach Lane Kiffin will want to win — and win big — when he brings the Rebels to Neyland Stadium on Saturday. As one would expect, Kiffin is heading up another explosive offense. The Rebels are averaging just over 46 points per game. However, they're also giving up 31 points per game. Sure, opposing teams have to try and keep up with Ole Miss' up-tempo offense, which has led to high-scoring games.
However, allowing 31 points per game isn't good no matter what, especially with the Vols clicking on offense. As good as Kiffin and his offense are, the Vols should be able to score against the Rebels, which ranks 12th in the SEC in total yards allowed. That game could go either way.
Two weeks ago, no one would have thought the Vols had a chance against Ole Miss. Before UT's latest two games, it was almost a foregone conclusion that the 2021 Vols would finish toward the bottom of the SEC East. Now, that has all changed.
Can UT beat Ole Miss? After what I've seen from the Vols over the past 2 weeks, the answer is a resounding "yes." UT won't be favored, but they've shown they can gobble up yards and points with the best of them. The Vols are 3rd in the SEC in total offense with 504 yards per game. Ole Miss is 12th in the SEC in yards allowed. The Rebels give up 432 yards per game. Both teams can score plenty of points and likely will on Saturday.
Kentucky will be an extremely tough challenge, especially in Lexington. Wait, did I just say that? Note to self: Kentucky is good.
There will be plenty on the line for both teams in a rivalry that was once completely one-sided. It seems like ancient history, but the Vols beat Kentucky 26 consecutive times. Since that streak ended in 2011, Tennessee has lost 3 games against Kentucky, including 2 of the past 4. This used to be an annual, surefire win for Tennessee. That was a long time ago and this is a far different Kentucky team than the Vols faced in the past.
Georgia doesn't seem winnable — or does it? As good as Georgia's defense has looked, the Bulldogs haven't been tested by an offense that is hitting on all cylinders like the Vols are now. The biggest challenge for the Vols against Georgia will be matching the Bulldogs up front. It takes a few noteworthy recruiting classes to stack up huge, athletic linemen. Georgia coach Kirby Smart has had time to do that in Athens. Tennessee coach Josh Heupel has barely had time to unpack all of his moving boxes.
The Vols have a prominent weakness that has yet to be on display. Perhaps it never will. That weakness is depth. If Tennessee loses a key player or two, the Vols' lack of proven players could be glaring, especially against an established program like Georgia. However, if Tennessee stays healthy, there is a decent chance that they could win two games out of the next four. That's not a rallying cry that championship teams have but the Vols aren't a championship contender — just yet.
That could change if the Vols continue to coach well and prove they can win big-time recruiting battles against their SEC foes. Two convincing wins means it's time for the Vols and its fan base to raise their expectations. That begins with splitting the next 4 games, not just winning 1. Winning 2 games in this upcoming streak once seemed impossible. That was eons ago.
Read More
Sports betting in Tennessee officially launched on November 1, 2020, and many of the largest sportsbooks are live and operating in the volunteer state. Tennessee is only one of a handful of SEC football states with legalized sports betting.