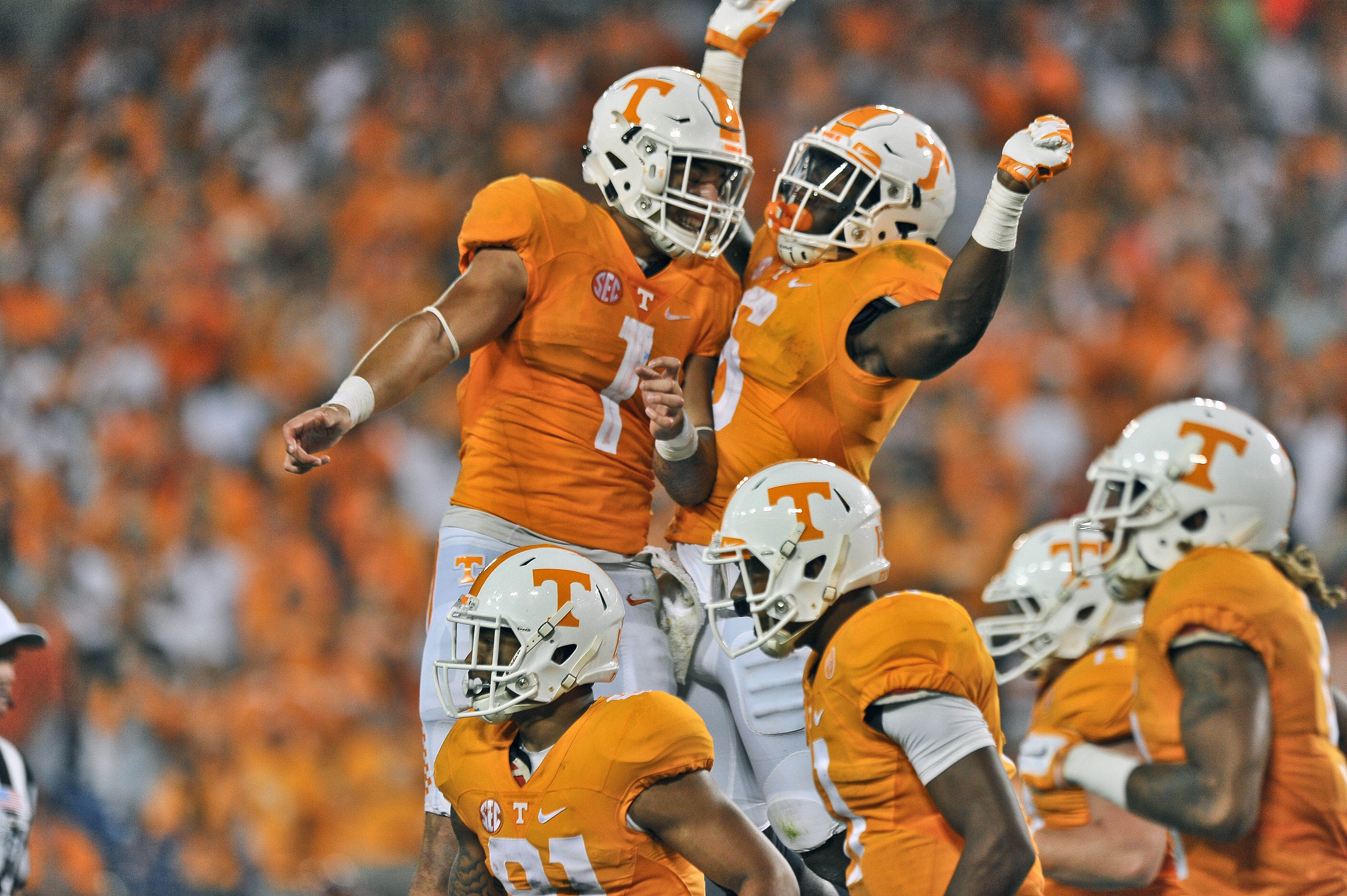 TENNESSEE
Tennessee's running back stable star-studded but top-heavy
Tennessee's backfield has two five-star studs who've done what the ratings said they would when they arrived in Knoxville. Juniors Jalen Hurd and Alvin Kamara have dazzled the sellout crowds at Neyland Stadium and left most SEC foes mostly dazed.
Together, Hurd and Kamara give Tennessee one of the best one-two punches in the SEC, if not the country. Throw in senior-to-be quarterback Joshua Dobbs, who ran for 671 and 11 touchdowns himself in 2015, and the Vols have an embarrassment of riches in the backfield to daze opponents a little more in 2016.
But if Tennessee can just get someone else from its stable of backs behind Hurd and Kamara to emerge even a little, just to take the pressure off the Hurd-Kamara Show, then it's running back situation could go from very strong to downright ideal.
"The sky is the limit," Dobbs told Bleacher Report. "(Hurd and Kamara) are very dynamic. They do different things. With the combination of both of them, they do everything well. It's nice to have them in the backfield, that's for sure."
The duo's numbers are pretty staggering even before combining them with the Dobbs' stats. The 6-4, 240-pound Hurd followed up a freshman season of 899 rushing yards and five touchdowns with a spectacular sophomore campaign, when he piled up 1,288 yards and 12 touchdowns.
Hurd has been a model of consistency, averaging 4.6 yards per carry last season and 4.7 in 2014, and durability, playing in all 13 games in each of his first two years. He's even been called an early Heisman Trophy sleeper for 2016, an award that's never been won at Tennessee despite its strong, proud tradition.
(Peyton Manning famously finished second to Charles Woodson in 1997.)
Heck, the Jalen Hurd for Heisman Fan Club page stretches back two years, to August of 2014, as he was just starting his Tennessee career.
"Hurd protects the ball, makes plays in the running and passing games, is effective in short-yardage situations while also getting in the open field and creating chunk plays, and he's an absolutely devastating blocker in the running and passing games. He's a complete back, and he gets better every year," wrote Wes Rucker of 247Sports in a summary of the Vols' running back stable.
And what about Hurd's smaller sidekick, Kamara?
All the 5-10, 215-pound redshirt junior did last year was run for 698 yards and seven touchdowns, averaging 6.5 yards per carry. He added 34 catches for 291 yards and three TD receptions and also played in all 13 games.
"Hurd will have to share 'The Man' status with Kamara, though, because the versatile and explosive Kamara is one of the SEC's most versatile and explosive weapons, and he's a threat to score every time he touches the ball," Rucker wrote. "His relative lack of touches in some games last season was a head-scratcher."
Still, Kamara touched it enough in 2015 to make a big-time impact in his debut season in Knoxville.
Meanwhile, Hurd carried the Vols last season, had his own human-highlight reel and only figures to be better, if not more polished this fall.
"Tennessee's situation atop the running back depth chart is about as good as you'll see in college football, and that's no hyperbole," Rucker wrote.
But what about that depth issue? Or just having that little bit of depth to take a bit of the pressure off Hurd and Kamara? Hurd and Kamara have yet to miss a game, but the law of averages says that staple of durability could end in 2016.
"It's tough to get through a season with just two running backs, even if they're as talented and productive and reliable as Hurd and Kamara, so depth is something the Vols are looking to build this spring and summer," Rucker wrote.
This is where John Kelly could enter the picture. Kelly, a sophomore from Detroit, got a taste last fall, appearing in 10 games and running for 165 yards on 40 carries with one touchdown. Perhaps in 2016 he could get a bigger taste of those famed checkerboard end zones?
"Sophomore John Kelly could have a big spring if the Vols do indeed take it easy on Hurd and Kamara," wrote SEC Country's Dave Hooker a few months ago.
Tennessee protected Hurd and Kamara in the spring game. Kelly stepped up with 65 yards on 15 carries and a touchdown, perhaps showing that he could be ready to be the Third Guy this fall.
"Third-string option John Kelly carried the ball more times than Hurd and Kamara combined, and he made the most of the increased opportunities. By picking up 65 yards off 15 carries and scoring the scrimmage's first touchdown, Kelly made his case for more playing time as a sophomore. Whether or not he gets it remains to be seen, but it's comforting to know there's another capable back behind the team's stars," wrote Matt Slovin of The Tennessean, placing Kelly second among his three "good" things in his "Good, Bad and Ugly" recap of the spring game.
Kelly also sounds like he could be perfect in a bit role because he's already earned the respect from Kamara.
"He never says anything about reps, anything," Kamara said of Kelly, according to The Tennessean. "When he gets in there, it's full-speed, full-go."
Could sophomore Joe Young or redshirt junior Jayson Sparks provide anything? Young played in five games last season, while Sparks appeared in three. Young's status is very much in question though after he sat out the spring with an undisclosed injury. Sparks got his chance in the spring game with Hurd and Kamara stepping aside and put up 34 yards on 11 carries.
Then there is highly touted freshman Carlin Fils-aime, the nation's No. 12 running back prospect out of Naples, Fla., according to the 247Sports Composite.
Rucker highlighted Fils-aime's "athleticism and playmaking ability." Fils-aime won't enroll until the summer, so there's no spring stats on him, nothing to go by yet except those strong rankings from 247Sports. But there are highlights from Naples, hinting at what he could one day be at Tennessee.
For now, the running back "cupboard," as Rucker called it, is full and alive, with two studs waiting to attack SEC defenses again this fall as they did in 2015. Getting something, anything, from Kelly or Young or anyone else can only make a great situation that much greater.
"This can be an eye-of-the-beholder situation where different people have different opinions, but the thought on this end has always been that Kelly is going to be a solid player," Rucker wrote. "He might never be a player as special as Hurd or Kamara, but he's got a lot going for him."
As do the Vols in a backfield that this fall could collectively be even a little more special than last year's group.
Read More
Tennessee sportsbooks are live in the Volunteer state since November 1, 2020. Tennessee was the first SEC state to legalize sports betting.