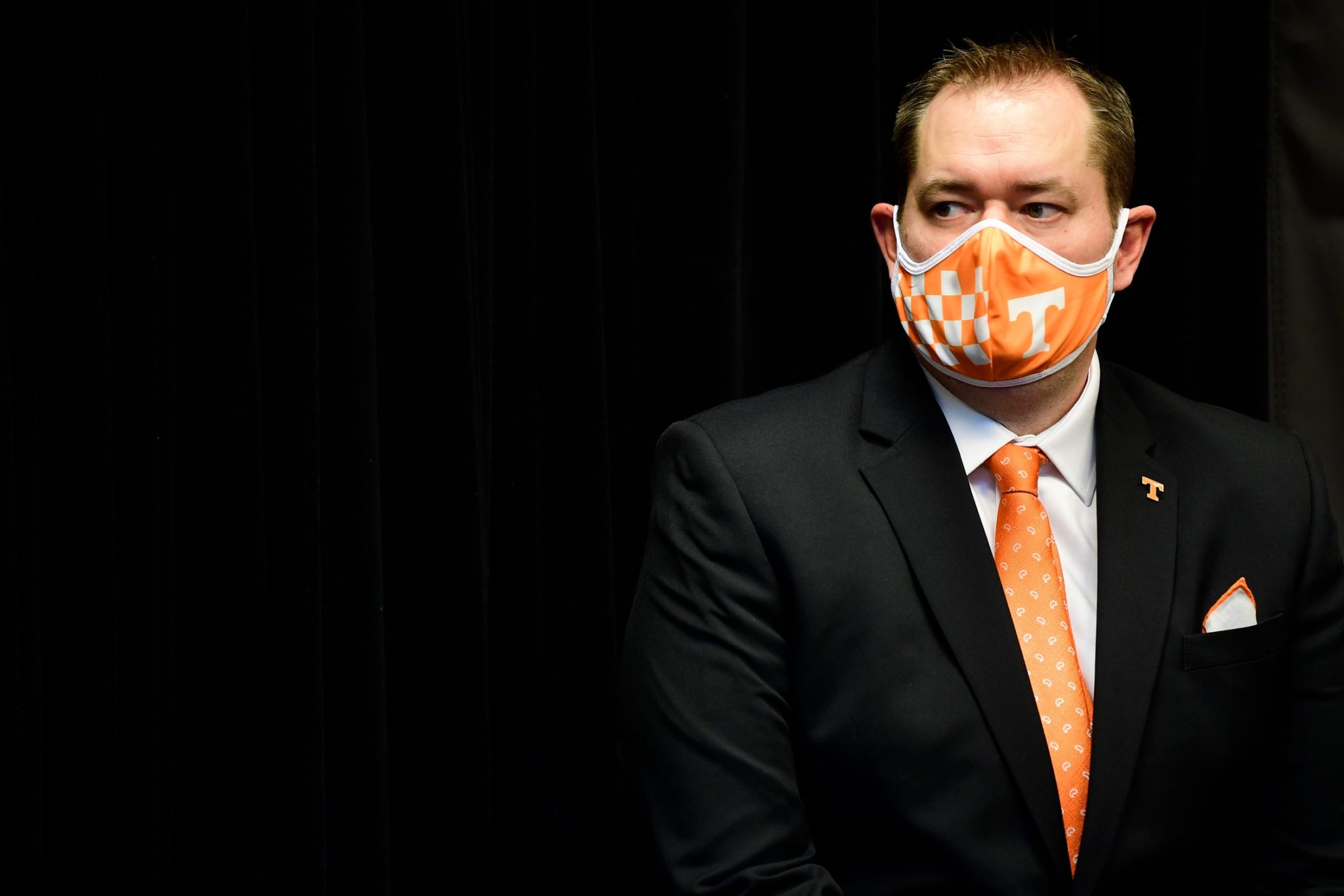 TENNESSEE
Who does Josh Heupel think he is pulling a longtime commit's scholarship right before Signing Day?
"Bush league."
Those were the words used by Oxford (Ala.) High School coach Keith Etheredge to describe Josh Heupel's decision to pull a scholarship offer from 3-star receiver Roc Taylor the day before February Signing Day. Etheredge told AL.com that it was "really crappy" to do something like that to someone who has been "nothing but loyal to Tennessee."
As the story goes, Taylor had been committed to Tennessee since April. He was part of that stretch in which it seemed like Jeremy Pruitt was getting 2021 commitments by the hour. Taylor, who is ranked the No. 27 athlete and No. 440 recruit in the 2021 class, was obviously limited without official visits because of COVID.
Despite the fact that Tennessee's entire future was up in the air following the firing of Pruitt because of an internal investigation into Level I recruiting violations, Taylor stayed committed. Even though he didn't sign in the Early Signing Period, Etheredge said Taylor shut down his recruitment last August, and that he wasn't playing the recruiting game that so many do even though he had other SEC offers.
Less than a week after Heupel took over at Tennessee, Etheredge got a phone call. It wasn't from Heupel begging him to stay committed and sign on the dotted line on February Signing Day. It was instead one of Heupel's staffers, who reportedly told Etheredge that Taylor's offer was off the table but that "he could tell people he decommitted if he wanted to handle it that way."
Hmmmmm, I wonder why Tennessee would rather have that message out there. Any guesses as to why Tennessee would rather not have a recruit tell the world he had an offer pulled the day before Signing Day?
Etheredge already took "bush league" and "really crappy," so I'll go with 2 different words.
"Absolutely pathetic."
Who does Heupel think he is, a week removed from taking the job, telling a kid at the 11th hour that his commitment isn't any good? If anything, shouldn't Heupel have called Taylor (at some point) and thanked him for not wavering on his commitment to a program despite its 6 weeks of turmoil?
Before you give me the line of "this stuff happens all the time," understand this. Yes, I get that Taylor isn't the first or last kid to have a scholarship pulled just before Signing Day. Jim Harbaugh made national headlines for it. Nick Saban and Kirby Smart have offered to greyshirt 4-star recruits. It's an unfortunate part of the business, though that doesn't mean it's right.
Sometimes, there's concern over whether a player will be eligible. That's apparently what was at the root of Taylor's pulled offer. This excerpt from the AL.com piece outlined what allegedly went down:
(Expected Tennessee assistant) Alex Golesh talked with Taylor following the call Etheredge received. Taylor said Golesh told him Tennessee was afraid he would not be eligible if they signed him. Etheredge, however, said Taylor is well on track to quality and will be eligible.
For what it's worth, Ole Miss offered Taylor a scholarship 2 weeks ago. If it was a forgone conclusion that he'd be ineligible, surely Lane Kiffin wouldn't have pursued him late in the process. Even so, academic issues aren't always a dead end for signing a player. Schools can offer support in those spots. It's different than not offering a scholarship to an uncommitted recruit because of academic issues. Taylor had been committed for 10 months. If that was used as the excuse instead of Taylor not being a system fit to play in Heupel's high-octane offense, well, that is indeed bush league.
Again, though. This happened the day before Signing Day. This happened before February Signing Day, which has essentially become the recruiting version of "last call" with the Early Signing Period locking in the vast majority of elite high school recruits. This happened during a pandemic in which the dead period — meaning no in-person contact with recruits — lasted from March 2020 through April 2021. This happened by a team facing an NCAA investigation. This happened by a team who lost 2 dozen players to the transfer portal. This happened by a team who had 10 recruits in the 2021 class drop their Tennessee commitments since the last week of November.
Tennessee fans might scoff at the notion that beggars can't be choosers. Some Vols fans will look at the class ranking and think this is just how you have to do business when you're elite. They'll also ignore the fact that the vast majority of those recruits were signed 2 days before reports surfaced that Tennessee was conducting an internal investigation into the program.
Is that stuff Heupel's fault? No, but understand the context. Or at least be a human being and call the kid to tell him the bad news. Don't trot out some assistant to do the dirty work. And yeah, even if there were rumblings that the previous staff would've also pulled Taylor's offer, that's still dirty work. Even in an incredibly busy schedule, that's something you have to make time for as the head coach.
That's at the root of all of this. It's a bad look on Heupel.
He's supposed to be making recruiting connections in the Southeast, and a move like that will only burn bridges. If anything, this shows that he's still got some learning to do about understanding the bigger picture at a high-profile job. This isn't the type of thing that gets swept under the rug at a place like Tennessee, which can often be a dream scholarship offer for a recruit. It's not an up-and-coming Group of 5 program like UCF, who only signed 1 recruit ranked higher than Taylor during Heupel's time in Orlando.
Fortunately, all signs point to Taylor handling this well. He still held his Signing Day ceremony on Wednesday, where he announced that he was signing with Memphis. He quote tweeted the original AL.com story with this:
"Always stay humble "🙏🏾 Gods plan!! https://t.co/WYqasrAFBX

— Roc (@Roc2shot) February 2, 2021
It was Etheredge who vented his frustration over the situation. And boy, he vented alright. He claimed that none of his players will ever go to Tennessee after what Heupel did. Take that for what it is. It's a high school coach who watched someone do wrong by his guy.
Heupel is getting paid $4 million to make tough calls. Ironic, that is, considering it apparently wasn't Heupel who made the call to Taylor. Heupel will undoubtedly have some Tennessee fans defending his calls, especially in the early stages of his time on Rocky Top. Those people will describe what happened with Taylor as "inevitable," though they'd call it something else if the same situation happened with a rival team. They'd certainly use a different word if that happened to their own son or brother.
Anyone could understand why Etheredge called Heupel's move "bush league." Here's hoping Taylor has a bright future ahead in the Volunteer State. If and when that happens, he'll look back on Heupel's move with 2 words of his own.
Good riddance.
Read More
Sports betting in Tennessee officially launched on November 1, 2020, and many of the largest sportsbooks are live and operating in the volunteer state. Tennessee is only one of a handful of SEC football states with legalized sports betting.