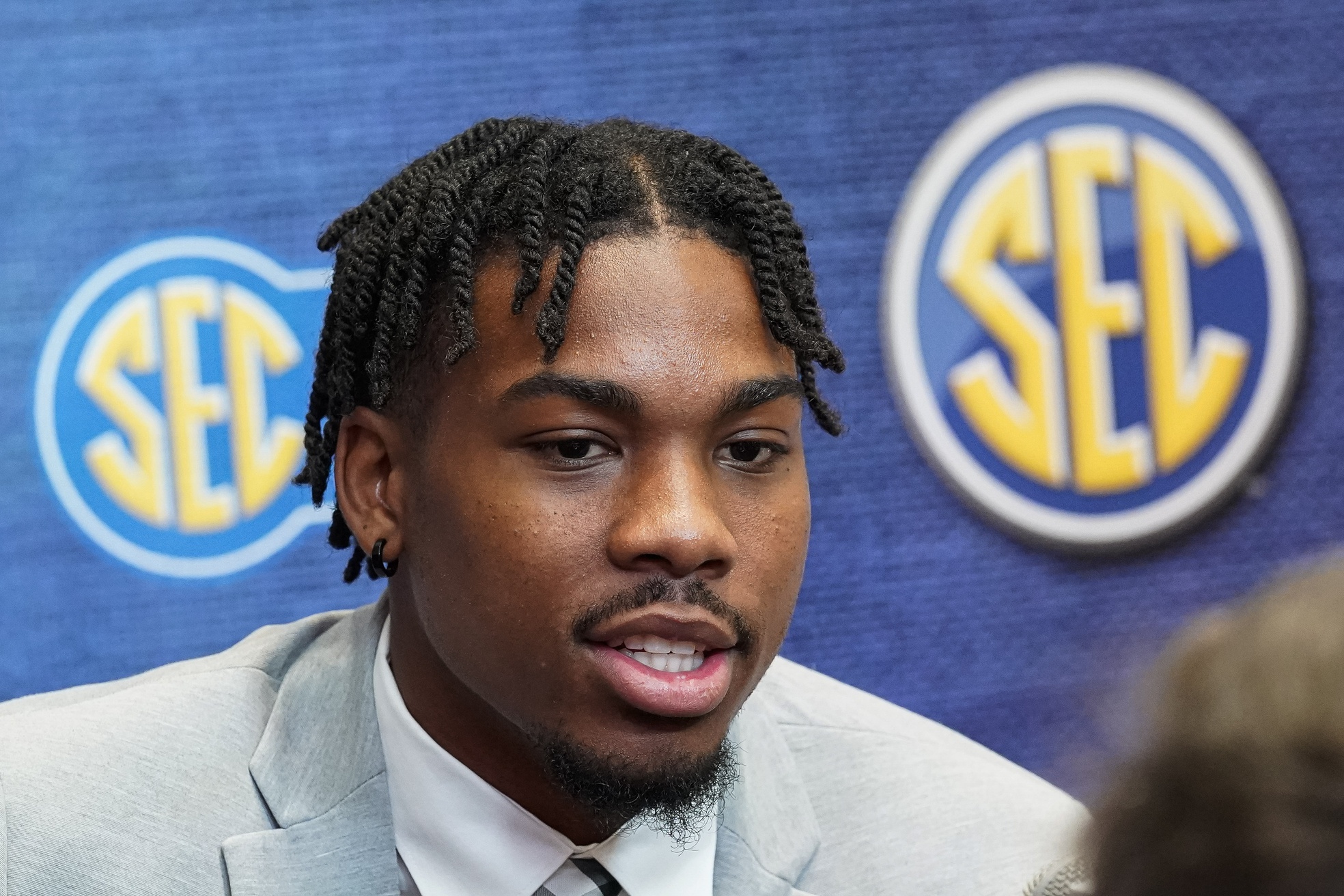 TENNESSEE
Why Cedric Tillman has the path — and the mindset — to be the best receiver in America
ATLANTA — Tennessee was expected to fly into Atlanta early on Thursday morning to make the rounds at SEC Media Days. But that flight was delayed about 45 minutes because of inclement weather. It put the Vols behind schedule for their day at the College Football Hall of Fame.
Cedric Tillman was probably right at home. After all, he knows a thing or two about waiting extra time to take off.
Going into October of Year 4 at Tennessee, Tillman had 14 career catches for 202 yards and 3 touchdowns. As Josh Heupel said Thursday, at this time last year, "nobody had heard of him."
It was only fitting that a flight delay kicked off Tillman's SEC Media Days experience in Atlanta, wherein instead of answering questions about who he was, he answered a different question.
Is there a path for him to become the best receiver in college football?
"I do think so," Tillman said. "But I gotta work for it. I gotta work each day and each hour. I gotta prove it. I gotta watch film, I gotta stay healthy and be available on the field on Saturday. That's what I gotta do."
That path absolutely exists.
Call it a mix of being the stereotypical film junkie — Jalin Hyatt said he was at the facility "24/7" — coupled with developing a rapport with Hendon Hooker in high-octane, up-tempo Heupel's offense. From October on, Tillman averaged 111 receiving yards per game (that number jumped to 131 yards per game in the final 6 contests). That wasn't an accident.
"I'll be honest," Tillman said, "after the Florida game, I asked (Kodi) Burns 'I want to get more involved in the offense. I want you guys to trust me more.' He liked the confidence and said, 'I agree.' That's why I took off."
It helped that his quarterback was fully on board with that.
"I know he wanted the ball a little bit more that game," Hooker said. "I got him in the end zone. That's what's important."
Tillman had at least 6 catches or 79 receiving yards every game the rest of the way, which included a combined 352 yards against the likes of Alabama and Georgia.
"From then on," Hooker said, "we just really started to click."
That's perhaps the biggest thing working in Tillman's favor for his 2022 projection. He didn't have full reps with Hooker leading into the 2022 season because Hooker was competing for a starting job (one that he initially lost to Joe Milton), yet Tillman still finished with 10 receiving touchdowns against Power 5 competition. AT Perry and Xavier Worthy are the only returning receivers who had more than that.
The likes of Perry, Worthy, Jordan Addison and Jaxon Smith-Njigba are all on the short list of guys who will dominate the preseason discussion of "who's the best receiver in America." None of them did their damage against Alabama and Georgia, though. Yet still, Tillman gets a kick out of seeing preseason lists like this in which he's nowhere to be found:
🚨 THE TOP 10 WR LIST 🚨 pic.twitter.com/sgoD8j0cv5

— PFF College (@PFF_College) July 15, 2022
Yeah, Tillman retweeted that.
"I think there's some things where if you watch the tape instead of looking at PFF grades, you'd go, 'I don't know if that's true,'" Tillman said.
That's a slight for a guy who recorded 7-game stretch to close the season with an average of 6.9 catches, 124 yards and 1.4 touchdowns. He also broke the program record for consecutive games with a touchdown catch (7), which dated to 1995, and he finished with 16 catches of 25+ yards.
Not too shabby for a guy who barely saw the field in his first 3 seasons. Shoot, it's not too shabby for a guy who wasn't even a top 1,500 recruit coming out of high school.
Even though Tillman exploded his senior year at powerhouse Bishop Gorman in Las Vegas alongside No. 36 overall recruit Dorian Thompson-Robinson, he still couldn't generate interest at the Power 5 level. Until 2 days before 2018 National Signing Day, he didn't know if he was going to try to walk on somewhere or maybe start at a smaller Group of 5 program. But Jeremy Pruitt's staff stepped in with an offer at the 11th hour and Tillman packed his bags for Knoxville.
"The late-bloomers, sometimes we get lost (in the recruiting process)," Tillman said. "It paid off now. I don't think those 1,000 guys in front of me … I don't know what they're doing now."
None of those class of 2018 receivers are in the position that Tillman is in. That is, playing with one of the best quarterbacks in the country for an offensive play-caller who has 4 consecutive top-10 offenses.
Heupel's relationship with Tillman dates to when he first got on campus. Tillman had never heard of his new head coach. All he knew was that he had prolific offenses. They had a conversation for 15-20 minutes that had nothing to do with football. After a frustrating 2020 season in which he debated if he had a future at Tennessee, that conversation sold Tillman.
On the first day of practice, Tillman realized that Heupel's offense was everything it was cracked up to be. The offense was "way different than anything" he'd done before. In a good way. It set the wheels in motion to put his work ethic in overdrive.
"He's a great example for everybody inside of our program that if you go about your business the right way every day and you compete, you're going to grow," Heupel said. "A year ago I talked about him, the first third of spring ball, second third of spring ball, last third of spring ball, how dramatically different of a player he was. Great work habits during the summer.
"For him in Year 2, compared to some of the great guys I've had, maybe a Gabe Davis that's had a huge impact in the NFL with Buffalo, his ability to really sit back, watch cut-ups, digest what we're doing offensively, but get into the intricacies of what he's doing, I think it's going to allow him to play faster, to be more decisive and create more opportunities and bigger windows for himself. Ultimately that should lead to us being successful offensively."
No receiver can thrive without an unspoken bond with their quarterback. Tillman and Hooker have that.
Hooker remembered showing up on campus after transferring from Virginia Tech and relating to the laid back, reserved veteran receiver. When they connected on 4 consecutive plays and then an over-the-top grab for 6 in Tennessee's spring game, that on-field connection was established for good. It was just a matter of both getting on the field together.
"Now, we know each other like the back of my hand," Hooker said. "I know when he's gonna make a cut. He knows when the ball is comin' out. The chemistry is amazing."
They have gone on trips together, including a recent visit to New York City where they got to learn all about NIL opportunities and take part in the NASDAQ. They have daily debates about who the best rapper is (Tillman is more of a Kanye guy and Hooker is all about Lil Baby).
All of their time spent together should pay off on Saturdays. As scary as it sounds, an already high-powered offense that finished No. 7 nationally has room to improve after it really didn't find its footing until the Hooker-Tillman connection became a thing.
"We're gonna be able to go even faster," Tillman said, "which may be hard to believe."
It was probably hard for Tillman to believe in September that by December, he'd have a legitimate NFL decision to make. He could've cashed in on his dominant latter half of the season and nobody would've been particularly surprised.
"It was a tough decision," Tillman said. "I talked through it with the coaches, I talked through it with my family. Overall, it was my decision. I had to look at the pros and cons of coming back. There were things I had left to prove at Tennessee. That's ultimately why I made this decision."
That could be the difference in whether Tennessee earns its first top-15 finish of the post-Phillip Fulmer era. Of course, the Vols are just 4-35 against Alabama, Florida and Georgia during that stretch. Any shot at a top-15 season involves them turning around their fortunes in those rivalry games, which Tillman should have a good say in.
If he does that, Tillman could find himself in the Biletnikoff Award discussion as the best receiver in America. Whether he wins it or not, one thing will be true.
He's not getting left out of anybody's top 1,000 players anymore.
Read More
Tennessee sports betting officially launched on November 1, 2020. Tennessee was the first SEC state to legalize sports betting.