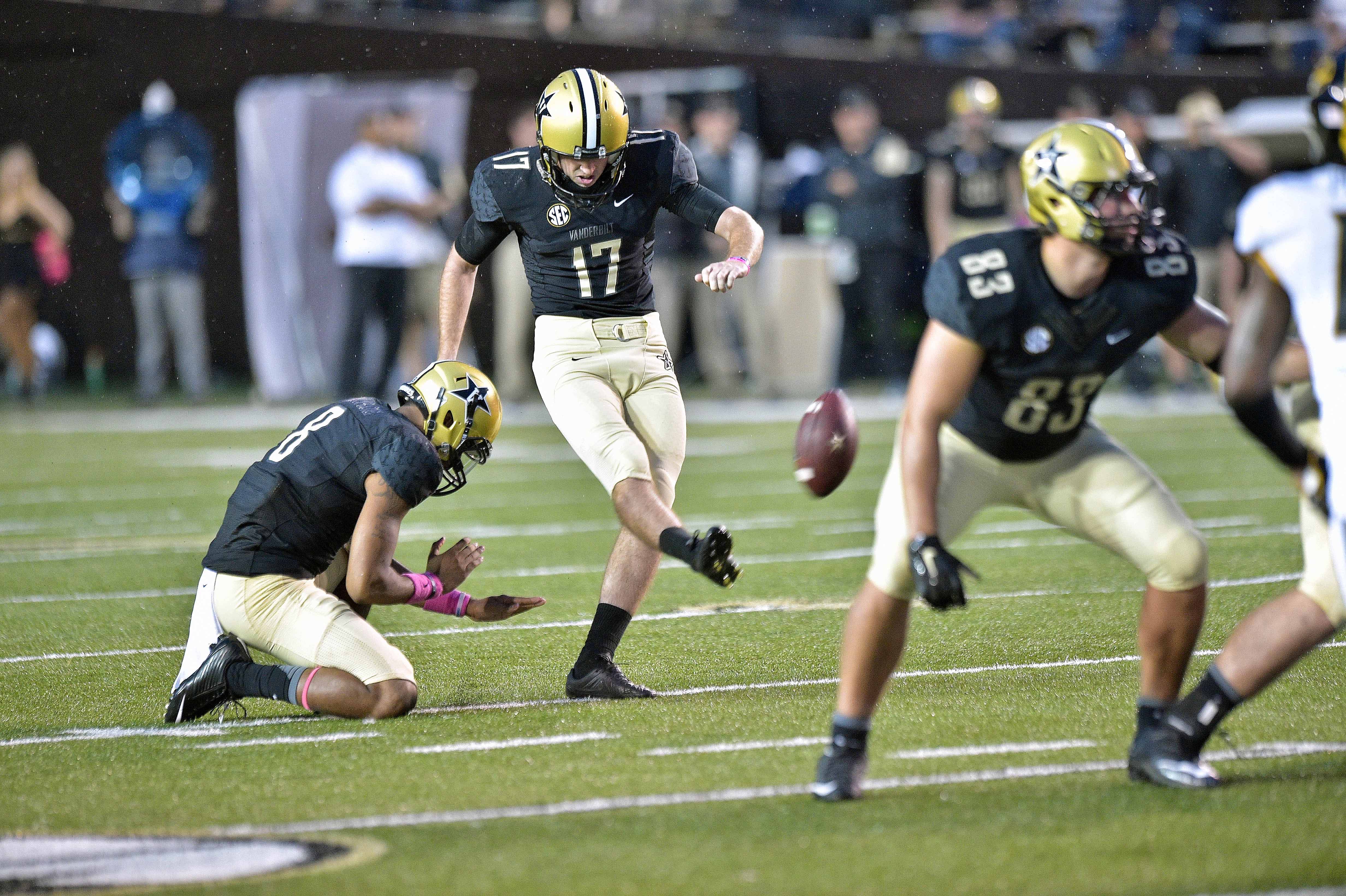 VANDERBILT
Better/Worse in 2016: Vanderbilt special teams
There are two easy conclusions to draw from Vanderbilt's 4-8 2015 season. The offense, which ranked 13th in the SEC, was not good enough while the defense, while overexposed, held up pretty well.
A look inside the numbers suggests that the special teams units were a problem area as well. Missed field goals, poor punting and a lack of explosiveness on returns plagued the Commodores in 2015.
Coach Derek Mason hired former Eastern Michigan coach Jeff Genyk to overhaul the special teams, and based on last season's statistics, there's plenty of room for growth.
2015 STATS
FG-A: 12-19
Longest: 49 yards
Punting average (SEC rank): 40.0 (13th)
Kickoff return avg (SEC rank): 19.6 (11th)
Kickoff return TDs (SEC rank): 0 (tied for 5th)
Punt return avg. (SEC rank): 6.4 (11th)
Punt return TDs: (SEC rank): 0 (tied for last)
Kickoff/punt return TDs allowed: 2
The KICKER
Tommy Openshaw connected on 12 of his 19 field goal attempts in 2015. Three of those misses were inside 40 yards, including a 28-yard try in a season-opening 14-12 loss to Western Kentucky.
He made all 14 extra points, but was only listed as a co-starter with kickoff specialist Hayden Lekacz by season's end.
Openshaw, who hit a 51-yard kick in the spring game, is still the front-runner for the job in 2016. With Lekacz still around, however, his leash likely will be a bit shorter.
The long snapper, Jacob Schultz, returns but a new holder will need to emerge after Ronald Monroe transferred.
The PUNTER
Openshaw edged Colby Cooke for the punting job, which made him a very busy young man last fall.
He was third in the league with 79 punts and averaged 40.9 yards. He boomed 17 at least 50 yards and downed 27 balls inside the 20 with only three touchbacks.
Mason may be looking to lighten his load a bit, however, as the Commodores signed one of the nation's best punting prospects, Sam Loy, in this class.
Loy will get a chance to win the job later this summer, which would allow Openshaw to concentrate on his place kicking duties.
The RETURNER
Darrius Sims was the primary returner last fall, running back 25 kicks for a 19.9-yard average. He didn't find the end zone last season, but he ran back a pair of kickoffs for touchdowns against South Carolina in 2014.
With 81 career kick returns, he's a good bet to improve on those numbers this fall.
Ryan White returned 20 punts for a 7.5-yard average last fall, which ranked him ninth among qualifiers in return average.
Genyk told the SEC Network earlier this spring that he'd like to include running back Ralph Webb and corner Tre Herndon in the return game.
COVER TEAMS
The Commodores ranked third in opposing kick return average, allowing 18.4 yards per attempt. The work on the punt coverage unit wasn't quite so good.
Opponents averaged 15.1 yards per return, which ranked 13th in the conference in 2015. Vanderbilt also allowed a punt return for a touchdown against Georgia and Tennessee.
SPECIAL MOMENT
After a three-and-out to open the game against Missouri in Week 7, Openshaw came in to punt with the Commodores pinned deep in their own territory.
Openshaw then uncorked a 78-yard blast that rolled into the Tigers end zone for a touchback.
It was an important swing in early field position in a game that Vanderbilt won 10-3.
ONE STAT THAT MUST IMPROVE IN 2016
As a team, only Kentucky had a worse punting average than Vanderbilt last season. The offense's struggles produced 82 punting situations last fall, and those punts produced an average of about 40 yards per kick.
That was more than 7 yards behind the league leaders, Texas A&M. That doesn't sound like much, but when a team's offense has trouble moving the football, those 7 yards could mean the difference between a punt and a field goal attempt.
BETTER/WORSE IN 2016
Genyk produced top-half finishes in the Big Ten for his units at Wisconsin in 2013 and 2014 and also has experience working with special teams at Northwestern and Cal.
Based on the stats, his results aren't usually spectacular, but they aren't horrible either.
The pieces seem to be in place for some improvement. Openshaw should be able to recapture his freshman form (8-of-11 on field goals), especially if Loy eases his workload by winning the punting job. And if the freshman is as good as advertised, the punting average should rise as well.
Sims and White are capable returners and, if Genyk makes good on his hint of sprinkling in Webb and Herndon on occasion, those numbers should also climb.
Mason seems confident about his team's chances in the SEC East this season. He's banking on improvement from his offense and hoping that his defense can maintain its level from last season.
By adding Genyk to the staff, he should be able to count on better play from his special teams units as well.