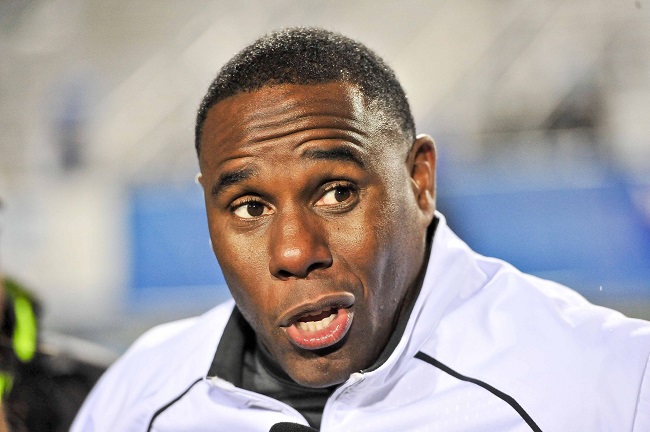 VANDERBILT
Early 2016 schedule outlook: Vanderbilt
Heading into 2016, Vanderbilt's main priority should be developing its offense. The Commodores owned the SEC's second-worst offense this past season, and struggled particularly with its passing game.
But with a solid defense and a favorable schedule, Vanderbilt's offense might not need to improve drastically for the Commodores to be competitive in the SEC East.
Florida, Missouri and South Carolina could struggle on offense next year without experienced playmakers.
Not to mention that almost all of Vanderbilt's SEC East opponents — except Tennessee — will be starting unproven quarterbacks, and even Tennessee's Joshua Dobbs struggles to throw the ball downfield, making correct reads and keeping his composure in the pocket.
The SEC East's dishevelment at the quarterback position plays favorably into Vanderbilt's hands, as the Commodores' secondary in 2016 will return FS Oren Burks and solid contributors Torren McGaster, Tre Herndon and Tre Tarpley.
Therefore, most of Vanderbilt's SEC opponents will try to attack the Commodores defense on the ground. Georgia should have a healthy Nick Chubb and a nice change-of-pace running back in Sony Michel. Kentucky's rushing attack will be led by Stanley "Boom" Williams and Jojo Kemp. And Tennessee will have Jalen Hurd and Alvin Kamara.
The good news for Vanderbilt is that it should be solid at stopping the run. The Commodores' defense returns All-SEC LB Zach Cunningham and Nigel Bowden — a 2014 All-SEC freshman linebacker. Vanderbilt also will return defensive tackles Nifae Lealao and Jay Woods and DE Adam Butler.
Though Vanderbilt's defense should keep the Commodores competitive, will its offense be good enough to exploit SEC East defenses?
The Commodores have a promising quarterback in Kyle Shurmur, four potential breakout stars — Trent Sherfield, C.J. Duncan, Caleb Scott and Latevius Rayford — at wide receiver and a solid rushing attack with Ralph Webb, Darrius Sims and Dallas Rivers and a solid offensive line.
But that doesn't necessarily mean that Vanderbilt's offense will be successful in conference play. All SEC East opponents except for Kentucky return solid secondaries, which could frustrate Vanderbilt's passing attack. But Webb could have some excellent games on the ground with Florida losing three starters up front, Georgia losing six players up front and Kentucky losing five players up front.
So just like 2015, it could be up to Webb's production and stout defensive play to carry Vanderbilt to victories.
The Commodores face Auburn and Ole Miss in crossover games Middle Tennessee, Georgia Tech, Western Kentucky and Tennessee State out of conference.
Auburn should have an excellent rushing attack in 2016 and Ole Miss will have plenty of offensive weapons. Georgia Tech, which won only three games in 2015, will be better. Western Kentucky has gone 20-7 over the past two seasons with two bowl victories. Middle Tennessee lost by only four points to Vanderbilt last year.
It won't be easy, but Vanderbilt should win more than four games in 2016. The Commodores have a great opportunity to earn six wins and play in a bowl game for the first time since 2013.
Now let's take a closer look at the schedule.
SCHEDULE BREAKDOWN
Home games (6): South Carolina (Sept. 1), Middle Tennessee (Sept. 10), Florida (Oct. 1), Tennessee State (Oct. 22), Ole Miss (Nov. 19), Tennessee (Nov. 26)
Road games (6): Georgia Tech (Sept. 17), Western Kentucky (Sept. 24), Kentucky (Oct. 8), Georgia (Oct. 15), Auburn (Nov. 5), Missouri (Nov. 12)
Longest home stretch: two games, twice (South Carolina, Middle Tennessee), (Ole Miss, Tennessee)
Longest road stretch: two games, three times (Georgia Tech, Western Kentucky), (Kentucky, Georgia) and (Auburn, Missouri)
OPPONENT BREAKDOWN
2015 ranked teams (final AP Poll): No. 10 Ole Miss, No. 22 Tennessee, No. 24 Western Kentucky, No. 25 Florida
2016 potential ranked teams: Tennessee, Ole Miss, Georgia
Potential trap game: Middle Tennessee (only lost by four points to Vanderbilt in 2015)
Toughest SEC games: vs. Tennessee, vs. Ole Miss, at Georgia
FULL SCHEDULE
| WEEK | OPPONENT | VENUE |
| --- | --- | --- |
| 1 | South Carolina | Vanderbilt Stadium |
| 2 | Middle Tennessee | Vanderbilt Stadium |
| 3 | Georgia Tech | Bobby Dodd Stadium; Atlanta, GA |
| 4 | Western Kentucky | H. Ind. -L.T. Smith Stadium; Bowling Green, KY |
| 5 | Florida | Vanderbilt Stadium |
| 6 | Kentucky | Commonwealth Stadium; Lexington, KY |
| 7 | Georgia | Sanford Stadium; Athens, GA |
| 8 | Tennessee State | Vanderbilt Stadium |
| 9 | Open Date | |
| 10 | Auburn | Jordan-Hare Stadium; Auburn, AL |
| 11 | Missouri | Faurot Field: Columbia, MO |
| 12 | Ole Miss | Vanderbilt Stadium |
| 13 | Tennessee | Vanderbilt Stadium |