VANDERBILT
Firing Derek Mason shows it's long past time for Vandy to get serious about football in Nashville
Derek Mason got 7 years to build a winning program and he couldn't do it. Seven years is a long time in the SEC. It's probably an even longer time at a cellar-dweller in the conference that pounds its chest about "it just meaning more."
Somewhere in the midst of watching Sarah Fuller make history for the depleted Commodores' squad, perhaps the elephant in the room became too hard to ignore. Fuller couldn't even get a shot at field goal range because Mason's team was getting demolished by Mizzou, which had a first-year coach.
Whether those optics changed Mason's future in Nashville or not, it was a frustrating closing note for him as the Commodores' coach. Athletic director Candice Storey Lee pulled the plug on the Mason era Sunday. She didn't use the all-SEC schedule as an excuse, nor did she use university budget cuts as a reason to hesitate.
Going 10-46 in SEC play spoke for itself. It wasn't Mason's character, which has checked all the necessary boxes from the moment he took over in Nashville. You won't find fellow coaches or former players who have a bad word to say about him. He enthusiastically rode the metaphorical horse after beating Tennessee to clinch a bowl game in 2018. At times, he made you forget that he was coaching one of the least successful Power 5 programs in America.
Not giving Mason an 8th year shows that, perhaps finally, there's actually a desire to compete in football.
That's a fair thing to say about a program that hasn't had a major renovation of its stadium since the Jimmy Carter administration. It's a fair thing to say when you see former players like Jordan Rodgers speak out against the very facilities where he turned himself into an SEC quarterback: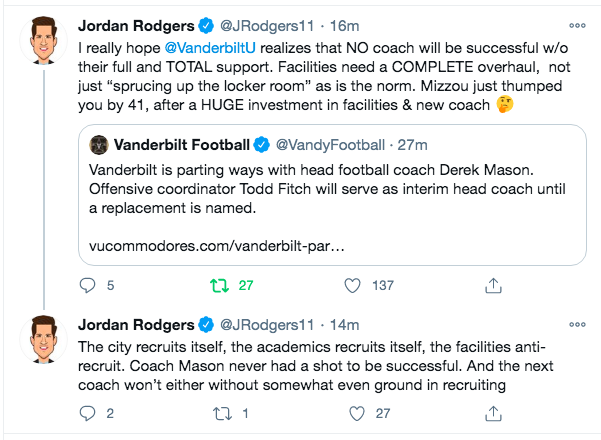 Shoot, Vanderbilt's visiting locker room is so bad that Dan Mullen opted against putting his team in it amidst COVID concerns. To say that the Commodores are lagging behind their SEC brethren would be like saying your local high school running back has a ways to go if he wants to become Herschel Walker.
Mason might not have ever had a shot to be successful in the way that James Franklin was. Franklin, of course, hit the conference at the perfect 3-year time when the coaching wasn't what it is today. There was no true SEC East power like what either Florida or Georgia are now.
Rodgers is right. When Lee took over, she talked about the less than $5 million plan to upgrade the locker room. There was no concrete plan of a $50 million football operations center like the one South Carolina built. Why is that significant? Well, guess what other SEC job just opened up? South Carolina. Guess who will have an entirely different field of candidates to work with? South Carolina.
That's on Vandy. Mason wasn't held to the same standard Will Muschamp was. If Mason got to a bowl game, he rightfully hopped on that metaphorical horse and danced like nobody was watching. Surely, though, his bosses were watching him and applauding the fact that he got that rare bit of extra exposure for the program.
That standard simply isn't good enough in the SEC. Not when there are now tens of millions of dollars rolling in thanks to those TV revenue checks. You no longer need a 90,000-seat stadium selling out every Saturday to justify investing in football.
With Vandy being a private university, who knows what that investment will look like with the next coach. Nobody would be foolish enough to throw Hugh Freeze's name into the conversation after he got that $3 million extension to stay at Liberty. Yeah, Liberty. Even the program that hopped into the FBS ranks a few years ago is willing to pony up for a head coach.
If there's a sell to a new coach, it has to include Lee's plans for major fundraising and upgrades. Combine that with a booming city like Nashville and yeah, there are worse places to earn a multi-million dollar living. I mean, this is the same university that still doesn't have a basketball gym with air conditioning. Vandy is unique. It'll likely continue to be unique.
But even places like Northwestern, which is the closest thing to Vandy, had a $260 million facilities upgrade. This is college football in the 21st century. Vanderbilt, if it wants, can choose to be a part of it while maintaining its academic reputation.
One would have to think that a change of mindset is coming. The sport has become too lucrative for Vandy to continue to have its head in the sand. Whoever takes over is going to need a full commitment from the university that times are changing.
Who might that be?
Who knows. One would think Vandy will again covet a Power 5 coordinator looking to make a jump, or perhaps an energetic Group of 5 coach who doesn't believe in dead ends.
But it's hard to envision that starting salary not ranking either dead last or next-to-last among SEC head coaches. That would mean paying in the neighborhood of $4 million a year for a head coach. If that sounds like a lot and something that Vandy would never do, well, I've got news for you. A whopping 35 FBS head coaches made at least $3.7 million in 2020. That includes Rutgers, Illinois, Northwestern, Mizzou, Virginia and others.
That'll show that Vandy is actually taking football seriously. Sunday was an important first step in that. The university collectively decided that as great as Mason was as a face of the program, you can't get behind a 10-46 SEC record with no end in sight.
Vandy is years behind the SEC. Whoever takes over has a lot of ground to make up. That means shaking hands, kissing babies and raising a whole lot of money. Good luck.
As Rodgers said, Mason might not have ever had a chance to win in Nashville. Lee still made the decision she felt would put Vandy in the right direction. If she does one thing with this next coaching staff, it seems obvious.
Give them a chance.