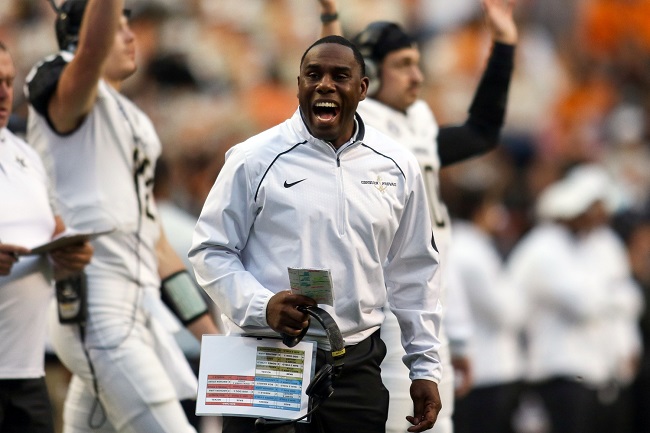 VANDERBILT
Five defining moments of Vanderbilt's 2015 season
Vanderbilt ended its 2015 season with a tough 53-28 loss to Tennessee, but there are plenty of positive moments that the Commodores can build from heading into 2016.
During Derek Mason's second year as coach, the Commodores had a shot at bowl eligibility with two weeks left in the season, and were competitive in the majority of their games. Mason won his first two SEC games and Vanderbilt finished fourth in the SEC East.
Here are five defining highlights for Vanderbilt in 2015:
1. Mason making himself defensive coordinator during the offseason: The results validated his decision as Vanderbilt's defense took a huge step forward this season. Before the Commodores lost their final two games to Texas A&M and Tennessee by double digits, Vanderbilt's defense was fourth in the SEC in scoring defense, fifth in yards allowed, first in third-down defense and second in opponents' red-zone touchdown percentage.
2. Vanderbilt nabs first SEC win since 2013 with 10-3 win over Missouri: Vanderbilt desperately needed to beat offensively stagnant Missouri team. The victory snapped an 11-game conference losing streak.
3. Florida kicker Austin Harden ruins Vanderbilt's upset bid: The 9-7 loss to Florida was a heartbreaker. The Commodores' only score came on a 74-yard TD run from Ralph Webb, but Vandy's defense kept the Commodores in the game. The defense did an excellent job of shutting down Florida QB Treon Harris.
4. The emergence of Vanderbilt linebacker Zach Cunningham: Before Vanderbilt's final two games against Texas A&M and Tennessee, Cunningham was tied for 10th in the conference with 79 tackles, and tied for third in the SEC in tackles for loss (13.5) and forced fumbles (3). He was also leading the conference with three fumble recoveries. Cunningham wasn't a regular starter until Vanderbilt's fifth game against Middle Tennessee. But once he got his chance, he made the most of it — particularly against Florida when he had 10 tackles, two tackles for loss, a sack and two fumble recoveries.
5. Kyle Shurmur becoming the starting quarterback: Shurmur won the starting position after Vanderbilt's offense struggled under Johnny McCrary's direction. The freshman wasn't particularly effective in most of his starts, but he showed promise against Kentucky and Tennessee. Shurmur has the potential to become an excellent SEC quarterback.