VANDERBILT
Vanderbilt stirs up the internet mob with poorly worded tweet
The 'Dores kicked off the opening practice of the 2015 season with an unfortunate tweet that has the school backpedaling a bit.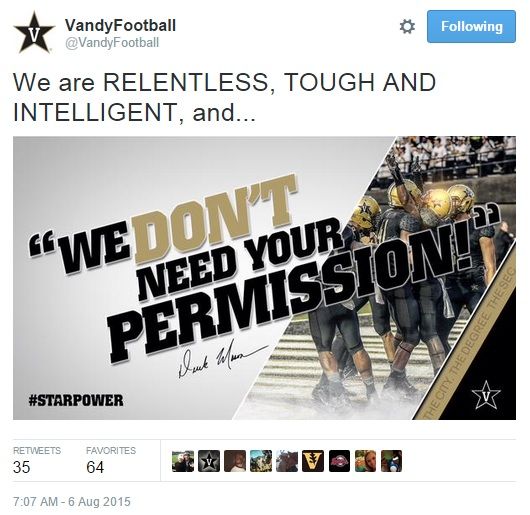 What's the problem with the above tweet (which has since been deleted from the Twitter account)? Well, the ongoing rape case involving Vanderbilt football players has the internet police in a tizzy over the message of "We don't need your permission."
Vandy, you're supposed to be smarter than this. pic.twitter.com/NhGljnbrgY

— Cecil Hurt (@CecilHurt) August 6, 2015
Full context of Vanderbilt tweet pic.twitter.com/GqYKR3j6Dk

— Darren Rovell (@darrenrovell) August 6, 2015
Should the tweet have been avoided? Probably. Part of me rolls my eyes at yet another internet mob situation which seems to overreact to just about anything deemed controversial. Whether it is Cecil the Lion or a simple graphic for Vanderbilt football, I've had about enough of the social media mob trend.
But, the other part of me understands the seriousness of rape and sexual assault. Simply put, it's a big deal, and victims of such cases deserve the utmost sensitivity on the topic. As such, the outrage over Vanderbilt's tweet is probably justified due to the seriousness of the topic at hand. My frustration is probably better directed at the internet mob with regards to other cases.
The world will move on, and Vanderbilt will likely institute some better checks and balances on their social media marketing department.
As for the actual case involving former Vanderbilt football players, a mistrial was declared on June 23, 2015.