VANDERBILT
Vanderbilt uniform history
Black, gold and white.
Vanderbilt's unique color scheme allows for numerous appealing combinations and what Nike has done in recent years is set the commodores apart from Wake Forest, a program with a similar vegas gold-dominated palette.
Vanderbilt's primary helmet has been gold since the 1960s, but the Commodores have switched things up for a couple years in between. From 1973-83, black shells were worn with the program's Star V graphic and a secondary VANDY script that last four seasons. Since 2002, gold has been Vanderbilt's helmet of choice, but white and black alternates started becoming popular around 2011.

Prior to Nike's uniform redesign in 2012 which featured the ever-popular 'Anchor Down' slogan and a secondary anchor graphic at the jersey's crest, Vanderbilt altered its primary logo to a white serif V inside a black star outlined in black, a modernized look.
The Commodores' current uniform combinations include black or gold jerseys with multiple pants and helmet options at home and a clean white look on the road. On the alternate gold jerseys, shoulders are outlined in black giving Vanderbilt a unique appearance.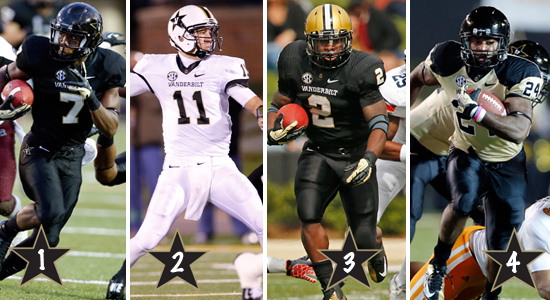 During the 2014 season under Derek Mason, Vanderbilt brought out all-black, 'Anchor Down' flywired alternates with gold accents, but drew a whistle from officials who deemed the combination did not meet NCAA standards.
The uniforms cost the Commodores a second-quarter timeout.
"NCAA football regulations do not permit the use of slogans on jerseys," Chuck Dunlap said from the SEC office in Birmingham.
Current preferred uniform combinations