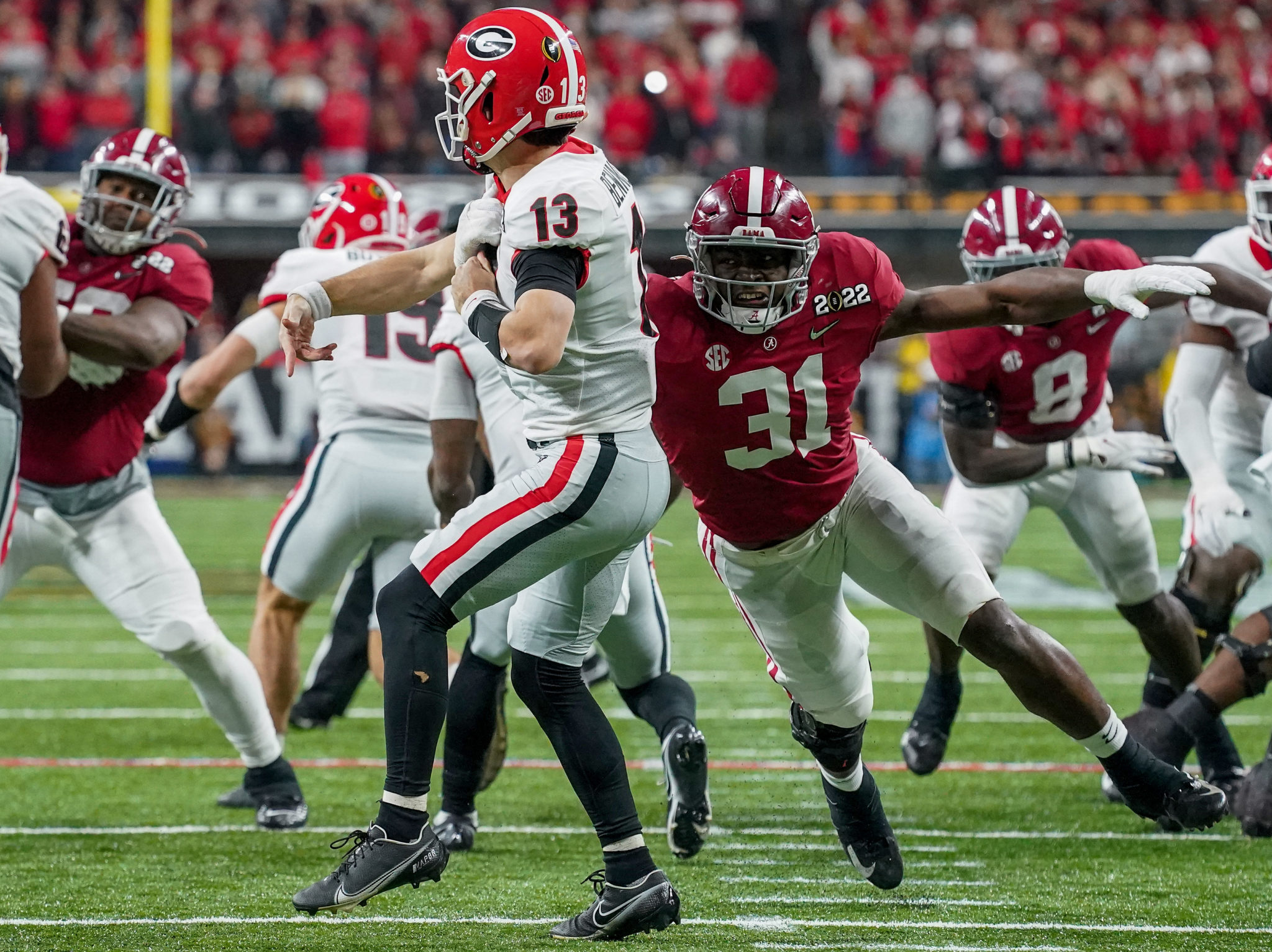 ALABAMA
7 way-too early predictions about Alabama's defense in 2022
Unfinished business.
It can be the mantra of Alabama's defense this fall, as the Crimson Tide unit seeks to re-establish its presence toward another national championship.
Alabama's defense began to flex its muscles in the latter part of the 2021 season after an inconsistent start. The Tide's defense did have a bounce-back campaign last season, but they will need to revert to a wrecking ball status, lowering their 20 points allowed per game last season.
During spring practices, edge rusher Will Anderson Jr. called on his teammates to offer constructive criticism and accountability.
"I think we are capable of being better than last year," Anderson said. "One thing we agreed on was everyone being bought in and committed. No one is taking the short route out."
Will they be better? Here are 7 way-too-early predictions about Alabama's defense in 2022.
Anderson on the big stage with big numbers
While quarterback Bryce Young looms as the early favorite to capture his second consecutive Heisman Trophy, don't count out Anderson. He finished 5th in the voting last season, and many believed he was the – or one of the — best defensive players in the country.
Odds are obviously against him. First, there's Young. Second, no defender has won wince Woodson edged Peyton Manning in 1997. Still, Anderson appears primed for a 20-sack season with 75 stops.
D-Line can be the line
For the Tide's defensive front, it is all about potential and consistency. There are plenty of candidates, but the real question will be who can emerge as a game-changer here.
Senior DJ Dale is the most seasoned of the lot, and he should be able to make a difference at the nose. Fellow seniors Byron Young and Justin Eboigbe will be ready to become steady forces and anchor the line. Redshirt freshman Damon Payne Jr., sophomore Braylen Ingraham and junior Tim Smith will make their mark.
Keep it inside, too
The Tide need senior linebacker Henry To'o To'o to be a major playmaker. He will call signals and try to duplicate a 112 tackles season from last year. Pass coverage continues to be an area to improve.
Senior Jaylen Moody or redshirt freshman Deontae Lawson will help make the Tide's inner workings one of the best in the game. The key here is whether To'o To'o can stay healthy, but there are all the signs for a blockbuster season from him and the rest.
Living on the edge
Nobody in America can match Anderson and Dallas Turner off the edge.
Anderson led the nation with 17.5 sacks last season and is a legitimate top pick in the 2023 draft considering the desire for edge rushers.
Turner flashed last season as a major threat on the other side, finishing with 8.5 sacks as a true freshman.
Look for both to reach double-digits in sacks in 2022. If they do, they'll become the first Bama duo to accomplish that since Jonathan Allen (12) and Tim Williams (10.5) in 2015.
Battle-tested
Senior safety Jordan Battle decided to return in hopes of claiming another championship ring before finding a home in an NFL city in 2023.
Battle played a pivotal role in the 2020 championship and had 84 tackles and 3 interceptions last season. He will be the catalyst for a deep secondary that simply needs a leader to set the pace. Look for Battle to have a breakout year.
Revamped secondary makes plays
Senior DeMarcco Hellams returns alongside Battle at safety. He was 4th on the team in tackles with 76. Hellams' experience also will help to eventually solidify the secondary.
At the corners, the Tide has relied upon senior Khyree Jackson, sophomore Kool-Aid McKinstry and junior LSU transfer Eli Ricks. Jackson and McKinstry got the start for the A-Day game, but each of the trio should see plenty of time this season. Having Battle and Hellams in the fold will allow the corner trifecta to develop itself.
"D" will lower the number
Last season, the Tide ranked 7th in the country and 2nd in the SEC in total defense, as they allowed an average of 304 yards per game. But they had a tarnished 20.2 points allowed per contest, a statistic that will lower itself.
With a hungry attitude and heightened commitment, look for the unit to become even more stingy this fall. The Tide will allow approximately 275-285 yards per game and hover around the 17-point mark allowed per game.
Like the offensive line, the maturation of the defensive line will be a key to the Tide's success on this side of the ball.
The components are there, and the Tide's "D" will help them back to the national championship game.