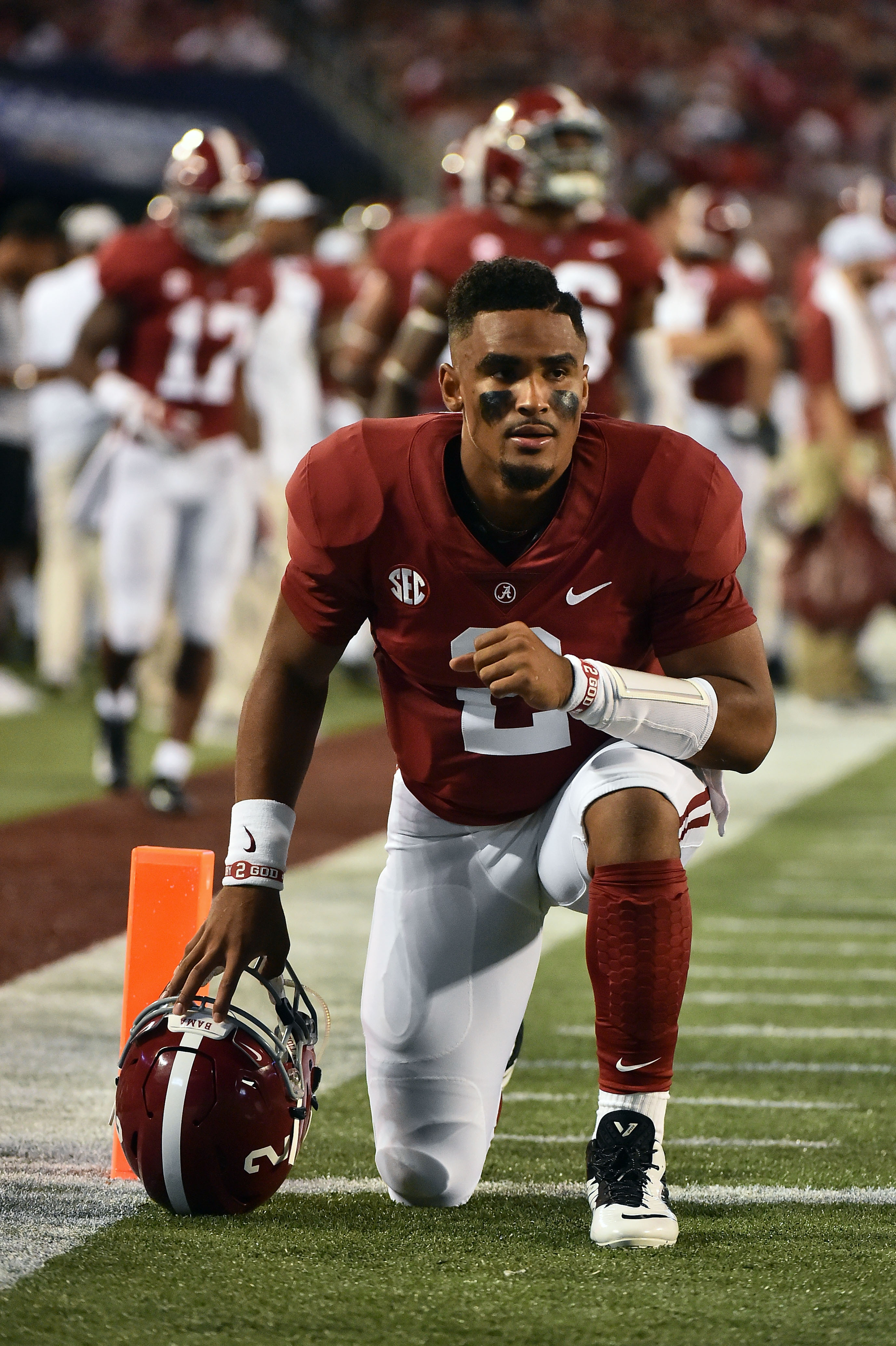 ALABAMA
How should Nick Saban handle Jalen Hurts? We have a few ideas
The quarterback conversation has shifted in Tuscaloosa and now the biggest question is: What to do with Jalen Hurts? Play him? Sit him? Save him?
We knew this day was coming. If you weren't convinced that Tua Tagovailoa won the starting job with his heroic relief appearance in the national title game, surely there was no doubt after Hurts' uninspiring performance in the A-Day game. I ended that spring game piece by writing:
"Saturday wasn't the end of this quarterback competition, but it certainly felt like it. Saban already has chosen Tagovailoa over Hurts once. Hurts gave him plenty of reasons to do it again. This time, permanently."
So, in my mind, the QB1 decision has been settled for quite some time.
As for the rest of Hurts' time in Tuscaloosa, that's something we've been discussing for a while.
Connor O'Gara, senior national columnist: Honestly, I don't think there's a scenario in which Nick Saban comes out as the winner in this one. What I would try and do if I was Saban is somewhat obvious, though I don't think that he'll be able to execute it.
Contrary to what Saban said Monday, if I were him, I would actually try and take advantage of the redshirt rule. My hope would be that Hurts sees what I'm doing for him, even if it means putting Mac Jones in at garbage time in certain spots. I would tell Hurts that I'll do whatever he needs to help him find his next destination at season's end, as long as he's willing to remain on the roster. Yes, I'd even try and help him find a home in the SEC if that was the path that he wanted.
I realize that Hurts has all the power right now. I need Hurts on the roster throughout the 2018 season because I can't be left with Jones if Tagovailoa goes down. I just can't.
I'd realize that I'm not going to be able to have it both ways. If I keep putting Hurts in for a couple series and ignore the redshirt rule, I risk him quitting the team and putting us in that scary position.
It goes against everything I believe in to let the player dictate his terms, but this is where we're at. It's my job to field the best roster possible, and this is the way to do it.
Jon Cooper, director of operations: I'm under the belief that a two-QB system won't work. I'm not saying Nick Saban is doing that or even wants to do that, but he hasn't eliminated it. Of course, folks will say, "Well, Florida did it and won a championship in 2006." But that was a specific situation with a bruising QB in Tim Tebow who could take the pounding and excelled in short yardage situations. Jalen Hurts isn't Tebow.
Therefore, Saban should just roll with Tua Tagovailoa solely. That's how all QB battles are handled. Saban is hyper-sensitive to Hurts for a couple reasons. He's appreciative of what Hurts has accomplished in the past, and he knows he needs Hurts if Tagovailoa gets injured, which is always a possibility. But it's time Tagovailoa takes all the first-team snaps in practice, and whatever happens to Hurts, it will play itself out.
Just putting myself in Hurts' shoes, I want to be treated like anyone else who loses their starting position. I don't want to be babied and coddled. I'd want Coach to give it to me straight. Hurts is a big boy, and he'll be fine however it plays out.
Of course, if I'm Saban, I would sit down with Hurts to get his input on things and get feedback — redshirt or play out the season, and go from there. Hurts' input is warranted, but Saban ultimately wears the gold watch and makes the decisions.
Rick Stavig, Alabama beat writer: You have to give Hurts a ton of credit for what he's accomplished at Alabama. He was 26-2 as a starting QB, rarely turned the ball over, won SEC Offensive Player of the Year and led his team to two national title games — but he's no longer the best QB on the team. You can't keep trotting him out there if there's a better option on the sidelines — that's not what championship caliber teams do.
One thing Nick Saban is very consistent about is playing the best player, regardless of age or experience, and I think that's what he'll do moving forward. He did what he should have done throughout the summer and in Week 1 by giving Hurts every opportunity to beat out Tagovailoa and prove he should retain the job — he's earned that — but now it's time to do what's best for the team, not the player, and make Tagovailoa the unquestioned starter and leader on offense.
Continuing to play Hurts only offers the potential to divide the locker room and cause friction within the team. Continuing to play Hurts only perpetuates the questions about the QB battle that Saban is obviously sick of hearing. Naming Tagovailoa the unquestioned starter ends the uncertainty, takes the spotlight away from the QB battle and gives the team the best chance of winning another national title. Seems like an easy solution to me.
Adam Spencer, SEC reporter: I'd bench them both and play Mac Jones, just to spare their feelings.
Just kidding …. It's clear that this is Tua's job. That stinks for Hurts, who has led the Tide to an incredible record as a starter.
Could the Tide still go 11-1 or 12-0 during the regular season with Hurts at the helm? Absolutely, but Tagovailoa has shown he has the passing attributes that Hurts hasn't been able to develop. If I were Nick Saban, I'd have the tough conversation with Hurts as soon as possible.
The best-case scenario for Hurts is that he sticks it out with the Tide this fall, plays in four or fewer games to preserve his redshirt, then leaves next year as a graduate transfer with no hard feelings. Will it play out that way? If Hurts plays in five or more games in a severely limited role, it would be a huge disservice to a guy who has been nothing but a great teammate and great quarterback for Alabama.
If Saban ruins one year of Hurts' eligibility to spite the media, it'll be an even more classless move than his response to Maria Taylor after Saturday's win.
Chris Wright, executive editor: I firmly believe the plan already is in place. And I firmly believe Hurts — or his family — is calling the shots, and if that's accurate, I have zero issue with it.
I don't think Hurts randomly appears in four more games, thus ruining his chance to redshirt. Yes, I'm assuming Hurts still wants to retain 2 years of eligibility for his next destination.
I think he's all in, preparation wise. He'll be there for Alabama in an emergency — QB1A, if Tagovailoa is injured or ineffective and the outcome is in jeopardy — but not to mop up more 50-point blowouts. Mac Jones can do that.
And I think Nick Saban would be perfectly fine with that arrangement. He respects Hurts. And he absolutely needs Hurts, just in case. He can't risk Hurts refusing to go in a game or, worse, leaving the team in midseason.
Jalen Hurts hasn't turned his back on Alabama. I can't see Saban turning his back on Hurts now.