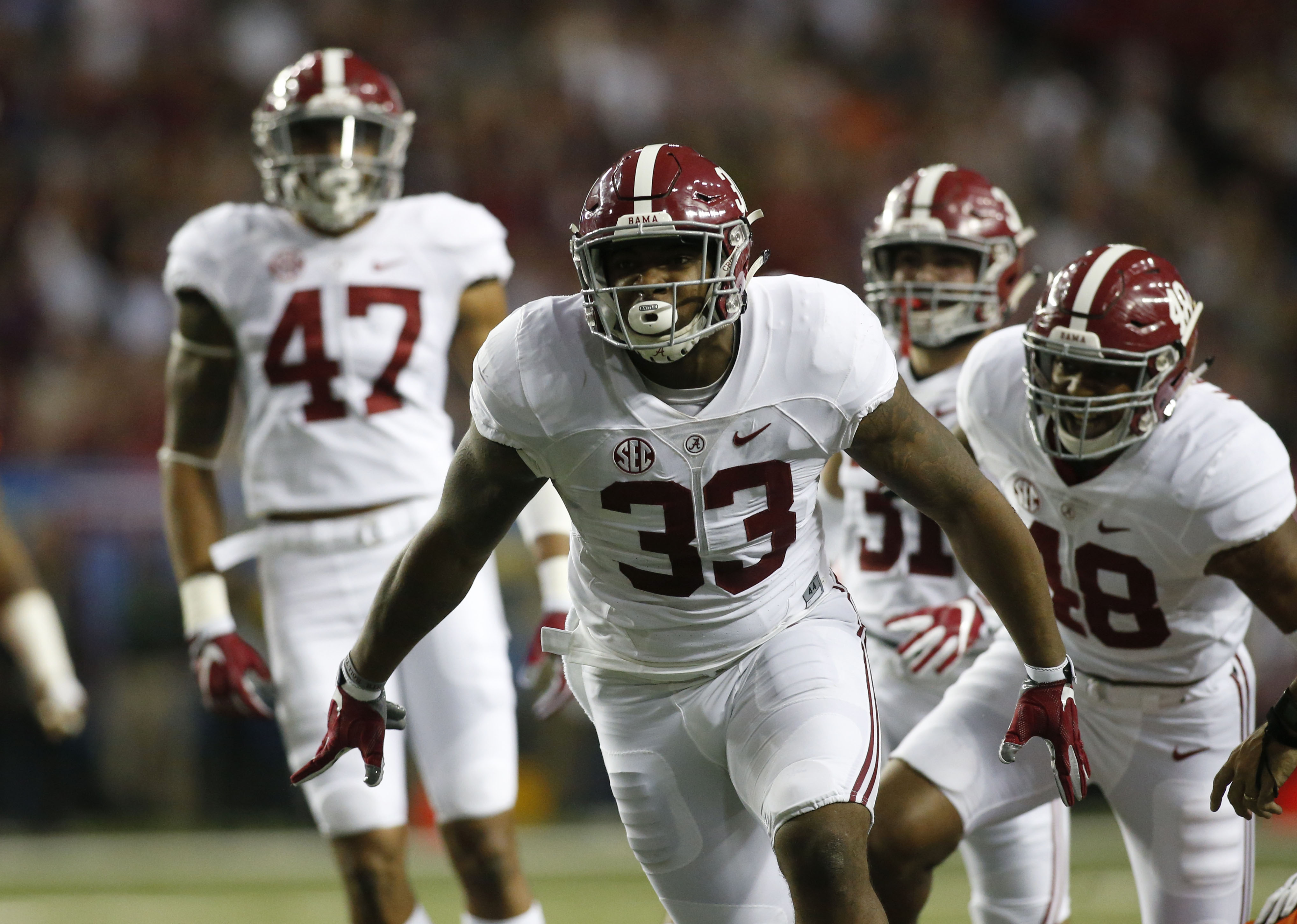 ALABAMA
Alabama football: Why fans shouldn't be the least bit concerned about Nick Saban's young defense
The Alabama defense faced a lot of adversity last year, to say the least.
Sure, heading into the season, it didn't look like there was any cause for concern, because on paper it was absolutely loaded with not only talent, but experience.
Up front there were seniors Da'Shawn Hand and Josh Frazier, along with junior Da'Ron Payne. The linebacking corps featured two seniors at ILB with Rashaan Evans and Shaun Dion Hamilton. OLB featured a redshirt sophomore in Anfernee Jennings and a redshirt junior in Christian Miller. And the secondary featured two fifth-year seniors at CB – Anthony Averett and Levi Wallace – another senior at 'Star' with Tony Brown, and two immensely talented and experienced juniors at safety in Minkah Fitzpatrick and Ronnie Harrison. Another senior, Hootie Jones, backed them up.
What was the one thing that could potentially disrupt a defense like that? Yep. Injuries. The injury bug came to Tuscaloosa, and hit the defense hard. Unlike 2016, when Alabama's starters missed just a small handful of starts (largely just Eddie Jackson), the players appearing on the opening day depth chart last year would miss 38 games throughout the course of the year.
Linebacker was hit the hardest, with seven players missing time at one point or another.
For literally any other school in the country, a rash of injuries like that would be devastating. Other top-5 caliber programs like Ohio State, Clemson, Washington or Oklahoma would have cratered to 3 or even 4 losses. For them, just consider it a lost year and move on to the next.
But not Alabama. Instead of cratering to 3 or 4 losses, the Tide went on to finish the year ranked No. 1 nationally in rushing yards allowed per game (94.7), total yards allowed per game (260.4) and points allowed per game (11.9). And, oh, by the way, they also won the national title.
Now, Alabama enters the 2018 season without numerous key players from last year's squad, and some are worried there could be a drop, especially on defense. The defense alone saw 8! players drafted, including 3 in the first round. The secondary lost their top 6 DBs and essentially was rebuilt from scratch this offseason.
The defense is breaking in a lot of new starters and there will be a lot of guys seeing the field for the first time. But all of this doesn't necessarily mean that Alabama is going to be taking a big step backward.
Remember, this is Alabama — where 5-stars replace 5-stars. The future first-round picks and All-Americans on defense are already there, you just don't know them yet. But you will. The backups on last year's squad would have been starters at nearly any other school in the country, and if there was one positive from the string of injuries sustained throughout 2017, it forced some guys onto the field that otherwise probably wouldn't have played much, like Mack Wilson, Dylan Moses, Deionte Thompson, etc.
There's plenty of talent on the defense heading into 2018. That's what happens when you string together 7 top ranked recruiting classes in a row. There's also depth. The biggest concern legitimately is the inexperience, which is real, but there's nothing DBs like Patrick Surtain Jr. and Saivion Smith can do about that right now. They have to just wait for the season to roll around and allow the experience to accumulate, and as the experience grows, the game will continue to slow down for the younger guys.
Nick Saban models his program like an NFL franchise in many, many ways. From the way they practice, play, work out, study film, handle their business off the field, etc., he tries to replicate the professionalism seen almost exclusively in the NFL. This is one of the big reasons NFL scouts favor Alabama players (along with the talent level, obviously), because there's less of an acclimation once they're in the NFL. And in the NFL, there's a mantra and philosophy that rings eternally – "next man up" – meaning there will always be personnel losses, whether it's injuries or free agents, and you can't use that as an excuse. The guy replacing the guy has a job to do, and the expectations of performing that job remain the same.
Saban takes this mantra of "next man up" to heart. In 2017, when injuries piled up at an alarming rate, there were no excuses, nor were there lesser expectations. The "next man up" was expected to do his job just like the guy before him.
In 2018, with a vast amount of younger and inexperienced guys stepping into the starting lineup, Saban doesn't expect a drop off, they're merely the "next man up," and they have exactly the same expectations on them as the guys they're replacing.
This is why Alabama fans shouldn't be concerned about the defense heading into 2018. They're talented, deep and you know they'll be well coached. Oh, and the concern of inexperience will become less and less of a problem with each play and each game. By the end of the year, this should once again be a top-10 unit doing their part to bring home yet another national title.