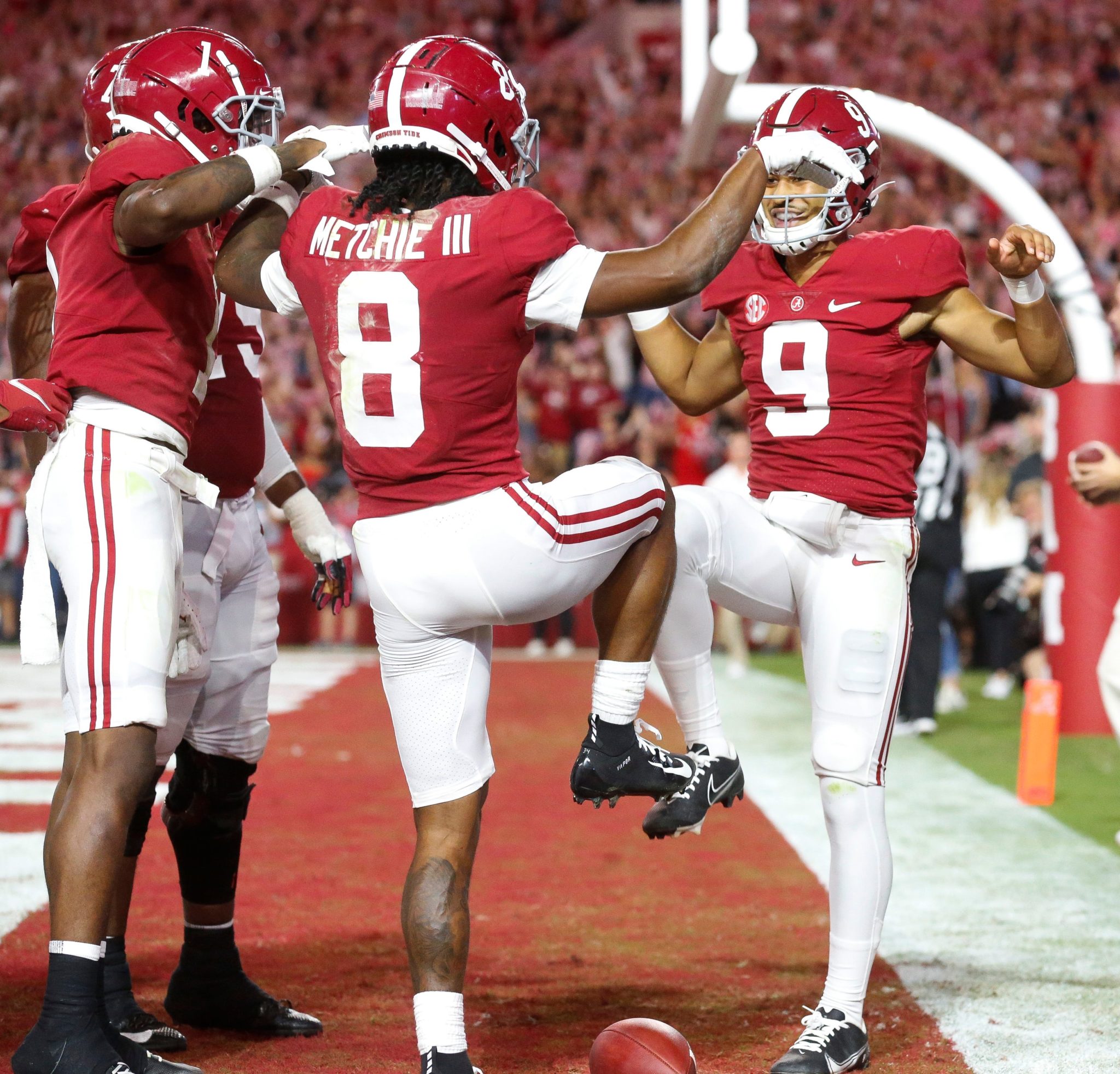 ALABAMA
Alabama vs. Cincinnati: How the Crimson Tide plan to compensate for John Metchie III
Alabama has been forced to deal with its share of injuries this season. However, receiver John Metchie III's absence presents a whole new set of problems for the Crimson Tide.
Metchie III tore his ACL in the SEC Championship Game. There are several positions in which Alabama has proven depth and could move on without losing a stride to a key player. That's not the case at wide receiver, where Metchie was part of a 1-2 punch with Jameson Williams.
Metchie was highly publicized at Alabama before he even stepped on the field this season. He was supposed to be the heir apparent to Heisman winner DeVonta Smith. That was an unfair ask, but Metchie led the Tide with 96 catches and trailed only Williams in receiving yards (1,1,42) and TD catches (8). Williams has been a revelation, but Metchie has been a key member for Bama's passing attack.
Alabama gets help in the passing game from its running backs and tight ends, but no other receiver has more than 32 catches or 2 TD catches.
Injuries have held Bama back on offense across the board, most namely at running back. However, Metchie has been able to handle the uncertainty across the board. Sure, he was counted on to provide big plays, which he has done on occasion, but he also showed his penchant for making clutch plays, which may be even more impressive.
Metchie found his role quickly. As defenses focused on him early in the season, Williams became the big-play threat whether he was catching a short passes and extending it into a long gain or found himself wide open deep in the defensive backfield for another big play. Metchie and Williams were perfect matches. Without Williams, teams were able to play closer to the line of scrimmage and try to negate an already struggling running game. Without Metchie, defenses could focus more on a home-run play that could change the course of a game at any moment. How will the Tide's offense keep rolling without their possession receiver? That's a tough question.
To say that Metchie was solely a possession receiver is a bit too simplistic. Metchie was a master at finding open holes in defenses and beating man coverage, which he saw plenty of this season. Now, Metchie is gone and Alabama coach Nick Saban will have to find other ways to consistently move the ball. He knows he can't simply rely on Williams to turn in a handful of game-changing plays on Saturday against Cincinnati or in a potential rematch against Georgia in the National Championship Game.
Williams will surely be called to pick up some of the slack, if adding more to his workload is even possible. Fortunately for Bama, the Crimson Tide have extra practices to expand Williams' role. Maybe those well-executed slant patterns by Metchie turn into a screen pass to Williams to keep defenses close to the line of scrimmage and open up some of some deeper completions.
Bottom line: Some other Alabama players need to emerge — and they don't necessary have to be receivers, either.
Let's start with the offensive line and the running backs. Alabama finished the regular season as the 10th-best running team in the SEC with 147 yards rushing per game. Unless Bama can find another Metchie on it its roster, that simply won't suffice. Bama needs a more effective, more explosive running attack to keep defenses off balance. That puts heavy pressure on Brian Robinson Jr., the running back who was the key cog in Bama's rushing attack after a series of injuries robbed Bama of depth at that position and hampered the Tide on the offensive line. Robinson was also dealing with a leg injury headed into the SEC Championship Game. Many of those injuries should be better off than they were at the end of the gauntlet-like run through the SEC.
While Alabama's entire team — even its defense — can help overcome the loss of Metchie, there will obviously have to be some key receivers that try to fit the mold.
Slade Bolden is the easiest choice. He is dependable and has a deep understanding of the offense. After that, Alabama's receiver position is full of players who haven't produced yet or have been limited by injuries this season. JoJo Early has shown flashes of productivity but he has had injury issues as well.
Alabama could certainly turn to tight end to help in the passing game. Although he hasn't been a focal point, Cameron Latu has 20 receptions for 299 yards and 6 touchdowns. Jahleel Billingsley is a matchup problem but seems to suffer from the drops. He has 16 catches for 244 yards 3 TDs.
The important things to keep in mind is that Cincinnati has the No. 2 passing defense in the nation. The Bearcats have allowed just 168 yards passing per game. Granted, they haven't faced a QB like Heisman winner Bryce Young or a deep threat like Williams.
But against that defense and without Metchie, the Crimson Tide aren't just looking for another receiver, they very well could be looking for another game plan.