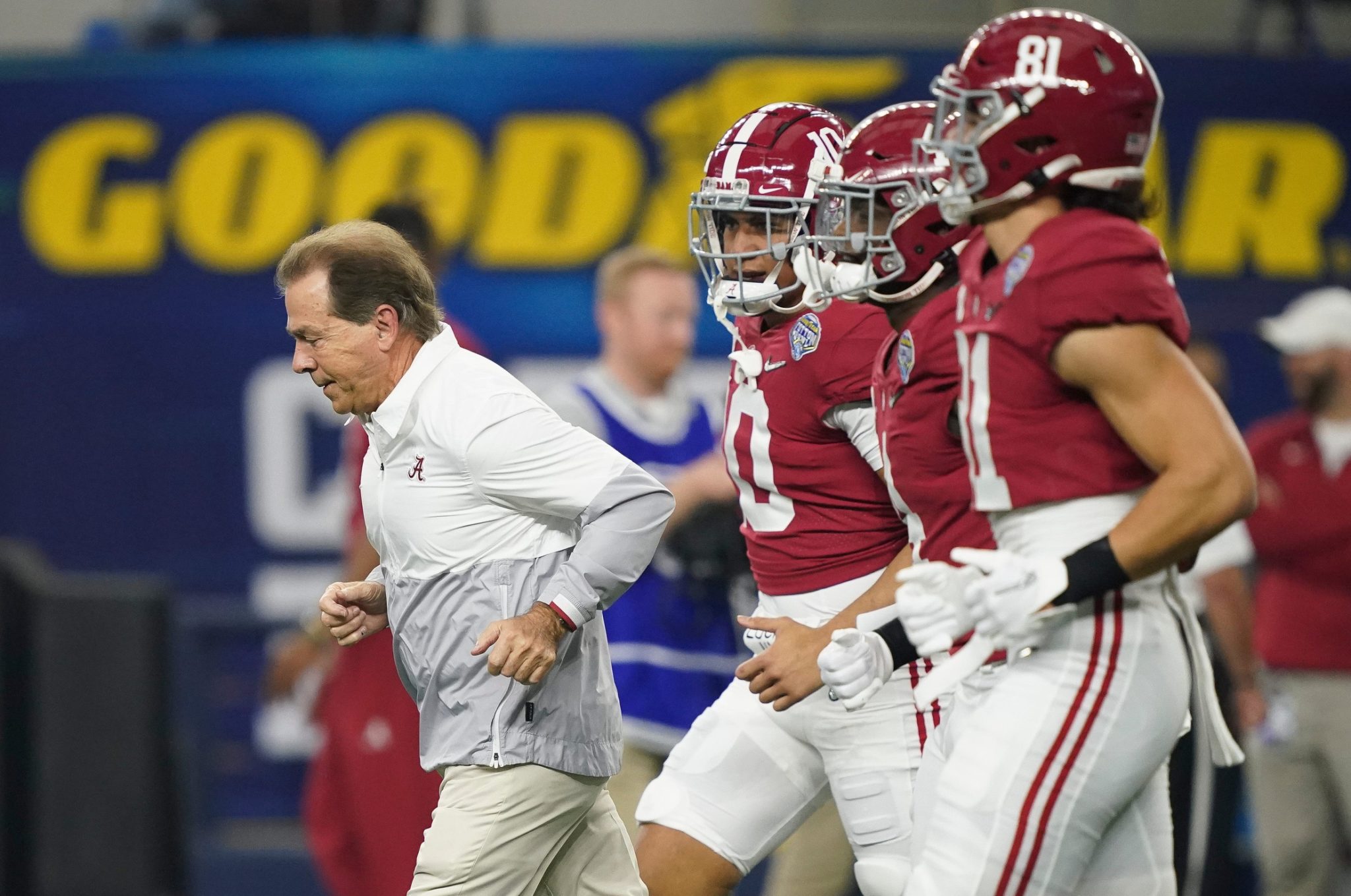 ALABAMA
Alabama should be the unanimous No. 1 team to start 2022: Here's what history tells us about that
Sorry, Nick Saban. Kiss the yummy rat poison goodbye. Barring an injury to Bryce Young, Alabama will be the No. 1 team in the country to start the 2022 season.
How can I be so sure? Besides the way-too-early Top 25s that all seemingly have the Tide on top, we've also got the way-too-early Vegas odds on who will win the national title in 2022.
Here's what that looks like on FanDuel:
Alabama +200
Georgia +350
Ohio State +550
Clemson +1000
Texas A&M +3000
Oklahoma +3000
Michigan +4000
USC +5000
Oregon +6000
Florida +6000
Crazy it is that only 4 teams in the sport have better odds than 30-to-1. To be fair, those 4 teams won all but 1 title in the Playoff era.
Alabama is searching for ring No. 4 of the Playoff era after losing to Georgia in the title game. With Young and Will Anderson back, there's a strong case to be made that the Tide return the 2 best players in the country. And while Alabama has a ton of production to replace at the pass-catcher positions, it's hard to imagine any scenario in which the preseason narrative changes about Saban's program.
So what does history tell us about that?
For starters, 2015 Ohio State was the only unanimous No. 1 team in the AP Poll era (that dates back to 1936). The Buckeyes were coming off a national title with Ezekiel Elliott, Joey Bosa, Mike Thomas, Cardale Jones and JT Barrett all back. The Buckeyes held their No. 1 ranking in the AP Poll until Week 11, despite the lack of ranked wins and the somewhat underwhelming offensive showings. That team, however, failed to win its own division after getting stunned by Michigan State in November.
History tells us that Saban tends to handle a preseason No. 1 ranking a lot better than Urban Meyer. In both years that Meyer started as a preseason No. 1 team (2009 and 2015), he failed to win a conference title. With Saban, that's a different story.
Here are all of Saban's preseason No. 1 appearances at Alabama:
Alabama preseason No. 1
Final record (bowl result)
Final AP ranking
2010
10-3 (W Capital One Bowl)
No. 10
2013
11-2 (L Sugar Bowl)
No. 7
2016
14-1 (L National Championship)
No. 2
2017
13-1 (W National Championship)
No. 1
2018
14-1 (L National Championship)
No. 2
2021
13-2 (L National Championship)
No. 2
In the 4 instances as a preseason No. 1 in the Playoff era, Alabama has always at least made it to the title game. The last time that didn't happen, of course, was the Kick-6 in 2013. Go figure that in the final year of the BCS era, that Alabama team actually still would've made the Playoff and possibly taken down Jameis Winston's Florida State squad.
The 2017 Alabama team was Saban's lone group to win it all after being a preseason No. 1. That group famously had its Playoff status debated after the Iron Bowl loss kept it out of the SEC Championship, but then it ultimately dominated Clemson and had a walk-off winner against Georgia in overtime. Some would argue that if not for a couple of miracles, Saban wouldn't have any preseason No. 1 teams that won it all.
To be fair, that's par for the course. Here's how preseason No. 1 teams have fared in the past 15 years (that's the entire Saban era at Alabama):
AP preseason No. 1 (2007-21)
Final record
Final AP ranking
2010 Alabama*
10-3
No. 10
2011 Oklahoma
10-3
No. 16
2014 Florida State*
13-1
No. 5
2015 Ohio State*
12-1
No. 4
*At least 50 votes for preseason No. 1
That's right. In the past 15 years, 2017 Alabama is the only AP preseason No. 1 who went on to win it all. Of those 15 teams, only 5 played for a national title … and 4 of them were Alabama. That 2015 Ohio State group was the lone preseason No. 1 team in the Playoff era to miss the CFP altogether.
I would expect 2022 Alabama to have at least 50 votes for preseason No. 1 (out of a possible 60-63). Seven teams earned that distinction in the past 15 years, and 6 of them lost 1 regular-season game or less. Again, 2010 Alabama is the outlier.
So what does that tell us? Teams with title-or-bust aspirations might have an extremely high floor, but winning a title for a No. 1 team with monumental preseason expectations is a different ballgame.
The 2004 USC squad was the last group to go wire-to-wire as the No. 1 team. In fact, that's the only team to accomplish that feat in the 21st century. Even 2001 Miami started as the No. 2 team in the AP Poll, despite the fact that the Canes had 33 votes for preseason No. 1 compared to just 20 for No. 1 Florida (Miami took the No. 1 spot in Week 2 and never looked back).
As much as we talk about how the same few teams dominate the sport in the Playoff era, one thing that remains true is how difficult it is for college athletes to have 4 months of being the best team in the country after 8 months of hearing about being preseason No. 1. Not even the mighty Saban has a full-proof system for that.
Maybe this 2022 Alabama team will break the mold. Lord knows Young and Anderson aren't lacking poise. Time will tell if those stars have a supporting cast who operates at their level.
We often find ourselves comparing Saban's coaching jobs based on how impressive they are. There was a case to be made for that title going to his 2021 team had they been able to finish off Georgia. Ultimately, that didn't happen.
Now we're left wondering if Alabama can follow the 2017 team's footsteps. That group heard all offseason about coming just short after surrendering a late lead in the national championship. It started the 2017 season at No. 1 and it finished there, though of course not without plenty of twists and turns along the way.
A familiar offseason awaits. Time to avoid a whole lotta rat poison.